Five years ago, the National Football League presented a great chance for international players from different countries all over the globe to practice with the best football players in the world by putting together the NFL's International Practice Squad Program. As part of the program, this offseason, sixteen teams signed an international player and awarded them a non-exempt spot on the practice squad.
For San Francisco 49ers offensive lineman Ramiro Pruneda, it was an opportunity of a lifetime.
Growing up as a 49ers fan in Monterrey Mexico, Pruneda sat in the bleachers when the 49ers played the Arizona Cardinals in Mexico City back in 2005, never imagining at the time he would one day wear the scarlet and gold uniform himself.
At that moment, it was only a dream.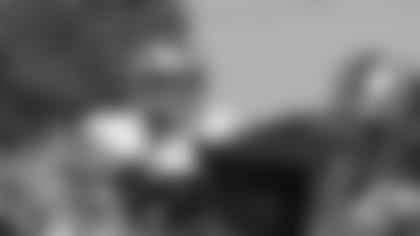 But after a successful college career at Monterrey Tech, a brief stint in NFL Europa and several stops at various NFL training camps, Pruneda has landed as a member of the 49ers practice squad for the entire 2008 season, thanks to the NFL's initiative.
"For international players like me, it's a great opportunity to be with an NFL team and learn as much as you possibly can," Pruneda said. "For most international players, it's hard to play in another country. Now that the NFL has this program, it's pretty good for us."
There are many benefits to being able to work against some of the 49ers top defensive linemen every day in practice, but pursuing this dream of a lifetime has come with a heavy price. Pruneda is away from his wife, Marianna and his family, who all reside in Mexico. Being apart from his spouse, who was battling cancer last year, has been extremely difficult.
"Every player makes some kind of sacrifice," he said. "I made a sacrifice when I got married last year and the first months of my marriage didn't go well. At the time, my wife Marianna, was living in Mexico and I went to Kansas City for six months and then I found out she had cancer in her uterus. It was a tough year for me."
As a then-member of the Kansas City Chiefs practice squad, Pruneda was thousands of miles away when he learned the unsettling news. He wanted to return home to be with his wife, but he had no medical insurance in Mexico and needed to continue playing football to help pay for Marianna's medical treatment.
"She's healthy again, thank god," Pruneda said. "It was a tough year in some things, but we have a lot of faith in God."
Pruneda maintained his role with the Chiefs last season until he was released in late October. Despite the letdown, Pruneda refused to let it keep him down. He held on to the belief that his college and pro experiences would eventually pay off.
Pruneda attended college at Monterrey Tech, one of the largest universities in Latin America. He was named the best offensive lineman in Mexico three times there, helping his team to win four Mexican National Championships.
"I feel good to have won those awards in Mexico, because the generation of football players in Mexico is getting bigger," he said.
Following his stellar college career, Pruneda was invited to NFL Europa's training camp and was assigned to the Cologne Centurions in 2006. Unfortunately for Pruneda, the experience took a major turn for the worse within the first week during a scrimmage against the Rhein Fire.
"Before the season even started I hurt my knee," he said. "I went back to my college and rehabbed my knee for a year."
Despite tearing his anterior cruciate ligament, Pruneda's intent to play football professionally only grew. Fortunately he wasn't out of professional football for too long, as that January is when the
Chiefs came calling.
"It was a good experience for me," Pruneda said. "I was on the practice squad for eight or nine weeks. I was in training camp and I worked for an entire offseason over there. It was good for me, I learned a lot."
After he was released by the Chiefs in October, Pruneda was signed to the Philadelphia Eagles practice squad on December 12, 2007, where he stayed for the remainder of the season.
"That was a pretty good year for me on the football field. Because of my background coming from Mexico, I made the practice squad and that was a huge step for a Mexican player coming from playing college football in Mexico," he said.
Now, because of the NFL's International Practice Squad initiative, Pruneda has the luxury of knowing he'll be staying with a team for an entire season.
"The International Practice Squad Program is a great way to allow foreign players to develop on the field, and it allows us to showcase our game around the world," 49ers General Manager Scot McCloughan said. "There are a number of talented players out there, who wouldn't normally get this kind of opportunity in the NFL. It gives them a chance to develop at the pro level, and Ramiro is a guy who shows up every day, plays hard and works to help make us better. Hopefully, younger players in his country see what he's been able to do and know that if they work as hard, they might have a similar opportunity one day."
Finding it hard to keep his daily activities to himself, Pruneda has been talking to his friends and family back in Mexico about his new experiences in California, most often about what's happening on the football field.
"My teammates and my friends from my old college, they all ask me a lot of questions about the trainings, the experience, how the coaches are, the players are and all kinds of stuff," Pruneda said.
Although Spanish is his primary language, the communication barriers between Pruneda and the 49ers coaching staff and players isn't an issue since Pruneda is able to communicate quite well in English. He also picked up the American football vernacular from some of his college coaches.
"When we trained in college all the trainings were in English, which worked as an advantage for me," Pruneda said. "When I came here it was easier for me to learn the terminology and all the plays and the technical questions."
As his speaking develops, so does his play on the field. Although he's played both guard and tackle positions during his career, Pruneda was designated as a guard when he first latched on with the 49ers. During training camp, Pruneda enjoyed practice reps at both positions where he focused on improving his pass protection.
"I have to know every position, because the more you know the better you can play," he said. "When I was in college, 70 percent of our offense was the running game. Here it is 50/50, so you have to be good on both sides."
Pruneda saw improvements from the hard work he put in during camp, but he isn't nearly satisfied with his development.
"Everything I've done here, I have to improve. With my pass blocks, I was kind of leaning a little bit, the coaches told me I needed better posture, so I changed that and I improved."
With the right attitude, the right opportunity and a support system in place, Pruneda should continue his improvement as he works towards his ultimate goal of one day being a member of the San Francisco 49ers 53-man roster.