Even though the holidays have come and gone, the 49ers linebackers did their best Santa Claus impression Tuesday afternoon at the Kaiser Permanente Santa Clara Medical Center.
Every linebacker donated money that went towards gifts for children who spent their holidays in the hospital. Takeo Spikes organized the event, and he personally passed out the gifts along with Joe Staley, Scott McKillop and Diyral Briggs.
"We got together at the end of the year and wanted to do something special for the kids," Spikes said. "It was my idea, but it was a collective group effort from everybody.
"We just wanted to come in here and make them smile and try to lift their spirits."
And from the kids' reactions, the players seemed to accomplish their goals.
Every time the players walked into a room, the children's faces lit up. Some of the kids have been hospital-ridden for weeks, and for many of them, this was the highlight of their holiday season.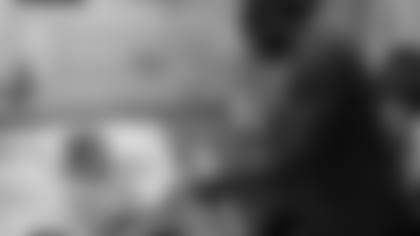 "The kids were so excited to meet the players and get autographs and take pictures," said Lisa Carlisle, a Childlife Specialist at Kaiser Permanente. "For days they have been counting down to this visit.
"A lot of times the kids watch the games from the hospital, so to be able to see the players up close was an amazing experience for them."
Even though Spikes organized the event, he made the two rookies, McKillop and Briggs, shop for the gifts. And while they didn't have much experience shopping for toys, McKillop and Briggs didn't have any trouble buying the right gifts.
"For me it was pretty easy for the girls because I have a 2-year-old girl and I know what she likes," Briggs said. "Plus, I'm a boy and I know what I wanted at that age. So I knew what would be good presents for these kids."
Some of the gifts the rookies picked out included portable DVD players, stuffed animals, board games, action figures, Barbie dolls, model cars, train sets and arts and crafts supplies.
"Some of these gifts, I wish I had them," Willis joked.
In all the players spent more than $1,300 on the children, but that didn't matter. All they cared about was spreading some holiday cheer and brightening the kids' day.
"Some of these kids have been cooped up in the hospital for a while now, and just to walk in the room and see their smile is priceless," Spikes said. "We are so fortunate as football players to be able to give back, and it is truly rewarding to see how happy we can make the kids."
In addition, the 49ers donated 40 Kids Club Memberships Packets to Kaiser Permanente. A Kids Club membership includes a 49ers Kids Club foam finger, a rally towel, membership ID badge, poster, 49ers schedule magnet and player magnets, See's candy, a birthday card from the 49ers, exclusive Kids Club training camp day open only to Kids Club members, an invitation to private 49ers season ticket holder events, opportunities to win game tickets, merchandise and autographed memorabilia, 15-percent off Shop49ers.com and exclusive Kids Club emails. Membership is open to all kids ages 14 and under. Please see the see the application form if interested in signing someone up to become a member of the 49ers Kids Club presented by See's Candies.