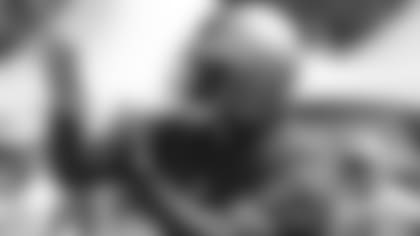 DID YOU KNOW?
Spencer, a 2nd round draft pick by the 49ers did not receive an invite to the Combine.
"I thought that was it for me after my last college game, but there was an agent who took a chance on me, Peter Schaffer. He introduced me to a trainer in Denver and I went out there for about 3 months and we trained twice a day. I knew Larry Fitzgerald was going to work out at Pitt for his Pro Day and so I figured out I could work out then and there would be a very good audience. I felt all I had to do was take care of what I had to take care of and put up good numbers. I think I had a heck of a workout and I think it opened the eyes of a lot of football scouts and they went back and started watching tape. It's hard to think you can get lost after starting for four straight years, but I was able to put up good numbers and ended up getting drafted on the first day."
A household with four kids under the age of seven smacks of total chaos, but 49ers cornerback Shawntae Spencer wouldn't have it any other way. In spite of spilled milk, scattered food crumbs, constant diaper changing, bottle washing and tripping over toys, Spencer says life at home is like sitting in the eye of the storm.
"It's chaotic, but at this point in my life I don't feel any stress," said Spencer. "This is the calmest I've ever been in my life, the calmest my life has ever been. I've got a job that I've always wanted to do, I have a great girl, we've got four crazy kids and this is just the calmest our lives have been."
In fact, Spencer's wife found the name Syre in a Saudi Arabian storybook she was reading to their daughter Taylor, and when her research discovered that the name meant calm, the couple decided they would name their fourth child, born this February, Syree.
"It just fit," explained Spencer. "We liked the name, and since the meaning fit with the peace and calm we feel in our lives, we went with it."
That's in stark contrast to 2007, a turbulent year that for many reasons, Spencer would like to forget.
For starters, Spencer found himself no longer a starter as the 49ers signed Nate Clements in free agency to complement Walt Harris, who at the time was coming off his best year as a pro with a trip to the Pro Bowl.
"It was the toughest point of my career of playing football," said Spencer. "My first three years I felt like I put up very good numbers and that I had proved I was a starter. So to go from 80 plays a game to only 20, that's not a good feeling. It was hard for me, and often I felt like I'd go anywhere else and play for free just so I was playing. I didn't blame anyone and I understood the organization did what they felt was best for the team, but it didn't make it any easier for me because I wanted to be out there every play with my peers."
Spencer's secondary coaches often reassured him that they still viewed him as a starting corner in the NFL and that he was a vital part of the defense, but as the veteran corner candidly put it, 'You can put a diamond in a pig's nose, but at the end of the day, it's still a pig.' At the end of the day, I just wasn't seeing the field as much on Sundays anymore."
Aside from a reduced role on game days, Spencer also contended with an ankle injury that took him out of action in last year's off-season conditioning program, mini-camp and OTA's.
"I hurt my ankle in the Seattle game in 2006, and after the season we didn't think it was that bad and that it would heal up naturally," said Spencer. "I came back at the end of March and started working out, but I was having some pain and our strength coach Duane Carlisle noticed that I was limping when we were out running. He mentioned it to the trainers and I had an MRI and we found out that I had bone chips and that I needed surgery."
Following ten weeks in a boot, Spencer had about six weeks to rehab and get himself ready for the wear and tear of training camp.
"My main goal was not forcing things to where I re-injured it before camp, which was hard because I just knew that I didn't have enough time to get it to where I really needed to be. I didn't get to train the way I would have liked and I just felt like I was rushing things and that everything was bad."
Spencer was cleared for training camp, but only for one practice a day. At one point in his life, missing a second practice might have been okay because like a lot of players, what Spencer truly relished was playing under the lights.
"Growing up in Pittsburgh, football is where it's at," said Spencer. "My first love was baseball, but I got to high school and saw that all of the excitement was at the football games. No one came to the baseball games and that crowd starts to call you. The football games had 10, 000 plus fans every Friday night and when you are in high school you want to be in that spotlight."
Being in the spotlight no longer pulls the same weight, and missing that second practice during camp did not sit well with Spencer.
"My favorite part of the game now is practice," said Spencer. "The game is just executing what you practice. I really enjoy practice because it's fun. You are laughing and joking with your teammates while you are getting better. I can always feel myself getting better from practicing, and so it's something I enjoy. Not being able to go full-go like I wanted really upset me. I think it hurt my game a lot too."
A quad pull would eventually put Spencer permanently on ice for the remaining five games of the season, an unfortunate end to both his practice fun and his game day execution.
"I think it was from compensating for the ankle and also probably just the wear and tear," said Spencer. "It was icing on the cake for a bad year that I just try not to even think about it. That's a chapter in my book of life that I'm skipping. It was just one of those years that you have to deal with and then you move on."
Spencer moved on quickly in the new year, taking only a week off in January before resuming his training back home in Pittsburgh.
"I decided I was going to start much earlier on my training, and for the remainder of my career, that's something I'm going to keep doing," said Spencer. "I'll take one week and that's it. I don't train as hard as I would normally, but I'm going to stay active with the running in January and February instead of waiting until March."
In March, Spencer headed back to Santa Clara for the 49ers off-season program with dogged determination to maximize every bit of the 14-week program. The non-swimmer refused to even allow Carlisle's new pool workout to hold him back. After one workout with a life vest to keep him floating in the deep end, the 26-year old avowed he'd learn to swim by the next workout, which he did after just one lesson.
"I'm just doing everything and anything I can to improve my game, whatever that is," said Spencer. "I stayed longer at the facility every day. When I got done working out, I'd always stay and go work on my footwork and my ball drills and put an extra hour in out there."
Now in the middle of another training camp, Spencer understands he can't control how much playing time he gets in 2008. He can however control how he plays.
"I'm playing for my name and to improve my overall game," said Spencer. "Every day I will go to work and work on improving my overall game. It doesn't matter about anything else, period. I'm just worrying about playing my best football and I'm doing everything I can to improve. Hopefully, I can help myself this season and my team."
And whether good fortune comes his way in '08, or yet another round of curveballs, Spencer has his family to anchor him.
"In football, I'll take the cards that are dealt this season and play them the best I can and hopefully I come out on top," said Spencer. "But my house is never boring and regardless of what is going on, I'm so happy when I'm at home with the kids. It's great. It's fun. They all have completely different personalities and my wife and I just love watching them and seeing what they'll do next."
49ers fans should likewise stay tuned to see what comes next for Spencer.