Maybe it's was just his Hawaiian upbringing and a general preference to roll lightly, but while some players pushed out huge bins or lugged out heavy boxes on move out day, wide receiver Ashley Lelie carried only a few items when he exited the 49ers facility.
"Just my helmet and jersey from the year," said Lelie. "I mean, I'll be back."
Lelie signed a two-year deal last spring, but the former Broncos first-round draft pick was used sparingly this season. Despite his limited playing time, the veteran receiver said he looks forward to again being part of the San Francisco 49ers fold.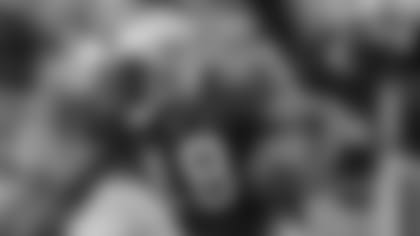 "I love the guys, I love the organization, the city," said Lelie. "Even everything that happened, I was still having fun. As long as I'm having fun, I can't complain."
Most players in Lelie's shoes probably would have complained. Next to Darrell Jackson, who was also brought in last off-season, Lelie was the only other receiver on the 49ers roster to have boasted a 1,000 yard season. He also came in with the reputation of being a deep threat after leading the NFL in highest yards per reception average in 2005 (18.3) and 2004 (20.1).
"Ashley adds a dimension we need to be successful on offense because he has, and can stretch the field," said general manager Scot McCloughan. "That's why I'm excited about him being part of our organization going forward because he can help us. We just have to get him the ball."
Unfortunately, Lelie fell behind the pack in the spring and early summer after suffering a quad injury the first day of mini camp. Although he churned out one of the better preseason performances, he finished the year with only 10 catches for 115 yards.
While just about everyone in the media covering the team raised a ruckus about Lelie not seeing the field, the sixth-year veteran stayed quiet and kept his gripes to himself.
"It's probably a bit of my upbringing in Hawaii, and then also it's just my personality not to complain or get too stressed," said Lelie. "I just think in life, you can't be too negative about things. You just have to enjoy every day that you breathe. We play a game for a living, you can't really fault that too much. There are a lot of other worse things you could be doing."
That doesn't mean it was easy. Anyone watching the sidelines on Sundays could tell that winning mattered a great deal to Lelie, who was always up and roaming and cheering on his teammates.
"It was a long hard one," said Lelie when asked about the season. "It was tough, but what doesn't kill you, makes you stronger. There was a lot to learn from this year, me personally, and as a team. I think it will make us better in the long run. Hopefully everyone takes this feeling and keeps it close so they don't want to feel like it ever again and then we just get better this off-season."
Lelie doesn't believe the 49ers are in need of a major overhaul to get better, echoing what many of his teammates have said all year in that the pieces to the puzzle are already on the roster, they just haven't settled into place.
"I think it was just one of those years where things didn't fall our way," said Lelie. "If you look at our first two wins, a play here or there, we could have started off 0-2. But the same is true of some of our losses, a play there, or a call here and we could have won them. Obviously you have to have skill and good coaching, but sometimes it comes down to luck, calls and everything entwining. We were on the short end of the stick this year. There are a lot of teams going to the playoffs right now who would probably say they had a lot of things bounce there way to get there."
As already mentioned, Lelie prides himself in not letting football stress him out, which is why he won't be watching those teams who did have things bounce their way.
"I don't know why but that is the one thing that really does stress me out," said Lelie. "I like to watch the Super Bowl but these other games just stress me out to watch."
Lelie will instead pass the time with visits back to Hawaii and some trips to Florida.
"I'll be somewhere warm and near the water," said Lelie. "I usually do a lot of traveling and I spend a lot of time swimming and at the beach enjoying life. I just try to relax and come back refreshed and ready to go."
*Correction: When first posted, it was mistakenly written that Lelie had signed a one-year deal.