Andy Lee's 105 regular season punts were the most opportunities of any other punter in the NFL, so it was a little out of the ordinary when he made it through his entire first Pro Bowl without a punt.
"I didn't get to punt but it was still really fun and I had a great time, especially since we won the game," said Lee. "It is a little strange not to have had a punt. It might be the first time I've never not punted in a game, but it's really a good thing and I look forward to not punting as much next year for the 49ers. We are heading in the right direction and so maybe this is a new beginning to things to come."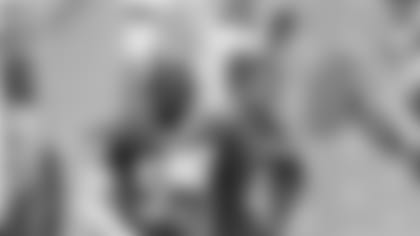 Lee did see work as a holder for Cowboys kicker Nicholas Folk on six extra points, and played his most prominent role on a fake punt call in the first quarter where he rolled out and tossed a ball to Vikings fullback Tony Richardson.
"I heard Coach yell 'Florida' and I was like 'oh crap,'" said Lee. "But, he called it so late that I didn't have time to get nervous about it and we just executed it like the way we did in practice."
The fake allowed a touchdown tying drive to stay alive for Lee's NFC team.
"He made a beautiful throw," said AFC head coach Norv Turner, who spent time with Lee in 2006 as the 49ers offensive coordinator. "It kind of caught everyone off guard. It was the first fake punt I'd seen in the Pro Bowl and we tried to retaliate with the on-side kick but we didn't get it done. I've seen Andy throw many times, but it was just surprising to see it in this game."
49ers linebacker Patrick Willis knew the fake was coming, but the rookie said he was a little disappointed that his teammate didn't toss it to him instead.
"We worked on it in practice but we did that all year long and then most of the time you don't ever call them. So, I didn't think they would really run it, but then I heard it and we got the first down," said Willis. "I just thought Andy would get the ball to his teammate though. I mean, I was running up the middle wide open."
Despite being overlooked on the play, Willis enjoyed himself on special teams and on defense as the NFC handed the AFC team a 42-30 defeat.
"It was amazing," said Willis who finished with one tackle. "This whole week was just amazing. I thought it was going to be a whole lot harder than it was, but everything was fun. There was one play where I should have been out there covering my guy a lot closer but I tried to cheat and get an interception and in a game like this, they'll exploit you. I'd like to have that one back, but otherwise, this whole week has just been amazing."
Willis also enjoyed cheering on his fellow NFC rookie in Adrian Peterson, who was awarded MVP honors for his 16 carries for 129 yards, and an 8.1 average performance. His second touchdown, a 6-yarder that came with just under three minutes left, put the game out of reach.
"For him to be here and also Joe Thomas, it just shows that hard work does pay off," said Willis of the Pro Bowl rookies. "I know those guys will continue to work to get better, as will I, and hopefully we'll keep coming back over here."