The 49ers week-long trip to London symbolized Manny Lawson's selfless outlook.
Upon returning to the Bay Area, the 49ers linebacker was asked for the highlight of his entire overseas outing and could have easily pointed out his devastating hit on Broncos quarterback Kyle Orton that knocked the wind out of the prolific passer. He didn't. Lawson could've talked about his forced fumble that led to the 49ers go-ahead touchdown in the fourth quarter. But, he refrained from doing so.
Instead, Lawson spoke about how much he enjoyed his experiences with his teammates. It shed light on the team-first mentality which has fueled Lawson to some of his best performances as a professional this season, like the one recently witnessed on a global stage.
"Whenever we all went out as a team, we all had a good time," the 6-foot-5, 240-pound linebacker said of the team's England excursion. "It was just fun to be around the guys and have us all strengthening our bonds with each other."
After being selected 22nd overall in the 2006 NFL Draft and transitioning from college defensive end to professional outside linebacker, Lawson has had a mixed bag in terms of success during his five seasons with the 49ers. There were his team-leading 6.5 sacks in 2009 and the blown ACL that cost him his second year in the league. But through all that he's faced, Lawson, the fun-loving, hard worker, remains unchanged.
His personal goals are non-existent.
"The only goal I have is to get a ring," Lawson said. "That's all I want."
And he's willing to do whatever it takes, even if it means exceeding the workload placed on most NFL starters. In addition to his 25 tackles, 2.0 sacks and two forced fumbles this season, Lawson is also second on the team with seven special teams tackles.
In one moment he's rushing off the edge trying to sack an opposing quarterback. The next, he's chasing down punt returners and tackling them with his go-go-gadget-like wingspan, which also comes in handy when he's dropping back into coverage. Lawson's recent surge can surely be credited to his unique blend of athleticism, but is truly outdone by the way he's able to focus in on the task at hand.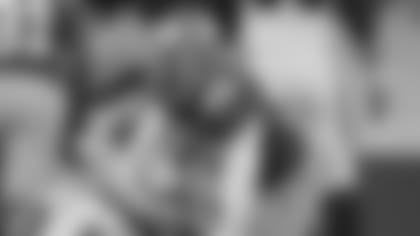 That was the explanation given by his head coach earlier this week.
"That light has gone on and he's making plays where he's not thinking about it," Mike Singletary said. "He's making plays and he's not coming to the sideline and saying, 'Well, you know, I was thinking about it and I should have.'
"That's not happening, he's doing it. And to me, he's playing the game, he's having fun. He's getting into a zone and I'm excited for him."
Lawson has enjoyed recent success in the league (68 tackles, 6.5 sacks and four forced fumbles in 2009), and appears headed for another strong season in 2010.
If last week's performance against the Broncos was any indication (three tackles, 1.0 sacks, one pass breakup and one forced fumble) the team could be positioned to accomplish Lawson's top priority.
"We're far from being done, far from being out. We have the NFC West teams on our schedule and we can still win those games," he said. "We still can win our division."
Lawson is involved in everything the 49ers defense does from run support to covering tight ends, all the while continuing to make plays that have sparked the defense's overall performance.
The unit is ranked 15th in total yards allowed (331.4) and has allowed 3.6 yards per run. But there have been lackluster performances that have motivated the entire 49ers defense to pick up their play.
"If one of us struggles, we all struggle. And when we had our moments, we all wanted to do better," Lawson said. "When teams ran or passed on us, we all took it personal. We have to be better and correct our mistakes."
In London, the defense worked as a cohesive unit on Lawson's forced fumble, which set up a 3-yard touchdown plunge from running back Frank Gore.
"It was really something we've been doing in practice all the time and that's when you see the ball hanging loose, go for the ball and ensure the tackle. And, I ensured the tackle, stripped the ball and the ball came out. One of our guys, Takeo Spikes, picked it up and the next thing to do is start looking to block."
The practice habits harvested by Lawson's position coach Jason Tarver and the rest of the 49ers defensive coaching staff was appreciated by the player and his head coach.
"I think Jason Tarver has really done a nice job, (defensive coordinator) Greg Manusky has put in some work as well, (defensive line coach) Jim Tomsula; I think everybody on the defensive side of the ball has really tried to figure out another angle or whatever it is to try and get (Lawson) to do the things that's he's doing now," Singletary said. "It's very gratifying for all of the coaches to see what he's doing and just very excited about the improvement."
With the bye week, Lawson now has time to reflect on the first half of the season, the strong performances needed the rest of the way, and the most recent triumph, but he'll do so only for a moment. "We have to put this one behind us and get ready for St. Louis," he said.
In addition, Lawson plans on relaxing and unwrapping three of the 10 X-Box 360 games that were recently sent to him.
"I don't even know their names – that's how long it's been since I played," he said with a smile.
Knowing Lawson, he'd probably enjoy the game even more if his teammates were around.