Linebacker Manny Lawson heard the pop early last season as he came down from trying to defend a pass to tight end Billy Bajema along the 49ers sidelines, but after he ran sprints, hopped on the bike and worked on his cuts on the adjacent practice field, most of his teammates assumed the injury wasn't all that serious.
Lawson held on to a similar hope, even later at the hospital when a nurse dashed most of that optimism with a glance at his MRI and a "wow, that doesn't look good."
The doctors shortly confirmed the nurse's assessment, leaving Lawson to come to grips with a torn ACL and an abrupt end to what everyone expected to be the former first-rounder's coming out party.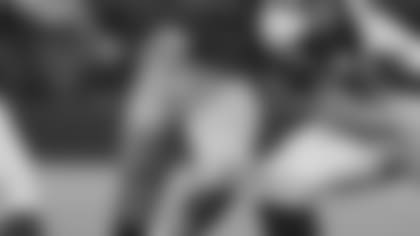 Despite the painful realization of the extent of his injury, Lawson first concerned himself with cheering everyone else up.
"Alex Smith and I are always joking around, so before I went for the MRI he was messing with me about how I was limping around for sympathy," recalled Lawson. "When I got back and told him what had actually happened, he didn't believe me because I still had a smile on my face. It was tough because I could see the disbelief on a lot of the guys' faces, but I just kept telling everyone it was all going to be okay. I didn't want anyone worrying for me."
But for those who know Lawson best, it was anything but okay.
"I think my friends and family members who know me very well know how agonizing it was for me, but it's just my way to make light of everything," said Lawson. "I feel that I can deal with my own problems and listen to theirs. I really do hate burdening anyone with my problems, so I usually won't go there. I'd rather just be the one holding everything together."
Anyone describing the 24-year old as silly and carefree wouldn't be off the mark, but Lawson is also thoughtful and very serious when it comes to holding things together and being the friend and leader that everyone can count on. Lawson professes to be a hermit at heart, but he's the first to volunteer for airport duty and general chauffer service for his teammates in need of rides, the one to organize bowling events, and he's even been known to babysit for an entire weekend for teammate Marcus Hudson's two boys.
"Marcus and I have been friends since college and I know his family pretty well at this point," said Lawson. "The boys call me Uncle Manny and we have a good time."
Being just as dependable to his teammates on the field is why following his rookie year when he made the conversion from defensive end to linebacker, Lawson spent virtually every day of the 2007 off-season working out at the 49ers facility with a vengeance.
"I think my rookie year I was really still learning and feeling my way out," said Lawson. "Towards the end of the season it all started to come together for me and I felt that if I worked at my best in the off-season, it could be my year."
Players are encouraged to spend some time away from football in January and February, but Lawson basically pitched a tent at 4949 Centennial and clocked about as many hours as the full-time staff.
"I'd usually work out in the mornings and then sometimes come back at night," said Lawson. "Whenever I'd get restless, I'd just go get another workout in. They threw me for a loop when they redid the weight room and moved all the weights into the locker room, but I still made it work."
All of that hard work and extra effort looked to be paying off with two strong performances in the 49ers wins over Arizona and St. Louis. Against the Rams, Lawson forced the Rams to settle for a field goal when he broke up a 3rd down pass in the redzone, but the near interception had him thinking more work with the JUGGS machine that week after practice.
Turns out, that was all she wrote for Lawson's 2007 season, and instead of working to get that interception, Lawson embarked on months and months of rehab on his surgically repaired knee.
"It's been a long road but I think me making jokes all of the time is what helped me get better. I didn't let anyone feel sorry for me and I never allowed myself to feel sorry for me. I didn't want any excuses."
No kidding. When in immense pain following surgery, Lawson even chucked the pain pills and gritted his teeth, believing the only true way to get better was time and rehab -- loads of rehab.
"At first I became Jeff Ferguson's (head athletic trainer) shadow, always asking him if I could do more," said Lawson. "The answer was usually no, but then I think the training staff started to give me my exercises pared down so that when I asked to do more they could act like they were letting me push the envelope when I was really just doing what they wanted me to do in the first place. I'd still try to sneak in extra and that's when Fergy became like a hawk and I couldn't shake him."
Every day Lawson would log a few hours with the ever mindful 49ers athletic training staff, but then up to four nights a week he'd head back to the facility on his own and do extra rehab exercises and then soak in the cold tub.
But like many of his 49ers teammates who have spent time out due to injury, the rehab paled in comparison to the mental struggle on Sundays.
"It was torture," confessed Lawson. "Watching your team play without you and wondering whether you could make a difference or not out there was agonizing. There were several times where I got really fed up with just having to watch, but I stuck with it because I still felt obligated to support my teammates."
One Sunday proved to be particularly difficult as Lawson, unbeknownst to the 49ers Faithful, sat in their midst at Candlestick for a home game.
"I sat there and listened to the fans cheer guys on, but then completely heckle guys too," said Lawson. "I wanted to open my mouth and defend my guys, but I knew it was best to just keep my mouth shut. But the hardest part was when they talked about me being hurt and maybe what I could have done out there because that's what I was always wondering too. That was the last home game for me. I just watched the rest from home."
Lawson was never one to take football for granted in the first place, but his lost year kicked the importance of every single snap into overdrive.
"I'd always heard stories about what Jerry Rice and Bryant Young went through when they had serious injuries and had to sit out and how much more the game meant to them afterwards, and now I understand," said Lawson. "I just know when I get back out there that I'm going to make every single snap, and every single play matter."
Additional logs got tossed onto that fire of desire when Lawson accompanied linebacker Joe Staley to the Pro Bowl in Hawaii this February.
"I think the coaches initially planted the seed for me to go with Patrick as an older brother," said Lawson. "In doing so, it really instilled in me that it's something I really want to achieve. Patrick said in an interview over there that he wished I wasn't there just watching and that we should have been there playing together. That fueled the fire for me because now I'm working to get there and have the chance to actually play alongside him."
Given his affable and entertaining personality, it was no surprise that a collective cheer from both sides of the ball occurred during one of the OTA practices in June when Lawson finally received the okay from the head athletic trainer to take some reps in the team period.
But the shout outs for 99 extended well beyond his popularity.
Although the 49ers defense did what they must in 2007 and marched on without him, Lawson's ability to play multiple positions allowed the 49ers greater flexibility with their defensive schemes. When the versatile linebacker went down defensive coordinator Greg Manusky relied on a few different personnel groupings to take the singular place of Lawson, thus limiting the 49ers ability to camouflage their defensive schemes.
That's why players like Willis can't wait to welcome their teammate back full-time.
"I think we are both guys who are versatile and can do more than just one thing," said Willis. "I don't think you can categorize us as only being able to do this or that. Last year I knew that together we could cover some ground and that nobody could ever get away from us. It was tough when he went down, and so I'm very excited to get him back because he's a multi-positional player and he'll help us out."
Helping out couldn't arrive soon enough for Lawson, who might just be the only player literally frothing at the mouth for training camp to start.
"I understand and appreciate the cautious approach that they've taken with me, but I would say I've pretty much been in a bad mood since mini-camp," said Lawson. "I really will be the happiest person alive to get in pads and just go. I might just cry."
That last part is once again Lawson's way of making light of the matter, but his return and commitment to being something special in 2008 is no joke. And that's something his teammates, coaches and fans can count on.