He's just spent the last three days coaching 7- to 14-year-olds for the last time as the 49ers Youth Football Coordinator. His face is noticeably red from absorbing the sunlight on the practice fields at team headquarters. And his boisterous voice is not at full-strength due to inspiring the 150 co-ed campers with his daily passionate speeches.
But Ryan Myers wouldn't have it any other way.
As he sits at his desk, there's a huge smile on his face while he glances at a picture on his laptop that shows some of the campers trying to douse him with water from a Gatorade bucket similar to a football coach who has won a big game.
"They almost got me, but I was able to duck out of the way!" the recently promoted pro personnel scout said with a grin.
Since he was put in charge of the 49ers youth football operations three seasons ago, Myers has impacted the team's youth football initiatives in a number of ways.
Most noticeably, he has helped develop the team's Youth Football Camp into a successful event for kids to learn valuable lessons on and off the field.
"All positions on offense and defense are being taught in addition to life skills," Myers said at the conclusion of the 49ers three-day Youth Football Camp presented by Sports Gallery. "We're talking about the 49ers respect campaign as well as the NFL's health and fitness initiative known as'Play 60.'"
With Myers passion for youth football, the three-day camp has grown each year starting with 60 campers in 2006 to the recent total of 150. Several campers have even become
repeat visitors because of their consistent enjoyment of the camp.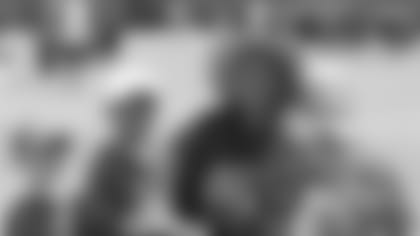 Two of those annual participants have been from David Nielson's family. The native of Kimmer, Wyoming has brought his family to the camp for the last three seasons and plans on a fourth trip next July.
"We're big 49ers fans for one and the difference that we've seen in our kids from going through the camp is another reason we keep coming back," Nielson said as he watched his 14-year-old daughter Samantha participate in running back drills. "When we get home, they seem like they're better kids, not just better at football, but all-in-all just better kids."
Samantha continually asked her parents after each year if she could return to the camp because she's able to "meet new people and learn new stuff."
"It's a very rewarding experience to see these youngsters out here being so passionate about the game of football," Myers said.
The three-day camp is structured in a way that emphasized each individual position on the football field. Offensive and defensive portions of camp are segmented each day with a lunch period in between. The campers begin with proper warm-ups and an informative speech from Myers.
"We talk about the life skill of the day like sportsmanship, responsibility and respect," Myers said.
After the lunch break each day, a number of 49ers players past and present came out to talk to the group about their personal experiences with football. The camp speakers ranged from alumni like 49ers Vice President of Football Affairs Keena Turner and alumni coordinator Eric Wright to current players like running back Michael Robinson, defensive lineman Kentwan Balmer and rookie tackle Alex Boone.
On the second day of camp, Boone spoke to the campers about the importance of education.
"My emphasis in my speech was about getting good grades," he said. "Growing up I had great grades and all of a sudden I started playing football and my grades started to slip."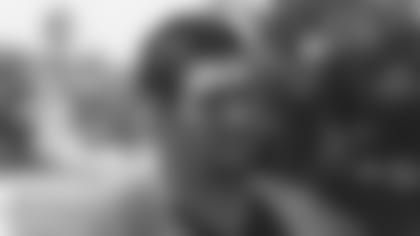 But with the guidance of family, coaches and teammates, Boone began to turn his academics around and is now a couple of classes away from earning a college degree from Ohio State University.
"It's a lot of fun to be out here and talk to the kids, especially when they're having a good time," Boone added.
To finish each day, the campers participated in relay races and obstacle courses before they headed home.
They even were fortunate enough to run up and down the 49ers training hill some people around team headquarters have referred to as "Mt. Singletary."
While most would dread having to run up the hill, the kids were having the time of their lives. They even requested that Boone run up the hill once he concluded his speech.
"I'm too tired from working out," Boone said with a smile.
Instead of watching the 6-7, 328-pound get an extra workout in, all the campers had the opportunity to have Boone sign them an autograph.
Besides getting a 49ers Youth Football jersey which is one of the major perks of camp, the kids also improved every day with the lessons from Myers and his staff of counselors who are football coaches
at various Bay Area colleges and high schools.
"I've learned a lot," said camper Joshua Stone. "I've learned how to be a quarterback and about the five-step and the three-step pass drop. I've also learned about the three-point stance and I've
learned how to dive and catch the ball properly."
For the counselors like Santa Cruz high school football coach Jesse Trumbull, seeing the kids improve from day-to-day is the most rewarding part of the camp experience.
"I think that the coolest part is to see the kids back who were here last year or the year before that and seeing how they've grown over a couple years and gotten better," Trumbull said.
"The 49ers are teaching responsibility and the importance of putting school first. Seeing them kind of grow as kids and athletes is a lot of fun."