The Faithful came out bright and early Saturday morning to catch a glimpse of their favorite players on the 49ers.
What the 3,000 in attendance saw was a highly competitive practice, which included all three quarterbacks taking snaps in the various team drills, wide receivers working one-on-one against defensive backs, and the first full contact scrimmage of training camp.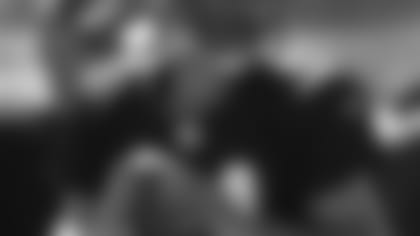 JT O'Sullivan took the first team snaps, Alex Smith worked with the second team, and Shaun Hill led the third team down the field during the full contact portion of practice.
Coach Nolan said after practice that he's open to having all three win the job.
"It's early in camp and there's a lot of work to get done," he said. "This is a valuable time for us. This is not just finding out who's number one, it's about trying to find who gives us the very best chance to win."
O'Sullivan and Smith got extensive work when the wide receivers went one-on-one against the defensive backs. The drill focused on a number of different routes, especially the deep ball. NFL referees kept a close eye on the matchups and even threw a flag for pass interference.
Following those matchups, the team portion of practice saw both O'Sullivan and Smith complete several passes against the first and second team defense.
The 49ers briefly worked on special teams and then Coach Nolan shocked his players by calling out the third team offense and defense for full contact work.
"We went live with the three's to get some contact with one another, which is typically what we do at the end of the first week," Nolan said.
When asked if the players pick up their intensity when there is full contact, Nolan replied, "Everybody would love to go live, all of them. When you yell out three's, most of your two's and your one's say, 'Let us go.' They get excited about it."
G Jeb Terry was waived-injured today. He suffered a foot injury on Wednesday afternoon. The 49ers signed rookie free agent G John Booker to fill the roster spot. Booker was originally signed by the 49ers as a rookie free agent out of San Jose State following the draft. He went through the 49ers off-season program, but was waived in early July.
Highlights

Safety Dashon Goldson picked up where he left off after Friday's afternoon practice.
Goldson intercepted his second pass in the last two days, stepping in front of an Alex Smith pass intended for wide receiver Robert Ortiz.
"It's a matter of just playing and reacting," Goldson said. "You don't have time to think and that's a good thing."
In addition to intercepting a pass, Goldson denied tight end Vernon Davis of a sideline reception for the second day in a row, as he broke on the pass, swatting the ball out of bounds.
QB Track

*(Stats are entirely unofficial)
*
JT O'Sullivan completed 10-of-14 passes during 11-on-11 work, including a couple of nicely timed passes for wide receiver Bryant Johnson. Before Johnson broke on a deep in route, O'Sullivan had already thrown the pass. Five of O'Sullivan's passes were caught by Johnson.
Alex Smith completed 6-of-12 passes during the same period, while working with the second team. Smith completed his first four passes including a deep in to rookie wide receiver Cam Colvin. It was his first catch during 11-on-11 work.
Shaun Hill completed 3-of-6 passes with the third team during the full contact portion of practice.
The Daily Drill (contributed by Scott Kegley)
Head coach Mike Nolan gave his team a treat at the end of Saturday's practice, allowing the third units to play with live contact during the final team period. This was music to the ears of the players, who had grown eager to start tackling as opposed to tagging off.
"It was surprising," said linebacker Jay Moore. "I wasn't expecting it and sometimes that's good. It was good to get back out there because it's been a year for me since I've done it."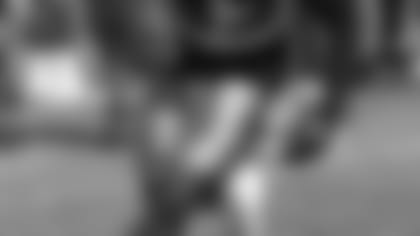 You would never tell though that Moore and his teammates had not tackled in quite some time. Moore chased down running back Thomas Clayton from behind, drawing applause from the fans in attendance. Not to be outdone, cornerback Tarell Brown also put a solid lick on Clayton as he kept him in the backfield on a toss to the right.
"It feels good just to get that nervousness out of your system, knock some of that rust off and get your tackling form back," said Brown. "It gave us a feel for the game again."
The offense worked its way down the field, getting into the red zone, but practice time had run out and Nolan blew the whistle to end the morning's work.
"It was a real good time," said Clayton. "When you get an opportunity to go out there with your teammates and perform it's always a good time. I just wished we would have put one in the end zone."
There was still much to be gained from the full contact session as many of the young players battled to show the coaching staff what they could do.
"It was good for some of us rookies and young bucks to go out there and go hard," said linebacker Larry Grant. "It was a great opportunity for all of us. It was fun."
Seen or Overheard (contributed by Scott Kegley)
During the first team period of the day, one defensive player took exception to the call of the NFL line judge.
"What did he say?" asked the line judge who apparently had heard some profanity.
"He said you're a heck of a guy, but he wants you to keep your head in the game," joked Nolan. "That's all he said."
Wide receiver Isaac Bruce was seen wearing a no. 80 jersey during practice. That was the number Bruce had worn during his entire career in St. Louis, but it's a number that 49ers fan associate purely with the legendary Jerry Rice.
When asked about the number change, Nolan said, "Practice jersey, he got a new practice jersey."
Bruce is still wearing #88 on game days.
DL Kentwan Balmer (ankle), S Lewis Baker (thigh), WR Ashley Lelie (calf), and S Mark Roman (hamstring) missed practice because of their injuries.
RB Michael Robinson remains out after having his knee scoped, while G David Baas is still on PUP.
Throughout training camp, TV49 will be scouring the bleachers during the open practices for highlights and play by plays from the fans. We'll also feature a few in our practice reports in this From the Bleachers feature.
"It looks like they have a lot more poise than they had last year," Jo'el Mumford said. "I've been a fan since '65. I've been through a lot with the 49ers. I'm watching them close up. I know they have Isaac Bruce this year and I'm looking forward to seeing what he brings to the team. Lawson, it's good to see him healthy. Manny looks like Manny."
TV49 also caught up with Anthony Lombardi as he was paying close attention to the 49ers roster for potential fantasy football draft picks.
"I'm really doing some fantasy football strategy right now. I'm trying to find out who are the diamonds in the rough. Bryant Johnson looks really good – he's a player. I'm going to pick the defense in the fifth round in my draft, they're my sleeper defense. It's great to see Joe Staley but it's better to see Manny Lawson back out there. Getting him back is like getting a free agent," Lombardi said.