Kyle Williams will wear pink cleats this Sunday, but the 49ers wide receiver always promotes Breast Cancer Awareness.
The 49ers wide receiver has a pink ribbon tattooed on the inside of his left elbow as a tribute to his late grandmother, Sonya Broyard, who passed away from breast cancer when Williams was in high school.
When the 49ers host the Houston Texans on Sunday night, Williams will also wear white and pink Nike football cleats with "10 Granny" written in pink on the back of each heel.
"This year I wanted to make sure I came prepared," Williams said. "I wanted to make something personal."
Williams customizes his cleats for each game and made special plans for his October cleats way in advance of the Week 5 matchup at Candlestick Park.
"The pink is real important to me," Williams said. "I want them to stand out because it means something to me. I want to make sure I pay my respects in way I wanted to do it."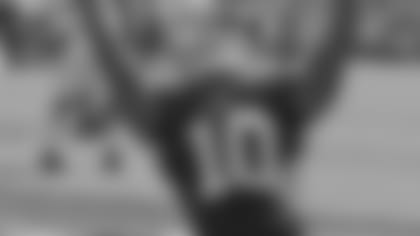 Williams honored his grandmother last season against the Buffalo Bills with a 43-yard touchdown catch on Oct. 7.
After catching the touchdown, the fourth of his career, Williams fell to his knees and raised both arms in the air to honor his "Granny."
"I think about that all the time," the 49ers wideout said. "It was a great moment to get in the end zone, but being able to do it during Breast Cancer Awareness month and doing it on the first time I touched the ball that game, it was big for me."
Williams will once again honor his grandmother on Sunday, a person Williams considered to be one of his best friends.
"She was our backbone," Williams said. "She was hard on us growing up. As I got older, she lived in California and I was in Chicago, every time I got on the phone with her it was a 2-3 hour conversation every time.
"I like to say I get a lot of my toughness from her. She was tough on me and in tough times, I called her. She talked me through just about everything."