**Q: What was it like to grow up in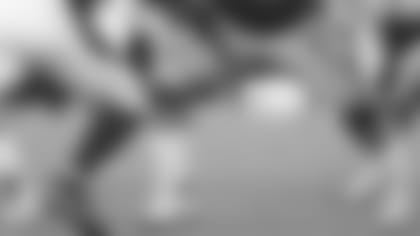 Southern California? **
A: Southern California was great. The weather was always good. Whenever it rained I didn't have to go to school. My mom said I could stay home. It didn't rain very often though. I loved it because I used to be able to wear shorts all the time and never had to wear too many layers. I think the weather was the best thing about it.
Q: Does your family still live in Southern California? How often do you go back?
A: Yeah, my parents still live in north Orange County. We try to make it down during the offseason. It's nice because it's right by the beach. It's nice to spend some time down there and just relax. A lot of my friends from high school are still down in Southern California so I can see them too.
Q: Did you go surfing? How often did you go to the beach?
A: There was a point where we were going to the beach probably once or twice a week. I would go have bonfires, go surfing and just hang out in the water with my mom and dad. I started surfing when I was a freshman in high school.
Q: Do you have any brothers or sisters?
A: I have one younger sister.
Q: Did you get into trouble as a kid or were you pretty well behaved?
A: I got in trouble once when I was in third or fourth grade, but in general I was a pretty good kid.
Q: What was your best subject in school?
A: I liked writing. I liked English. I always did well in any class that involved writing papers. I liked the creativity and it was fun to write stories. I liked trying to describe things in my own words instead of listening to someone else describe it.
Q: Who was your favorite teacher?
A: Dan Dupont was my favorite teacher. He was my math teacher when I was in high school. He was also our Bible study leader. He was a really good friend as well. We could always go to him to ask him questions about life or just about anything. He was a really good guy.
Q: What other sports did you play when you were younger?
A: I was a roller blader and a skateboarder. I started playing baseball when I was in kindergarten and I played all the way up until high school. I also played volleyball for three years when I was in high school.
Q: Did you have a favorite cartoon show as a kid?
A: Teenage Mutant Ninja Turtles! That was the best cartoon ever. G.I. Joe was pretty good too.
Q: What was your favorite food when you were little?
A: My favorite food has always been pizza. I will eat pizza like you wouldn't believe!
Q: Least favorite food?
A: My least favorite food was probably onions. I never liked onions as a kid, and I still don't.
Q: What was your first car when you started driving?
A: It was a 1975 Chevy Nova. We bought it from on old man who had stopped driving it. He sold it to us for only $900 and my dad and I went to go pick it up. It was awesome because my dad lifted the back end up so it was three or four inches higher than the front end. It was cool!
Q: Do you do a lot of work on cars?
A: I really don't know that much about cars at all. My dad is pretty into cars and he knows a lot about them. Whenever my dad and I are together he teaches me some stuff.
Q: What was the first job you ever had?
A: My first job was at Honey Baked Hams.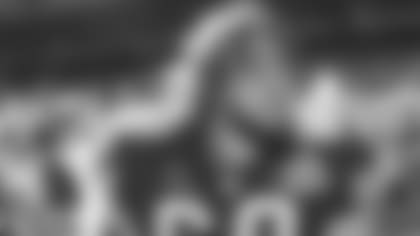 I worked in the freezer. I had to open up cardboard boxes full of hams and pour them into this big cart. Then I had to roll out the cart. All the other guys got to do cool jobs like roast the turkeys and cook the hams. I had to work in the freezer. It was the most awful thing ever! Thankfully, I only had to work there during Thanksgiving and Christmas.
Q: What did you want to be when you grew up?
A: I definitely didn't want to work in the ham freezer forever! Actually, I always wanted to be a fireman. My grandpa was a fireman for a number of years. I still kind of want to do that! Maybe if things don't work out with football I can be a fireman.
Q: Why did you choose to go to Oregon?
A: The class of guys that were going to Oregon that year were great. The coaching staff was great too. It was a school on the rise. They had been doing very well during the few years before I went there. They were upgrading the stadium and the locker room as well, so I got to see all that stuff happen.
Q: What was the transition to the Oregon lifestyle like?
A: It was a lot different. Everyone was really relaxed. It was a slow life. No one was in a rush to get anywhere, but everyone was friendly. People would let you change lanes in traffic and they would wave to you.
Q: What's the best part about living in the Bay Area and playing for the 49ers?
A: The city of San Francisco has a lot of history and a lot of different things to go do -- like Alcatraz. I need to spend more time in the city though because there's a lot of great things to do, and so far I haven't gotten around to do too many of them.