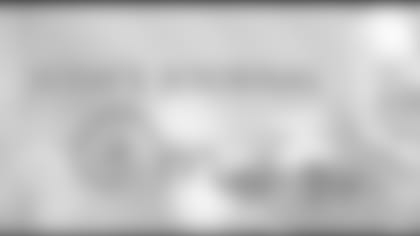 **Entering his second season in the NFL, wide receiver Josh Morgan has earned a starting spot with the 49ers. The athletic wideout is also the latest player to share his thoughts exclusively with 49ers fans with his "Josh's Journal" entries. Here is his latest entry of the 2009 season.I'm excited that we got another win last week. But this week, we've got Green Bay and we've got another tough task. As wide receivers it's going to be tough especially having to go against two great cornerbacks in Charles Woodson and Al Harris. But that's the exciting part for our receivers.
This will be my first time traveling to play at Green Bay and Lambeau Field. There's a lot of history. I'm looking forward to the task at hand.
Everyone's making a big deal about the weather heading up to Green Bay, but that's football. It's perfect football weather. Lambeau Field has so much history that you've got to get up to play that game. I think your adrenaline and everything is going to have you warmed up anyways.
It's the type of weather that I'm used to. Playing at Virginia Tech, we had a spring game that was snowed out. I'm used to the cold and I'm fine with it really.
I'm just excited to go against Woodson. He kind of took over in his game last week against Dallas. It will be exciting to go one-on-one against him.
Woodson is a great athlete for one. On top of that, he studies the game. He has that great instinct. I've noticed that he'll stop on a dime; quit paying attention to the receiver, and key on the quarterback. That's how he gets his interceptions. He's a great technician. He's a little nosey with the quarterback, but sometimes it comes out big for him.
Michael Crabtree and I talk about going out there and making each other compete all the time and that's definitely going to happen this weekend. We want to be the best. Our goal is to rip every defense we see apart. We're going out there doing whatever we can to get this team the "W."
I stuck around during out bye week when he was trying to catch on to not only see if I could help him, but also continue to work on my game. And that paid off in how we've developed chemistry.
I think the sky is the limit for both of us. We are both young. He's a very talented receiver and I have a lot of talent myself. We're just going out there having fun. We're young and we're hungry. Both of us want to be great. Both of us want to be the best to play the game. That "want to" in us is going raise the competition level and we're going to push each other to be that much better each day. It's a competition where if one of us sees the other make a great play; we want to make a better play with our opportunity. It's nothing we're constantly thinking about, it just comes instinctively.
I think the difference between Michael and my game is that he's definitely more of a natural receiver. He's been playing it for so long. I'm more of an athlete that's playing wide receiver. Michael has a lot of experience at the position, despite being a rookie.
So far, our quarterback Alex Smith has shown a lot of confidence in both of us. It's the kind of confidence you want your quarterback to have in you. He feels we are athletic enough and big enough to go out there and make a play; out jump the defender, even if we're covered. And, whatever throw he's got, we're going to get it for him.
I understand there is more I need to work on as a receiver. I can always improve my route running ability; making my routes more precise each time I run them. I came from a school in college where we did not run a lot of routes. I'm just going to keep concentrating on catching the ball when it comes my way and continuing to make plays.
I do see how coming from a school that did not throw a lot of passes could be viewed as a disadvantage to me, especially when I was in my rookie year, but it's important that I don't make excuses in this league. I just have to do what I've got to do to catch up. That's it.
Every day, my chemistry with Alex is improving. Like I said, we have the confidence in each other, that if he throws the ball up, I have to catch it.
I also have a great relationship with Isaac Bruce, one of our veteran wide receivers. Not only has he been a coach to me on the field, but a personal life coach as well.
Our wide receivers coach Jerry Sullivan is a great coach, but there's nothing like having a coach who's right there on the field with you. There's nothing like having a model citizen like Isaac. You see how he is on and off the field and you want to be just like him. He's given me great advice from how to act off the field, to how to practice and how to prepare for each game by getting your body ready and your head mentally ready. He helped me a lot as a rookie last year. Really, he's such a major influence on all of us.
We shot this video to promote the contest, it details all the rules and prizes.
I'm real excited to see what some of the Kids Club members have written for the essay contest. I won't be able to read all the essays, but the 49ers marketing department will pick the top-five, then I'll get to pick from out of those.
I used to write a lot of essays when I was younger – I liked to write a lot – so, it's going to be exciting to see what the winner's come up with. The top-three will win prizes, but the winner will get to come to practice and play catch with me afterwards, which should be fun too.
I'm looking forward to seeing what the fans write. I still like to write myself, but more poems than anything else.
The last thing I wrote was a poem I sent to my brother. He went out to sea because he's in the Navy. It was a poem I wrote to him to keep his head up and let him know about all of the people who were thinking about him. Writing is a lot of fun and encouraging our fans to express themselves through writing is a great thing to be a part of.
Another thing that gives me a lot of joy off the field is watching these Jerry Rice DVDs that our video staff made for me. I watch these three DVDs all the time, at home, on the road, whenever.
Last year, when I first arrived here, I asked our video guys if they had any Jerry Rice tapes. I was wondering if they could put them on a DVD so that I could watch them. He was my idol and one of the reasons I played receiver.
The video department came through for me and got all of his plays on three separate DVDs. There's not music or sound or anything like that, but its straight Jerry Rice and its fun to watch.
You get to see how and why he became so great. I have everything from his rookie year, when he would come off the line in a 3-point stance all the way to him finishing his career. It's good to see and I go through it a lot.
Thanks for reading my journal. I have to run – our buses leave for the airport in a few hours. Everyone check out our game this Sundayon FOX at 10:00am on the West Coast. It should be a great game.