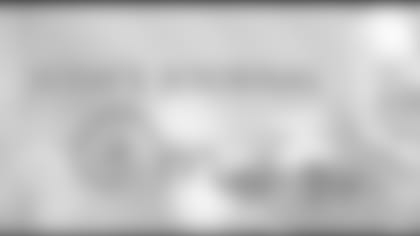 Entering his second season in the NFL, wide receiver Josh Morgan has earned a starting spot with the 49ers. The athletic wideout is also the latest player to share his thoughts exclusively with 49ers fans with his ?Josh?s Journal? entries. Here are his first updates of the 2009 season.**
In our game against Arizona, we definitely didn?t execute as well as we needed to. We played hard, but we didn?t execute as well as we could have for our offense to be truly successful. You always want to get better. And like Coach Singletary said in training camp, ?We?re going to have some ugly games, where we are going to win ugly.? That was one of those games, but we kept playing hard and did the things we had to do to win the game.
As a receiver group, a few of us were able to make some plays. When you see that, it lets you know that we are taking a step in the right direction as a group. Last year, if we were in a situation like last week, we might not have been able to drive 80 yards for the go-ahead touchdown. But this year, we stuck together and we were able to step up when it counted. It showed the maturity that we have as a team. Coach Singletary?s philosophy is really sticking to us and we are applying it on the field.
Just thinking back to Isaac Bruce?s big 50-yard touchdown; it was a huge play. It made the defense really respect us. It makes the defense realize they can?t continually put eight or nine in the box to try to stop Frank Gore and the running game, but now they have to worry about stopping the big play in the pass game too. It was a big play in the game and loosened their defense up a little bit.
Shaun [Hill] actually missed that play a few times in practice, but as long as you get it right in the game, that?s all that really matters.
This week, we?d like to have a more than one big play like Bruce?s catch. But, Seattle?s secondary is not going to beat themselves. They are a disciplined defense and pride themselves on being able to capitalize on the offense?s mistakes. They wait for offenses to get impatient then turn the ball over. With that being said, we really have to focus on our own technique and execute as a team and an offense. We?ll be patient and make the big plays when they?re there.
Not much has changed in their defense from last year. They don?t play as much of a cover-two defense this season. They play more of a three-deep or four-deep defense. But, it?s kind of the same thing they?ve been playing from what we?ve seen on film.
Things have slowed down a bit for me since last year, but nothing is easy out there. I?m able to see defenses and recognize how corners are playing me better this year than I was last year.
But for us, our success will come off the ground game. Running the ball is Jimmy Raye?s heartbeat. We are going to pound it and have some hard runs where we are going to have to get some tough two or three yards. But we also have those plays where we can get the ball down field like we had with Isaac in the last game.
They have to respect us as a passing unit too.
The receiving corps we have right now works well as a group because we can all play each of the positions. Isaac can come over and play my position and I can switch and play his. We all can do that.
That?s the thing that helps us.
We?re all playmakers and we all have the speed to go deep if we need to. The thing we have to do is just stay fresh. We know what each other is doing on every play too. That?s huge because we can make sure our spacing is right and you don?t see two receivers in the same area, making it clearer for the quarterback.
When you see a team like what Arizona did, put eight in the box, you understand that it?s going to be one-on-one on the outside. All you have to do is run a good route and beat the corner.
Like I said, this year I?m recognizing the defense a lot more clearly. Last year, I would not be able to recognize if the corner had safety help over the top or not. Sometimes the safety would come out of nowhere to me. Last year I had the confidence that I could do it, I just wasn?t as visual. It hasn?t got any easier, but it?s seems to have slowed down a bit. It enables you to get open a lot more when you can see everything at a slower speed.
I?m definitely excited for our home opener. I?ve heard it?s sold out and everything. I can?t wait to go out there and we?re going to put on a show!
Thanks for reading my first journal entry. I?ll have more updates in two weeks.