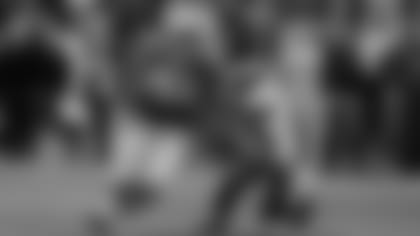 Third-year wide receiver Josh Morgan recently checked in with 49ers.com for his exclusive "Josh's Journal" column. In the latest journal entry, the wideout talks about how the team is dealing with the 0-5 start as well as his recent poetry contest on 49ers.com.**Losing is never fun and it takes a toll on the team. But, that sense of defeat is short-lived because you have to move on. It's the NFL, you're playing a game every week and you can't dwell on the past. And at the same time, you can't completely forget about it. You want to keep the pain. You want to remember how it felt because you never want to feel that feeling again.
When we go back and watch the film and really break it down, we see we've made a ton of mistakes that have really hurt us. Honestly, I feel like nobody has really beaten us. We've beaten ourselves. We've turned the ball over and we haven't executed when it counted.
It just makes you work that much harder in practice and in everything you do. You want to go out there and give it your all and make the next opponent pay for what happened last week. That's the mentality our entire team has.
And while we're working harder than ever to get this season turned around, we've all fallen into a healthy routine. For me, that routine is work, work, work and work. I'm trying to get better any way I can.
Our only off-day in the week is Tuesday, and I go into the community to do charity work those days.
Community service is very important to me because of how I grew up and my past experiences. I know growing up in the Washington DC area that if some of my friends had athletes come and speak with them it probably would have helped keep them out of trouble. I honestly believe that a lot of my friends growing up, they could be out here in the NFL too if they had stayed on the right path. I look at Ted Ginn Jr. and Troy Smith, they were childhood friends and high school teammates. And now they're playing together on the 49ers – that's amazing.
But in my area we didn't have professional athletes giving us a positive outlook and setting the right example. All we saw was the rough side of life. That's why it's so important to me to help out the youth. I have been so blessed so I try to give back as much as I can.
As I'm sitting here right now some of the guys are dancing behind me. I don't usually dance much myself. That's the down South thing. On the East Coast, we just two step.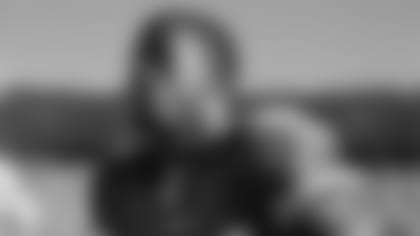 The guy who dances the most is Anthony Dixon; AD can dance all day. He's high energy all the time – all day, every day. He never stops, he can't turn the switch off.
That's a great thing for a team to have. You need someone like that to keep it light.
It was especially important during training camp, because as camp goes on you kind of get tired of seeing each other every day, you get grumpy, you don't get enough sleep, and two-a-days get tough. But AD kept us all laughing and he knows how to keep the mood light.
He's the biggest goof ball on the team, but the receiving corps, we joke all day.
We always have something new, it's like a movie over there with the jokes. You have to come prepared, and you can't slip up even for one day. A big thing we joke about is when guys aren't dressed right. You can't take a day off or we'll get on you. There's myself, Crab and Teddy who do most of the joking, and we come hard. It's like a comedy show.
You have to come looking right every day. You can't come like Jason Hill is right now: his shorts and shoes don't match, plus he's not wearing any socks. But Hill is great, he's like the old man of the group. Dominique Zeigler, who we all call Ziggy, is like the grandpa. Not because he's old, but he just likes to chill. He's laid back, but he might throw a joke or two in there also so you can't sleep on him.
Overall, we are a very young group of wide receivers and it is great to be in the company of that kind of talent. We are close on and off the field, but we are very competitive with each other and we push each other to get better.
Sometimes I might look at a play one of those other guys makes and think, "He's my age and he can do this on the football field, I have to get to that level." We all keep striving to get better than each other. But it's a very friendly competition because we're close friends.
Away from the football field I have been listening to a lot of music, and I try to stay faithful to the DC area by listening to the rapper Wale. He has a new mixtape out with B.o.B. called Leaders of the New Kool which is good. I like the new Lil' Wayne CD too, I'm Not a Human Being. I liked that CD from the first time I heard it.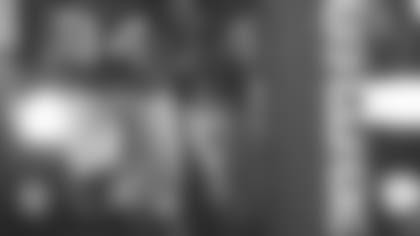 The biggest thing with music to me is the lyrics. I love listening to the lyrics because I love words and everything you can do with them. I write lyrics myself, and I also write a lot of poetry.
I've been doing poetry since I was young. I originally started doing it to stay off the streets, but now I do it for the challenge.
It challenges your mind. There are so many ways you can make something mean something else. There are so many metaphors you can use. That is something that has always intrigued me.
Sometimes I'll listen to rap and be like, "How did they put that together?" and when I hear stuff like that, I take it as a challenge to be more creative in my writing. Anything that is going to challenge me, I'm going to love it.
I try to pass that love of words on to kids too, which is why I just finished my poetry contest on 49ers.com. In the contest I challenged members of the 49ers Kids Club to write a poem about 49ers football.
We had a lot of great contestants this year, and the winner was Teague Bredl, from San Mateo. At 12 years old, Teague's poem was great and original too.
Well that's all for now. Thanks for reading my latest journal and I'll be sure to check in soon. Like I said earlier, it's back to work.