Josh Morgan can do a lot more than make opposing cornerbacks look silly on a football field.
The 49ers up-and-coming wide receiver plays basketball, collects sneakers and baseball hats. Typically, he can be seen and heard in the locker room joking around with Vernon Davis on which of the two went to the better high school, since they went to rival schools in the Washington DC area.
He also writes poetry and one of his pieces, "Life's Journey" was featured in the 49ers Gameday Magazine:
Life's Journey
By Josh Morgan
June 20, 1985 was the day God placed me upon his earth
My mother was in pain but it was a beautiful birth!
I came out strange at birth with my hands behind my back looking like I was under arrest
Scared mommy at first, but turned out to be the one god would truly bless!
To sum him up, he's an insightful writer, an occasional jokester and on the football field – a threat to the opposing secondary. Despite being hampered by illness and injuries during his rookie campaign, Morgan finished with 20 catches for 319 yards and three touchdowns.
As a sixth-round draft pick in the 2008 NFL draft out of Virginia Tech, Morgan didn't have the kind of college career that earned him instant attention on draft day. But 49ers scouts knew all about the 6-foot, 220-pound physical specimen. When he was selected as the 174th overall pick in the draft, Morgan knew he had a lot to prove to all the teams that let him slide to the sixth round.
"I did come here with a big chip on my shoulder," Morgan said. "I was a sixth-round pick, so a lot of people didn't know about me. I thought I was going to go earlier personally. But I didn't, so I knew I had to come in and prove myself."
Morgan wasn't guaranteed a spot on the 49ers 53-man roster. The only thing that was for certain was that he would have to absorb as much of the 49ers offense as quickly as possible if he was going to impress the coaches right off the bat.
I had to change my life and I have to be great
"By any means necessary" is what Malcolm X said
And that's how I lived every day
I used everything for motivation and my lost ones stayed in my head
"When I came in for the OTA's it really kind of discouraged me, because I didn't know anything," he said. "I was out there running around and I had a coach following me on every play, telling me what to do. I was kind of scared at first. But during training camp, I came in and really learned the playbook. And I knew as soon as I learned the plays my athletic ability was going to speak for itself."
Morgan's athletic ability didn't just speak, it screamed, "I'm ready to play right now."
In his first two career preseason games, Morgan broke onto the scene by hauling in nine passes for 182 yards and a touchdown. By the looks of his instant impact, the 49ers had found themselves a threat on the outside for years to come.
Morgan was quickly able to rise to the top of the wide receiver depth chart on the opposite side of veteran Isaac Bruce, but soon after came a major setback. After his breakout performances, Morgan contracted a staph infection, lost weight and wasn't a factor early in the season.
In the first six weeks of the season, Morgan only totaled six catches.
So with an eye always open, a tongue that's not dumb and a heart that will never to sorrow succumb
I had to battle and conquer though thousands assail
I stayed strong and stayed mighty because I never said fail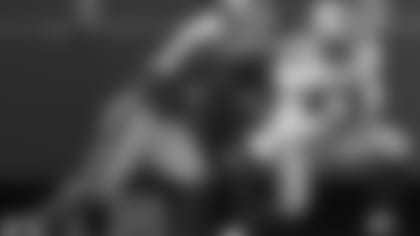 But the following week against the defending Super Bowl champion New York Giants, a healthy Morgan caught five passes for 86 yards, including his first career touchdown on a 30-yard pass from JT O'Sullivan.
"That game was a lot of fun, especially me personally being from the East Coast," Morgan said. "A lot of my friends from Washington D.C. got to come to the game and it was just a lot of fun."
Although the 49ers were defeated 29-17, Morgan felt like finally he understood how to play the game at the NFL level from the wide receiver position.
"I really started to see things in that game," he said. "When everything slows down and you actually know what you're doing and know what to look for and you start recognizing the defenses – that's when your athletic ability speaks for yourself."
Three weeks later, Morgan grabbed his second career touchdown on a Monday Night game against the eventual NFC Conference champion Arizona Cardinals. In addition to the disappointing outcome in which the 49ers were held out of the end zone on the last play of the game, to make matters worse, Morgan partially tore his groin muscle in the game.
"It was very frustrating for me, because I never did anything like that," he said of the injury that sidelined him for a month. "I think that was the first four games I missed in my whole career playing sports period. It was kind of devastating at first. Being a competitor, it was very hard to deal with. It took me awhile to get over it and really support my teammates and stop being so selfish and thinking about myself."
The spirit of angels is active I know
As higher and higher in glory they go
Angels and spirits from heaven they sail
To cheer and encourage and Never Say Fail!!!
Morgan returned to action against the Miami Dolphins with three weeks left in the season but was held without a catch. The following week against the St. Louis Rams, Morgan had his best catch of the season when he out-jumped a pair of Rams defenders and caught a 48-yard touchdown pass from Shaun Hill. The go-ahead touchdown ended up being arguably the best catch of the season by a 49ers wideout.
"Shaun threw it up and let me go make a play," Morgan said. "When I saw the ball in the air I just knew I wasn't going to let anybody else come down with it but me."
Now that his rookie season is in the books, Morgan is happy to have had some time to rest and recover before returning for the teams offseason conditioning program.
"I'm really looking forward to the offseason, especially letting my body heal," he said. "I'm just looking forward to staying healthy and coming back 100 percent."
Morgan is optimistic about the 2009 season based on the 49ers improved play under head coach Mike Singletary. Once his groin heals completely, Morgan can't wait to build off what he accomplished as a rookie.
"I'm very excited about next year because we have a lot of talent on this team," he said. "Not only am I excited about all the talent and how much success we could have, but when we play to that level, we're capable of getting a Super Bowl ring. I'm very excited and I can't wait for us to get there and I can't wait for us to be playing in that big show one day."
*"I make my sweat account for my tears and all those who hurt me, and turn my pain into rage and anger and fight to overcome every obstacle before me." – Joshua Morgan
LIFE'S JOURNEY 
by Josh Morgan

June 20, 1985 was the day God placed me upon his earth
My mother was in pain but it was a beautiful birth!

I came out strange at birth with my hands behind my back looking like I was under arrest
Scared mommy at first but turned out to be the one god would truly bless!

Yes, I was a mama's boy and I was her first born
She had me kind of young but her blessings had just begun
Joshua, Daniel and Adam...those are her three boys
All healthy full of joy and life but they're journey is far from done

Came into the world with a great family like the television show "Good Times"
But life itself started to happen and soon came tears and whines

I lost both of my grandfathers before the age of five
But trust me to this day I still live by what they taught me
They both were great men who left this earth in crazy ways
But one thing they stressed to me was "do it great or leave it be"

Mom and dad got divorced and the problems got bigger
At the age of 14 my life took that change for the worst
My brothers went with mom and moved an hour away
While I stayed in DC where my pain fueled my thirst

I grew up a champion in sports but felt like a failure in life
Always hated the fact that dad no more called mom his wife

Missing my brothers and still so confused
Didn't understand the situation but I had to make moves
I had to do something to get out of Southeast DC
Left the house one morning and asked grandma to pray for me
She didn't understand why I asked her that day
But the light went off in my head that said I could not stay
It said do not be another talent wasted on the streets of DC

I had to change my life and I have to be great
"By any means necessary" is what Malcolm X said
And that's how I lived every day
I used everything for motivation and my lost ones stayed in my head

It was my last year of high school and no football scholarship for me
Guess what June 20th was also the day I cried and said "God, why me?"

"What am I to do now with no scholarship if I was going to make it out of the DC???
Keep pushing until wiser than sitting aside
And dreaming and sighing and waiting the tide.
In life's great battle those only prevail that daily march forward and never say fail"

I had to go to prep school to continue with my dream of greatness
Trust I did not know it was a military school
There were NO WOMEN, 5:30 AM WAKE UP HORNS, uniforms and a real military environment As bad I wanted to leave I couldn't be the fool

So with an eye always open, a tongue that's not dumb and a heart that will never to sorrow succumb
I had to battle and conquer though thousands assail
I stayed strong and stayed mighty because I never said fail

I made it to Virginia Tech where I was out of DC and on to the NFL
Lost a lot of friends and even survived a massacre, so yes god is great
Because I had many close encounters with death and god kept his angels with me
I kept working hard because I knew it was fate

The spirit of angels is active I know
As higher and higher in glory they go
Angels and spirits from heaven they sail
To cheer and encourage and Never Say Fail!!!

"I make my sweat account for my tears and all those who hurt me, and turn my pain into rage and anger and fight to overcome every obstacle before me." – Joshua Morgan