The San Francisco 49ers will continue to recognize its alumni by selecting an honorary game captain for each of its home contents during the 2008 season at Candlestick Park. Honorary game captains reconnect with the 49ers family, while also participating in the coin flip prior to the start of the game. This Sunday, former tight end Brent Jones is serving as the Honorary Game Captain.  Check out this feature story on the former player.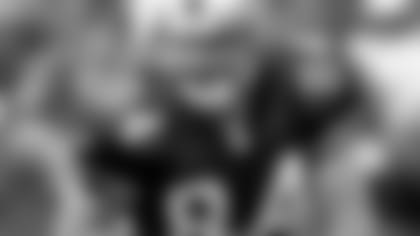 In the passing game of the West Coast offense, the tight end has proved to be an extremely important position.
The 49ers have always recognized the importance of this position and have been fortunate enough to have had a long line of great players who have worn the red and gold – from Monty Stickles to Ted Kwalick and from Russ Francis to John Frank. But in 1990 a new name was added to the list when Brent Jones had 56 receptions – setting a team record for catches by a tight end.
Brent joined the 49ers as a free agent in 1987. He had been originally drafted by the Pittsburgh Steelers in 1986 but was waived late in the year after spending most of the season on injured reserve with a neck injury.
With Jones having grown up in San Jose and graduating from Santa Clara University, Head Coach Bill Walsh was familiar with Brent's athletic abilities after seeing him perform in the 1985 East-West Shrine Game. He was more than happy to bring him to the 49ers.
But making the team wasn't easy. Brent's main competition was stiff with Frank the incumbent starter and Francis a solid veteran. But he persevered and finally made a place for himself on special teams.
Jones saw limited action on offense during his first two years with the team. He caught only 10 passes – but two of those were for touchdowns.
But Walsh eventually developed Jones as an important part of the 49ers offensive scheme.
Along with Jerry Rice and John Taylor, Jones kept opposing defense in check. Defenders couldn't afford to double team Rice and Taylor while leaving Jones open. He was not only a deep threat to the opposition, but also an important third down receiver.
When Francis was traded to New England in 1987 and Frank retired after just five years in the league following the 1988 season to pursue his career as a medical surgeon, Brent won the starting job in 1989. In his first year as a starter, he caught 40 passes for 500 yards and four touchdowns.
He caught a game-winning 25-yard touchdown pass from Joe Montana over the middle in Week Three in a game at Philadelphia, and was beginning to prove himself to his team and to the fans as a player who could take the pressure off Rice and Taylor.
Jones scored a touchdown in all three post-season games during the 1989 season, but his most exciting moment came in Super Bowl XXIV against Denver when he caught a seven-yard reception for a touchdown.
"That was like a dream come true," he said as he recalled the emotion. "Just being there and winning the game was important to me, but scoring in the Super Bowl is something I'll never forget."
In 1992, Brent was selected as an All-Pro for the first of three straight seasons and was named to the first of four consecutive Pro Bowls.
Another exciting moment for Jones was the return of Joe Montana at the end of the 1992 campaign. It was the final game of the year and the 49ers were playing the Detroit Lions on Monday Night Football. It was Joe's first appearance in almost two full seasons.
That night, Montana connected with Brent on a nine-yard scoring pass in the fourth quarter of a 24-6 victory for the 49ers.
"I wanted to keep that ball," Jones remembered. "I think I was more excited than Joe was."
Jones wrapped up his 11-year career with the 49ers after the 1997 season and still leads all of the franchise's tight ends in career receptions (417), receiving yards (5,195), touchdown receptions (33) and Pro Bowl appearances, and also ranks in the Top 10 among all 49ers receivers in each of the three receiving categories
The 49ers had great receivers in Rice and Taylor and a great rushing/receiving threat in Roger Craig during Jones' playing days, but the importance of Jones to the West Coast offense is undeniable as evidenced by his three Super Bowl rings.
After his playing career ended, Brent became an analyst for The NFL Today from 1998-2004, but decided to leave CBS Sports in 2005 to begin a new business venture in California and founded Northgate Capital.
He is also currently the tight ends coach at Monte Vista High School in Danville, California.
A listing of alumni that have served as 2008 honorary game captains so far this season is below:
August 16 – Dan Colchico, DE (1960-65)
August 29 – Ed Beard, LB (1965-72)
September 7 – Jesse Sapolu, C/G (1983-97)
September 21 – Archie Reese, DE (1978-81)
*About the Author: USF grad and author Dr. Kristine Setting Clark is a feature writer for San Francisco 49ers GAMEDAY and has authored four books entitled: UNDEFEATED, UNTIED, AND UNINVITED – A Documentary of the 1951 University of San Francisco Dons Football Team. The book recounts team solidarity in response to racial prejudice in American sports; ST. CLAIR: I'LL TAKE IT RAW! An exclusive, authorized biography on former San Francisco 49ers player and Pro Football Hall of Fame member Bob St. Clair with a foreword by Gino Marchetti. Her two most recent books are: A COWBOY'S LIFE, a recently released autobiography on former Dallas Cowboy and Pro Football Hall of Fame member Bob Lilly with a foreword by Roger Staubach; and LEGENDS OF THE HALL: THE FABULOUS FIFTIES with a foreword by Y. A. Tittle. Dr. Clark resides in Northern California with her husband and has two grown children and a grandson, Justin, who is a godson of St. Clair.