It only took a couple of days into the free agency period for Brandon Jones to ink a five-year contract with the 49ers at the end of February.
After spending four seasons with the Tennessee Titans (2005-2008), the 6-1, 212-pound speedy wideout was looking for a new franchise to help establish himself as a top receiver in the NFL.
Without hesitation Jones came to the Bay Area, becoming the latest versatile addition to the 49ers wide receiver puzzle.
"I just feel like this is the place for me," Jones said in a recent interview with TV49. "I've been given the opportunity to come out here and [help] make plays. It's just one of those things that you know is right for you."
Jones joins an up-and-coming receiver group that also retained veteran Isaac Bruce (who considered offseason retirement) and added Michael Crabtree with the No. 10 overall pick in the draft this offseason.
With improved depth at his position group, Jones has no qualms about challenging the other 49ers wide receivers for a starting spot this season.
"I approach every day the same way, by just going out, competing hard and giving it all you got," Jones said. "We have a lot of good guys here that can play the game. It's going to be a battle all through camp."
In four seasons, Jones has caught 112 passes for 1,380 yards and nine touchdowns. His best season occurred last year, when he totaled 41 catches for 449 yards and a touchdown.
Looking to build on those numbers, Jones says he will line up at any receiver position in order to help his new team be successful.
During the offseason minicamps and organized team activities, Jones lined up at the "X, Z and F" positions, with the slot position (F) being his preference.
"I'm hoping that I can continue to be in the slot," he disclosed. "I like being on the outside, but I love being in the slot. I think I bring a lot to the table being in the slot. That's one of my strong points coming here."
No matter where he lines up on the field, Jones plans on utilizing his vertical speed to make big plays in the 49ers passing game. After his first offseason in the Bay Area, Jones has a firm grasp of the work ethic expected by head coach Mike Singletary in order to have that kind of on-field success.
"We get out there and we work hard. This is one of the hardest working teams and it shows out there on the practice field," Jones said.
Besides having the correct attitude, Jones' athleticism will certainly help the newcomer make an impact this upcoming season. At the 2005 NFL Scouting Combine, Jones ran a 4.38 40-yard dash. Months after his impressive time, Jones suffered a torn right ACL against the 49ers on November 27. It was quite the setback for the rookie who had started in eight of the first 10 games that season.
But after rehabbing his right knee, Jones played in all 16 games the following season with 10 starts.
With the injury in the back of his mind, Jones hopes to use his regained lower body strength when it comes to catching passes for the 49ers this season.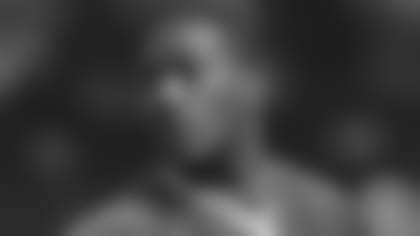 "You're going to be given the chance to go out there and make plays. A lot of balls are going to be in the air," Jones said of his role in the 49ers offense. "It's not just a pound, pound, pound team. You're going to get an opportunity every day because we're going to throw the ball around a lot."
Specifically, Jones considers himself as "a down the field, possession, move the chains guy."
"I love the excitement of third and nine or third and 10," Jones elaborated. "I love it to be able to come my way and to quite down the defense. I love to be the guy whenever we need a big play."
After spending most of his career catching passes from Titans quarterbacks like Vince Young and Kerry Collins, Jones is awaiting the news on who the 49ers will name as the starter for '09.
The difference between Shaun Hill and Alex Smith haven't been a big deal for Jones and the other wideouts at all.
"You don't realize it," Jones said of the 49ers offseason competition at the quarterback position. "They are similar quarterbacks. They're both great and they're both out there working hard. When it's a battle like that you don't know who's in the game. You have to be able to work with both of them."
But Jones might have never been in a position to catch footballs in the NFL.
As an 18-year-old, Jones was a gifted baseball player in addition to being a successful prep football player.
Jones was talented enough to be drafted by the New York Yankees in the 28th round of Major League Baseball's Amateur Entry Draft in 2001. But instead of donning the famous pinstripes, Jones headed to the University of Oklahoma as a duel-sport athlete.
"It wasn't a tough decision because I always knew I wanted to go to school to play both," he said. "My mom was like, 'You haven't been working this time so you might as well wait.' I was ready to go have a college experience, get in the books and be able to play football and baseball because I loved them both."
But Jones' love of baseball hasn't completely diminished. He still keeps up with the Bronx Bombers and typically can be seen around team headquarters sporting a Yankees fitted cap.
"I think I still can play," he said with a grin. "I think if you gave me about a month of training I'd make it out there on the diamond in the Big Leagues."
Besides following the Yankees, Jones says he watches a lot of movies in his free time.
"All of these 3-D movies – I've seen every one of them," Jones revealed. "Every Tuesday I'm at Best Buy getting new movies and new music."
Now that he's been away from team headquarters for almost a month, Jones has kept busy in his hometown of Texarkana, Texas, by spending time with his mother and younger brother.
Jones might have plenty of friends and family to reacquaint with, but he understands the last few weeks before training camp is when the mental preparation of football takes over.
"[Training camp] is something I'm looking forward to because it means that the season is going to be right around the corner," he said. "Training camp is the toughest thing that a football player goes through. When those games start to come, that makes it fun."