In his first press conference as an NFL offensive coordinator, Mike Johnson made it abundantly clear that the new-look 49ers offense won't strictly be a one-man project. It will take a collaborative effort involving players and coaches to make the unit function at its best.
The first test for Johnson and the 49ers offense comes this Sunday against the Atlanta Falcons, a team he's quite familiar with, having served as their wide receivers coach for three seasons (2002-04).
And with the 49ers looking for their first win of 2010, Johnson doesn't look at his promotion as a pressure-packed situation. It's one that he relishes.
"This is something that I have prepared myself for mentally. It's something that I'm not going to shy away from," Johnson said on Thursday. "I think I'll go into a game and I'll operate the same way that I've always operated."
He's energetic, focused, competitive and has an unbridled passion for communicating. That's what makes Johnson stand out. And those trademarks will be on display, it's just a matter of where they can be seen.
Johnson said his play-calling location on Sunday (sideline or booth), will be determined prior to kick-off.
Until that determination is made, Johnson's positive attitude was showcased at his first day of practice as coordinator. He spent the opening 30 minutes of the afternoon session migrating from one offensive position group to the next. And with each stop, Johnson's positive demeanor appeared to be infectious.
Though he has new ideas for the 49ers offense, Johnson realizes it will take time for them to materialize. At first, the focus is one making the offense look better with the system that was established by former offensive coordinator Jimmy Raye.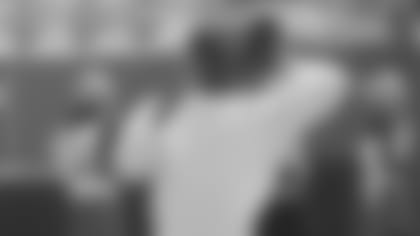 "Jimmy Raye is one of the best football coaches that I have ever been around," Johnson explained.
Now it's time for the new coordinator to utilize what the 49ers did best in the previous system. A difference Johnson hopes to implement in his offense is attacking all levels of the opposing defense.
"I believe that you have to be multiple and be diversified," Johnson said. "One of the basic philosophies that I believe in is that I think you have to make a defense defend the entire field. I think you can't let a defense squeeze you between the numbers, and we're going to do things to make them have to defend the entire field."
Asked specifically about weapons like Pro Bowl tight end Vernon Davis and free agent addition running back Brian Westbrook, Johnson noted that all of the 49ers athletes are in his plans.
"We're going to look for ways to get anybody that can make a play for us to help us win a game into the process," he said.
Even with the 49ers abundance of talent on offense, the unit has only scored one touchdown in two road contests. Johnson's plan to negate the struggles away from home is to include his fellow offensive coaches in the game planning for Atlanta. The staff will script the first part of the game to help the offense develop a rhythm in the early moments of action.
"It's been us as a collective group," Johnson said in explaining the offense's struggles this season. "Collectively as an offensive staff and an offensive unit, we're going to try to move forward and play better."
This won't be Johnson's first time calling plays in an NFL game however.
In 2003, Falcons interim head coach wade Phillips asked Johnson to be the team's play-caller for the final two games of the season. Johnson helped Atlanta win both games, an experience that will suit him well in his debut as the 49ers offensive play-caller.
"I think any time you get to call the plays in an NFL game and you get to put together a game plan, I think that is good preparation for if you ever become a coordinator later on."