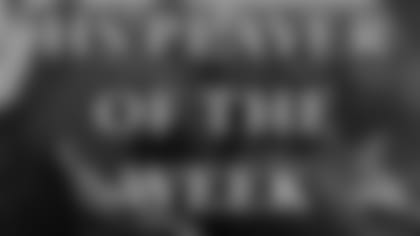 49ers Name Travis Johnson of The King's Academy Player of the Week *
The 49ers High School Player of the Week Award for week eight goes to Travis Johnson from The King's Academy.
This past Friday, the Knights beat Sequoia High School 54-8.
At 6'2 ½" and 225-pounds, Johnson plays defensive end and fullback. In Friday's game, he had eight tackles, four sacks, three tackles-for-loss and one fumble recovery. Johnson now has 16 sacks on the season and causes defensive havoc in every game. He is planning to play Division I football - UNLV, Sacramento State, and UC Davis are very interested in him right now.
"Teams run away from him and they try to double-team him, but he still gets the job done," said Ron Kellner, head football coach of The King's Academy. "He is in great shape and pursues all over the field. He is also an outstanding person of character."
Johnson is a senior with a 3.26 GPA and is also involved in community efforts. He goes to Mexico every year for one week with the school, to help build houses for the less fortunate. In 2007, Johnson was the Oregon Nike Camp MVP and ranked fourth in the state with 21 sacks.
For being named 49ers High School Player of the Week, Johnson will receive a 49ers hat and t-shirt, a certificate signed by 49ers head coach Mike Singletary, two tickets to a 49ers home game and recognition on 49ers.com. At the end of the season Johnson will be invited to the 49ers Training Facility to accept a wooden football trophy.
2008 HS PLAYER OF THE WEEK WINNERS:
Week One: Rob Atkinson from Harbor High School in Santa Cruz
Week Two: Emre Titizer from Lynbrook High School
Week Three: Zeke Sanders from Santa Cruz High School
Week Four: Cameron Marshall of Valley Christian High School
Week Five: Steven Fanua, Milpitas High School
Week Six: Dante Fullard, Gilroy High School
Week Seven: Omar Al-Helew, Santa Teresa High School
Week Eight: Travis Johnson, The King's Academy