Jimmy Williams describes himself as a livewire and a crowd pleaser.
The physical specimen built that reputation during his college career playing cornerback at Virginia Tech.
Standing 6-foot-3, 220 pounds, not many other college cornerbacks had the same physical tools as Williams.
That's why the Atlanta Falcons selected him with the 37th overall pick in the second round of the 2006 NFL Draft.
Williams saw action right away for the Falcons, starting five games as a rookie, but things turned turbulent in his second season as he served a five-game suspension for off field behavior. In June of 2008, Williams was released by Atlanta.
Out of football all of last season, Williams had time to reflect about his passion for the game and vowed to come back.
When the 49ers signed Williams to a future contract this past January, the livewire was brought in to add depth to the 49ers secondary, utilizing his big body as an option at both safety positions.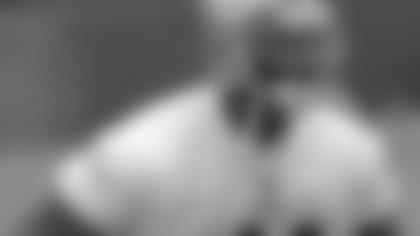 "We have some great competition at strong and free safety and right now Jimmy's in the mix with all those guys," 49ers defensive coordinator Greg Manusky said after the team's most recent minicamp. "He's a big-framed guy who has an ability to cover the middle of the field and can play man-to-man on tight ends and he can hit you. He's trying to learn the system and he's getting better and better at understanding it."
For Williams, the chance to compete for a roster spot is something he won't take for granted.
"I think it's been pretty cool being with the 49ers, it's not an uptight place," he said. "I knew a lot of the guys before I got here because they were in my draft class and I've played against some of them too. It's been a cool experience. I'm glad to be back having the camaraderie with my teammates and joking around in the locker room."
One of the familiar faces for Williams was his college teammate, 49ers second-year wide receiver Josh Morgan.
"It's definitely good having him here, because when he first came to Virginia Tech I took care of him like a little brother," Williams said. "Having him out here, he's returning the favor."
Also aiding in Williams' comfort level are the 49ers secondary coaches Johnnie Lynn and Vance Joseph. Williams said he has really appreciated their coaching styles.
"The thing that is different about them is they're adults. I'm an adult and they're treating me like an adult and not like a kid," Williams said. "I can talk to them and call them by their first names, so there's more of a respect going both ways."
As far as his on the field comfort level, Williams still finds himself thinking and reacting like a cornerback.
"Sometimes being in the middle of the field I don't get all the way to the middle and that's just from playing man-to-man so much when I see a receiver on the field in my zone, I'm used to being close to them," he said. "So I just have to remember there's a lot of field out there and I have to get the deep middle instead of playing on the hash."
But with Williams participating in the entire 49ers offseason program, he's been able to get a lot more accustomed to playing the safety positions.
"With more repetitions and the more practice I get, I'll get more comfortable with it," he said. "I'm glad to be at the rookie minicamp, the defense is much easier this time around and I know where I need to be and I'm making the right calls."
Although many of the 49ers Faithful aren't too familiar with Williams quite yet, he insists that he's still the same player he's been for his entire career.
"I still have that flamboyant personality," Williams said. "I'm still kind of a livewire player. I bring the intensity as far as hitting and I show a lot of emotion and enthusiasm. I'm a crowd pleaser if anything. That's what you're going to get out of me. I'm trying to get the crowd into it as much as possible. I'm just going to bring some excitement as far as making plays, celebrating with guys and just being a crowd pleaser."
Until training camp gets underway, Williams will be concentrating on keeping his playing weight around 220 pounds and tightening up his knowledge of the playbook.