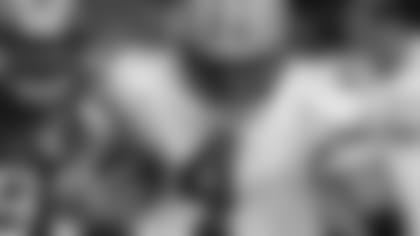 The last time the 49ers saw Brett Favre, the then-Packers QB threw for 293 yards and a pair of touchdowns in a 30-19 Green Bay win.
Linebacker Takeo Spikes' first ever encounter with Jets quarterback Brett Favre occurred in September of his rookie season with the
Cincinnati Bengals
. It was a meeting that led to the 49ers starting inside backer's first-ever sack, and one he remembers vividly.
The sack took place with 1:53 left in the game at the Bengals 33-yardline when Spikes dropped Favre for a 12-yard sack on a 4th and 3 play. Unfortunately, it was a Green Bay 13-6 eventual victory as Favre's magic prevailed.
As it still does, ten years later, and with a different green team to play for these days.
"He's still got it," said Spikes of the Jets quarterback. "He can throw the ball just as good."
The Jets trade for Favre has proven to be instrumental in their turn-around from a team that picked in the top ten in this year's NFL Draft, to the top of the AFC East with a one game lead.
"I just think up until this point now, you take into account everything that he's accomplished in the previous years, and just by him being there with the Jets, his presence alone makes that team better. You can see it," said Spikes.
49ers starting safety Mark Roman saw Favre's leadership and influence first-hand when he played with him back in Green Bay.
"He's just a real cool guy to be around," said Roman. "He's a guy who boosts morale in the locker room and helps you believe that you can win when you are on the offensive side of the ball. I'm sure his receivers feel that there isn't any place he can't pull the ball, so I have to stay alive, I have to keep working, because in any given situation he can get the ball. You tend to believe in a guy like that. Obviously with them turning it around like they have this year, a lot of guys on offense are believing in him."
Favre has undoubtedly helped ignite the Jets offense, but he's not perfect. His 20 touchdowns are six more than his 14 interceptions on the year, yet Favre is known for taking risks.
"I can remember when I was playing in Green Bay and some days you'd be thinking, 'Man, I wish I was playing against Brett right now,' because sometimes he has those kind of games, but you can't go into Sunday hoping or wishing that, that Brett shows up. He could be either really good, or he could throw you a few."
Other than one ball in the end zone that Roman admitted to botching in the Rams game, the 49ers starting safety hasn't been on the receiving end of too many gift-wrapped interceptions this season.
"I look at some film and it's like, 'Why can't I get into situations like that?' I watch Green Bay, because I played there and I'm familiar with the guys, so I always look to see what they're doing. A lot of times it's just like the quarterback is throwing them the ball. I'm like, 'Why can't I get them like that?' It's like he's just sitting there, what is the quarterback looking at? And I'm not getting those. Mike (Lewis) isn't getting them either. It's just frustrating to say the least."
And Roman won't head into Sunday's game expecting any freebies either. With Favre running the offense, Roman and the rest of the secondary will need to stick to tight coverage until the whistle blows, particularly on the Jets' top receiving candidates in tight end Dustin Keller, and receivers Jerricho Cotchery and Laveranues Coles.
"At any given situation, he can just come out of it and make a play," said Roman. "He had a play I think in Pittsburgh when I was there. They blitzed everybody and he came out of there and threw a touchdown to Donald Lee. I guess everyone in Pittsburgh probably thought the play was over. They had like three guys free to the quarterback and he was still able to get it off and score a touchdown. He can make plays like that; he does it more often than naught."
The 49ers experienced that "make something out of nothing mentality" two weeks ago against the Cowboys from quarterback Tony Romo, who often draws comparisons to Favre.
Romo looked all but sacked on a few occasions. Instead, he fired the cannon and got over the top on a few passes to Terrell Owens.
"Just like they say the quarterback has a time clock before they have to get the ball out, well a defense guy has that same clock going off in his head in the backend," explained Roman of what went wrong in that game. "When a quarterback is able to buy time, he can make plays. It's as simple as that. I promise you, there's not one defensive guy who starts the play and thinks I'm going to let this guy get behind me. There's usually a few things that go into it. As a defensive guy, can you play it better? Yes. Should you play it better? Yes, but they get paid too."
Not allowing receivers to get over the top was emphasized all last week by the 49ers coaching staff, and then carried out by the defensive unit in Buffalo.
"You don't want to get out there looking stupid. If it happened one week, that's one thing. You have to at least show the next week that you fixed the problem. If they are still throwing bombs off, then obviously, we are either not accepting coaching well, or the coaches are not coaching us well. Either way, it doesn't look good as a defensive unit."
Confident now that they've handled their problems stopping the deep ball, the 49ers defensive unit needs to turn its attention back to looking good against the run. Marshawn Lynch racked up 134 yards last week, and an impressive 8.4 average.
Although he's not quite the punishing style of back as Lynch, Jets starter Thomas Jones is a hard-nosed runner, and is coming off a 138-yard rushing outing.
"The biggest thing with him is his vision," said Spikes. "He's powerful, there's no doubt about that, you can see the film and see that. His vision I think is the most underestimated thing that people really don't talk about. His ability to get up inside the line, if there's a back-side guy, you may think that he's staying front-side, but as soon as you fold trying to go and pursue, he's coming right back where you left. It's something that can't be coached. I think he's just blessed with that athletic ability."
The Jets rushing attack also offers a home-run threat in Jones' backup, Leon Washington
"He's a guy where they'll bring him in on third down situations," said Spikes. "Bring him out the backfield, try to create mismatches and what surprises me more about him, is he's able to run between the tackles. He's not going to go down. He runs hard for a man of his size."
When it comes to the element of surprise, the 49ers are doing some of that themselves these day, becoming the first west-coast based team this season to fly cross-country and win on the east coast with last weeks' 10-3 defeat of Buffalo. And who knows, although it's a considerable long shot, this 4-8 team could continue to surprise on into January.
"The way that we look at it, we're really not mathematically out of it," said Spikes. "If we lose another game, then it's a for-sure done deal that we're done, but we're just trying to win one at a time to see where we end up. I think that's the best way to look at it, because you never do know. I was in a situation like this one time before and we ripped off and won a lot of games."
Wednesday Practice Notes: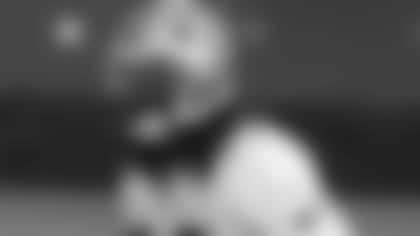 Safety Dashon Goldson returned to practice on a limited basis for the first time since injuring his knee in the 49ers game against the New York Giants on October 19.
Wide receivers Josh Morgan and Arnaz Battle also continued to work in practice on a limited basis.
Between Goldson, Battle and Morgan, head coach Mike Singletary was most optimistic about Battle being a go for Sunday's game against the Jets.
"I'm hopeful. He's one of our guys, a heck of a player. It's just a matter if he can come out, have a good practice today, get up tomorrow and feel great, and that makes the possibility that much stronger."
Return specialist Allen Rossum didn't practice on Wednesday, but still has a chance to go this weekend. If he can't go because of his ankle injury, the 49ers are a bit thin at punt returner.
Cornerback Nate Clements handled the responsibility last week, but has a slight fracture in his thumb, which kept him out of Wednesday's practice. Although Singletary didn't rule it completely out, Clements seems an unlikely candidate to field punts against the Jets.
"That's a whole another deal. We just have to take it one step at a time. Right now, when you have something happen to your thumb, it's just a matter of seeing how you feel, how the ball is going to feel, how it feels jamming."
In fact, Singletary was hesitant to put his top corner back at returner even last week in Buffalo, fearing injury, but was convinced by the 49ers special teams coach.
"Al Everest had a good point," said Singletary. "He said, 'We want to try and win the game. Who else would we put back there?'"
Hopefully, the 49ers can get either Rossum or Battle back to handle the job, but if not, Singletary listed Isaac Bruce and Michael Robinson as potential punt returners.
Safety Michael Lewis (abdomen) and cornerback Walt Harris (not injury related) also missed Wednesday's practice. Neither of them are expected to miss Sunday's game.