As a kid growing up in nearby Morgan Hill, Jeff Ulbrich idolized the 49ers defensive units of the 80s and 90s with linebackers like Hacksaw Reynolds, Matt Millen and his favorite player of all, Hall of Fame safety Ronnie Lott.
Wishing to follow in their footsteps, he played at the University of Hawaii to pursue his dream of playing professional football and soon after, he was selected in the third round of the 2000 NFL Draft by the late Bill Walsh, the team's vice president and general manager at the time.
Presently, he's coming into his tenth season with his beloved 49ers and will soon earn a spot at the conclusion of the '09 season amongst the players he grew up idolizing, as a member of the 49ers 10-Year Wall.
But the man they call "Brick" is not just the latest member on the wall, he's the embodiment of what is right in professional football as we know it today.
"For a guy to be going into his tenth season with the same team, going through free agency with him making the decision to stay and for the Niners to keep him is a great tribute to him," 49ers special teams coordinator Al Everest said. "He is what football is all about. He prepares well, he has fun, and he's a great learner. He learns his techniques and plays with those techniques. He knows his assignments and has fun doing it. He's a real pleasure to coach."
Everest has had no problem relying on Ulbrich over the last few seasons to be a standout on his special teams units. Last season after he started the first two games on defense, Ulbrich was a starter on five of the 49ers special teams units and was named "Top Gun," an honor bestowed upon the Most Valuable Player on special teams.
"I think when coach Al (Everest) came here, he breathed new life into me and it has just been a blast playing for him," Ulbrich said. "Some guys unfortunately look at special teams as an after-thought, but he keeps it competitive with the Top Gun award. He also demands that you play with the same sort of fire and competitiveness as a special teamer as you would play at offensive and defensive positions."
Prior to being a standout on Everest's units, Ulbrich had a number of responsibilities over the past nine seasons and has totaled 486 tackles (357 solo), 5.5 sacks and two interceptions as a starter and as a key figure on special teams.
"My role has definitely changed," he said with a content look on his face. "When I came in I was just a first and second-down inside backer – a run 'backer. And then that progressed into becoming an every down 'backer.
"Then I became just a third-down backer, suddenly I turned into a cover guy," he said sarcastically. "From there, I transitioned to a special teams guy. It's hard to pick a favorite, but I've enjoyed every role that I've been given."
Ulbrich excelled with each role bestowed upon him.
But what was his secret to becoming a staple of the 49ers over the past decade?
"You could ask my wife, I always took things one year at a time," he said. "I've approached every single year like this is the year they're going to release me. Maybe that's been the secret?"
Coming into the league, Ulbrich had no premonitions about being such a fixture. He was just in awe of the locker room he had become a part of and not to mention the fact that he was playing for his hometown team.
"I just remember walking in the locker room the first day and seeing Jerry Rice, Steve Young, Ken Norton Jr., and all these guys who I grew up watching," Ulbrich said. "To be a part of that, it took some time to settle in for me to realize that I was actually a part of it."
Ulbrich said veteran linebackers like Norton Jr., and Winfred Tubbs made his transition into the NFL much easier.
"They were two guys who weren't the type of veterans that were so threatened by me that they wouldn't share their secrets. They took me under their wing and taught me a whole lot of stuff," Ulbrich said.
The lessons he learned came in handy when facing some of the premier talent in the NFL. Ulbrich still remembers facing Marshal Faulk as a rookie and being in awe.
"It was like a surreal moment," Ulbrich recalled. "I just remember lining up, calling the huddle and then looking across the line of scrimmage and seeing him back there. It was pretty cool, but also pretty intimidating at the time."
Ulbrich chased down Faulk twice a year for the next several seasons, as the 49ers and St. Louis Rams consistently battled for the NFC Western Division.
In Ulbrich's second and third seasons, the 49ers reached the postseason, but never got past the Divisional Playoff round.
"Those experiences were good and bad," he said. "The two losses that we had were pretty devastating. I thought we had the type of team that could have won it all. We had a ton of play-makers and a good nucleus, a good locker room and everything. We had all the components I think you need to be a Super Bowl-type team. It was brutal to lose to Atlanta ('02) and Tampa Bay ('03). Although I think the win we had against the Giants in ('02) was up there in terms of the best games our franchise has played. It's always replayed on NFL Network as one of the best comebacks in playoff history. That was a very cool game to be a part of."
After the frustrating playoff loss to the Buccaneers, the 49ers made several coaching and personnel changes. Ulbrich however, stayed with the ball club and remained in the teams plans as a key player on defense.
"I never thought about leaving. It's been the sort of thing where I understand the business so I know there's going to be personnel changes, there's going to be coaching changes," he said. "In my perspective I want to be a coach after I'm done playing. That's been my ultimate dream. The fact that I've been exposed to so many great coaches and so many different players, only will help in the long run. I've had the opportunity to pick up a lot of stuff and hopefully that will translate into being a pretty good coach."
Over time Ulbrich became a player-coach who has helped the development of several players on the 49ers defense.
One of those beneficiaries of Ulbrich's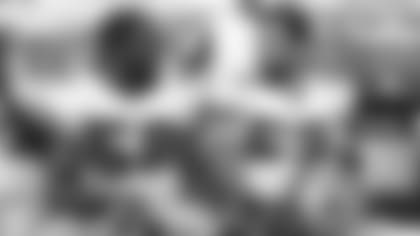 wisdom has been Pro Bowl linebacker Joe Staley.
"His whole work ethic has rubbed off on me," Willis said of Ulbrich. "I think it's very good for him being included on the 10-Year Wall with those famous names from the 49ers past; because those guys are the ones who helped build our organization. For him to have his name up there, it just lets you know that he'll forever be a part of this organization's history. Ten years, that's a long time to play. You have to be a great player to achieve that."
While Willis is grateful to have played side-by-side with Ulbrich, the grizzled veteran is modest about his role in aiding the Pro Bowler and budding superstar.
"I can't take much credit for him, he came out of the womb pretty good," Ulbrich said with a smile. "He's been fun to be around. In the offseason program he keeps me young. I try to line up against him every time I can and compete against him. There's no guy who works harder, so he definitely helps me. He says I help him, but believe me, it's a mutual deal."
Besides using the 49ers offseason program to keep his body in top shape which has been a big factor in his longevity, Ulbrich has been doing specialized training at Train For Life, a gym in Morgan Hill owned and operated by his friends.
At TFL, Ulbrich is able to have fun with one of his other passions, mixed martial arts.
"I'm a huge fan and I was always into wrestling growing up," he said of his love of MMA. "You can only do so many 40-yard dashes and so many linebacker drops. MMA training is just a way to stay in shape and keep things interesting. At TFL, we do some MMA stuff, we do judo and wrestling and they have the old-school training which I'm a big fan of. They do the tractor tire flipping and some work with sledgehammers."
When he's not finding ways to push his physical fitness to the limit in the offseason, Ulbrich has enjoyed spending time with his daughter Sammy, his two boys, Jax and Jace and his wife Cristina.
"Our kids are really into their sports right now, so just being able to go to their practices and games and being a part of that has been fun," Ulbrich said. "This has probably been the best offseason because our kids are getting to that age where you can go to their games and cheer them on."
This season and for the foreseeable future, the Ulbrich family will be sure to return the favor.
"Just like I've always taken it, I'm going to take my future year-by-year. I'm focused on making the team this year. When I make it, I'll worry about it next year. I want to play as long as I can. I love this game and I'm not going to be one of those guys who retires gracefully. I'll leave when one wheel is off and one wheel is flat and a couple of spokes are missing."