Jason Slowey's first memory is a snapshot of the hospital ceiling. He had just beaten cancer and he was still an infant.
Born with a malignant birthmark on his foot, Slowey was quickly diagnosed with Melanoma before getting rid of the potentially deadly growth through surgery. In the years that passed, Slowey filled out an annual questionnaire to keep the doctors updated on his progress, marking check boxes most people will never have to answer.
"You had to check off, 'Alive, no cancer,' or 'Alive, with cancer,' stuff like that," Slowey said.
The last he heard, the cancerous growth was still being studied and analyzed by research centers around the country because it was so rare.
Out of sight, out of mind, though. He's got an NFL training camp to worry about.
Slowey's hometown of Medford is Oregon's eighth-biggest city with a population of more than 75,000. Devoid of any professional franchises or big-time college programs, high school football takes a front seat on Friday nights.
Whenever Slowey's North Medford High School clashed with its bitter rival, South Medford, crowds overflowed the grandstands on both sides of the field. People even parked their RVs on the streets near the end zones, propping chairs on the roofs of the trailers to get a glimpse of the game.
Things weren't as lively once Slowey made the leap to college.
To get to his university from his childhood home, Slowey took the Interstate 5 North, passing through Eugene, home to the University of Oregon, and through Corvallis, home to Oregon State. His destination was Monmouth, home to 9,000 people, one stop light and one Western Oregon University.
It's a good thing the speed limit is only 25 miles per hour in Monmouth. Anything faster, and Slowey wouldn't have been able to use his stylish, red, 1985 Honda Spree, to get around town. The scooter has a weight limit of 250 pounds on it, but "Old Faithful" never failed Slowey.
"It's small. It's an '85 – so that thing's older than me – with 49 CCs," Slowey said. "I weigh 300 pounds, but I can go 30 [mph] on it."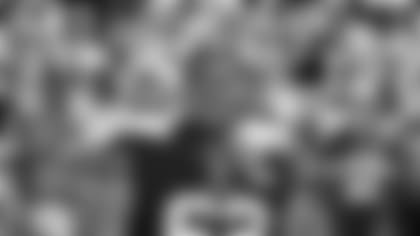 As frightening as Slowey's first memories could have been, he still remembers having a normal childhood.
"I always forget about it," Slowey said. "It was so long ago and it never affected me as a kid. I did the same thing as everyone else and I was real active, tons of sports. I was always outside."
He spent a lot of time in his backyard pool, so his mom signed him up for swim team at age 6. He kept swimming competitively until high school, when football started to take over his life, but not before making a name for himself in the pool.
"I was pretty good," Slowey said. "We had a really good relay team. I think we set a state record when I was 8 or 9 in the 200-yard individual medley relay."
Those early athletic accomplishments have since been trumped by his football triumphs, namely, his selection by the 49ers in the sixth round of April's NFL Draft.
Slowey got his first inkling of interest from the 49ers in February, while he was preparing the Players All-Star Classic in Little Rock, Ark. That week, Slowey and a member of the 49ers front office shared a lengthy conversation on the field, about football and beyond.
But it wasn't until after the conversation that Slowey realized exactly who he was talking to. He figured he was talking to a scout or a member of the team's personnel department, but a friend told him otherwise. He was talking shop with 49ers general manager Trent Baalke.
Actually, there was one time when Slowey's reliable scooter failed him. Following a football practice, one of his teammates from the offensive line wanted a ride. Turns out 600 pounds of man was too much for the scooter to handle.
"Popped the tire," Slowey said. "We had to break it down in the garage and we had to special order the tires because it was 20 years old."
Slowey wasn't always that big, though. When he arrived at Western Oregon as a freshman in the fall of 2007, he weighed 255 pounds.
But the boredom of Monmouth soon evolved into a new obsession for Slowey: the weight room. By the time he had wrapped up his junior year, Slowey was a hulking force on the Western Oregon offensive line, making quick work of defenders at his left tackle position, sometimes with just one hand.
As a potential NFL prospect at Division II school, Slowey entered his senior season with high expectations. But he still wanted to grow bigger, so he tapped newly-hired trainer Cori Metzgar-Deacon and her new training regimen.
"I give him a lot of credit because he pretty much put his training in my hands and said, 'I trust you,'" Metzgar-Deacon said. "His brute strength is unreal and his will power. Jason is so mentally tough and that's one thing that I love. I'm proud of him for what he's accomplished on his own, because we don't have much at Western Oregon."
Whenever Slowey made the trip north from his hometown on his way to school, he admittedly felt a bit of jealousy passing by Pac-12 Universities of Oregon and Oregon State. But Western offered him opportunities that the others didn't.
Sure, the football competition wasn't as good, but Slowey could also do the shotput and discus for the school's track and field team during the spring. He also received quality instruction in his field of elementary education. Thoughts of transferring to a big school passed through Slowey's mind, but he stayed the course and now he's in an NFL locker room.
"It seemed right to just stay and I didn't feel like starting all over again," Slowey said. "It was a good fit all around."
Content as he was with his college situation, there were still others who doubted his ability for the mere fact he went to a small school.
"People would say that you're garbage because you don't play at a Division I school," Slowey said. "That kind of bothered me, but talk is cheap."
Slowey didn't talk, he lifted weights instead. Student-athletes were only permitted to use the weight room five days a week, but that didn't stop Slowey and some of his teammates from getting creative.
"We'd always kind of sneak in for that sixth session," Slowey said. "You can only sit and watch TV and play video games for so long."
The extra work paid off, as Slowey packed on 60 pounds of muscle during his time at Western. A quick look at his college highlight films shows an imposing force who routinely manhandled his defenders. It's no wonder why he raised some eyebrows within the 49ers organization.
"To watch Jason play, it almost seemed like he wasn't even trying," Metzgar-Deacon said. "That's the funny part, it seemed like it just came so easy to him. But I know he put forth a lot of effort and it was a lot of fun to watch it."
Heading into the draft, Slowey had a good feeling he would eventually be picked by San Francisco. The 49ers invited him to team headquarters for his only pre-draft interview, and he snapped a shot of Jerry Rice's framed jersey as he got a tour of team headquarters. Added to his lengthy conversation with Baalke, Slowey knew he was Bay-bound.
He figured he would be a third-day draft selection, so his family threw a big party for the occasion. Only Slowey knew he wouldn't be picked until later in the day, so he slept in as the guests started the party without him.
He eventually emerged from his room to watch TV and wait to hear his name called. The 49ers held three picks combined in the sixth and seventh rounds of the draft, so Slowey figured he'd wait it out. San Francisco selected Trenton Robinson with the 10th pick of the sixth round, so Slowey then shifted his focus to the team's next selection: No. 199.
In an unfortunate twist, Slowey's parents were a bit restless so they stepped out to the store to make a grocery run. But there is no grocery store in Monmouth. The closest one was 20 minutes away, so Slowey's parents were gone for an extended period of time.
Shortly after the 198th selection of the draft was announced, Slowey's phone rang. It was the 49ers, he was sure of it.
"I saw the 4949 at the end of the phone number," Slowey said.
So with the No. 199 pick of the 2012 Draft, San Francisco selected Slowey. A few minutes later, as he spoke to the Bay Area media via conference call from his driveway, Slowey's parents pulled up to see their son.
Before they left to the market, he was a football player for an obscure school in the Pacific Northwest. By the time they returned, Slowey was an NFL draft pick, taken in the same slot as Tom Brady was in the 2000 Draft.
"I wouldn't even begin to put myself in the same sentence as Tom Brady," Slowey said with a laugh. "Ironic, I guess, but that has no meaning to athletic ability or success in the NFL."
He may be three Super Bowls and two MVPs shy of matching Brady's legacy, but being drafted was a feat in itself. Upon hearing the news, Metzgar-Deacon sent Slowey a bland, congratulatory text.
"He saw me later and goes, 'That was a really not exciting text,'" Metzgar-Deacon said. "And I said, 'I'm sorry, Jason. I guess I just knew it was going to happen.' Of course I was proud of him and thrilled for him, but I'm not surprised."
Transportation was still an issue for Slowey once he moved down to the Bay Area. Less than a week into his first NFL offseason, he reached out to the Twitterverse, telling his followers to bug Pro Bowl tackle Joe Staley to let Slowey borrow his car for the weekend.
Alas, Staley emphatically said no. Slowey – and often three other offensive linemen – resorted to catching rides with local product and undrafted rookie kicker Giorgio Tavecchio in his small hatchback. Quite a scene.
Slowey has since found his own ride – he's proud to say it's eco-friendly – and found an ally in Staley. Much like Slowey, Staley attended low-profile Western Michigan before breaking into the NFL.
"Coming into the NFL in general is a transition for any player out of college," Staley said. "Coming from a small school, especially, where you're the big man on campus and now everybody here is kind of a big man on campus. You just got to bring it every single play and every single practice."
The leap to the NFL isn't the only transition Slowey is making. After dominating at tackle throughout his college career, the 49ers have plans to move him inside. He's currently taking reps as the third-team center, while he's also likely to start getting reps at guard.
Through it all, Slowey has kept a level head.
"Slowey is doing a great job of learning that playbook and competing," Staley said. "He's doing a great job of learning, asking questions and being diligent in meetings and then coming out and competing. That's what you like to see out of a rookie. I remember myself as a rookie, just wanted to come out here and show that I would do everything I can to help better this team and they're doing the same thing."
On a cool, crisp Candlestick night, Slowey made his debut in the second half of the 49ers preseason opener with the Minnesota Vikings. Lining up with the third-team offense, Slowey snapped the ball from his position at center, flanked by other hopefuls trying to make the roster.
Two days later, Slowey and his teammates took the field as 32,000 fans screamed during Fan Fest at Candlestick Park.
He wasn't in Monmouth any more.
"It was like nothing I've ever seen, that's for sure," Slowey said. "I'm used to playing in front of 1,000 people. Plus, the stadium wasn't even half-full. Between that and Fan Fest, it was a whole new experience for me and it was a good one. I really enjoyed it and I'm looking forward to more."