Gold Rush Cheerleader Jackie is representing the San Francisco 49ers at the 2009 Pro Bowl. Keep up to date on all that she's been doing in herthird and fourthPro Bowl diary entries.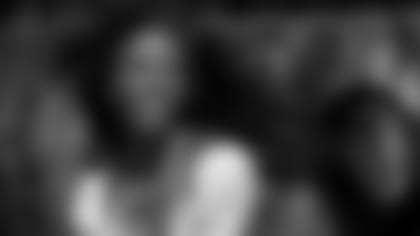 Thursday morning began with breakfast and we arrived to find gifts on each table (our favorite part of the day). After that we loaded up the vans and headed to Aloha Stadium for a field rehearsal. Entering the stadium for the first time was an exciting moment for me. The entire squad practiced for about 4 hours. Wow! It was hot and humid. It was definitely not like Candlestick Park.
We had a quick bite to eat at the stadium before heading back to the hotel. We had an hour or so to eat and prep before taking off to the Schofield Military Base for a performance, autograph signing and pictures with military personal and their families. This appearance was especially important to me because I have family serving in the armed forces. After a couple hours at the base, we returned to our hotel and had our nightly meeting to help prepare for the next day's events. Then it was off to bed.
Today was a great day! It started with a few hours of free time which I spent out by the pool with the some of the other Pro Bowl Cheerleaders. The next stop was the Pro Bowl Festival at Kapiolani Park. The festival kicks off two days of Pro Bowl events leading up to the big game on Sunday. We started the event by performing a couple routines for the crowd and each cheerleader was also announced individually. It was a special moment for me when I was announced because it was then that I noticed not only did I have members of the Gold Rush there to support me but also the 49ers drum line, Niner Noise and a large number of 49er fans. Some of the activities at Kapiolani Park included players signing autographs, the annual military challenge and the Special Olympics auction. I stayed behind with some of my fellow NFC teammates to meet the fans and sign autographs. I'm really looking forward to Saturday's Block Party.
Thanks for checking in 49ers Faithful!