Taylor Mays was nominated for the NFL's Rookie of the Week Award, and it was deservedly so.
But it's possible that fellow rookie Mike Iupati could have been a nominee as well. If only the 49ers had been victorious, a brighter spotlight might have been cast on the impressive play of the No. 17 overall pick.
According to STATS statistical service, the 6-foot-5, 331-pound mauling left guard has not committed a penalty in the regular season. For those scoring at home, that means no holds and no false starts.
He's yet to allow a sack either.
Asked about his lack of penalties, Iupati did the natural thing before answering the question – he knocked on wood (or the closest thing to it, the paneling outside of his locker).
But the adjustment to the NFL game from the under-the-radar environment of the University of Idaho hasn't overwhelmed Iupati.
In reality, it was nowhere near as difficult as the transition he experienced as a 14-year-old moving from American Samoa to the home of his aunt and uncle in Garden Grove, Calif. Iupati lived there with both parents and two brothers for a year before settling in a home in Orange County. He barely knew English and knew little to nothing about football.
If anything, his NFL adjustment compares to the first time he visited a popular fast-food chain as a teenager.
"When I got here, everything was big. I remember when I had my first meal at Burger King. I thought the Whopper was humungous.
Iupati remembers everything being big to him at the time, including the feeling of being out of place. He missed his friends. He missed the islands. But he didn't let those feelings overwhelm him. It wasn't quite as large as the opportunity itself.
"I didn't come to play football, I came here for school. Football kind of took over."
Iupati was focused on getting an education. He never considered the sport he plays professionally until a high school P.E. coach asked him if he'd be interested in trying the game of football. And once Iupati agreed to give it a shot, he was instantly inserted as a defensive lineman.
By that time, he'd picked up the language pretty well, so it was time to challenge himself once more.
Iupati would later move to offense, receiving all-state and all-conference honors as a senior on both sides of the ball at Western High School. Comfortable in his surroundings, but not quite on the college football recruiting scene, Iupati chose the University of Idaho to be his ultimate destination.
As a Vandal, Iupati would work hard to earn national praise. He started in 33 of 35 games and most notably was the second non-BCS player to be named as a finalist for the Outland Trophy, given to the nation's best lineman.
Even at a lesser-known school, Iupati did was he was supposed to – he dominated at will.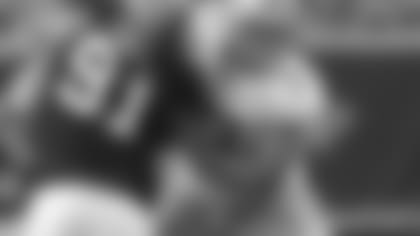 And just like any other player to come out of a non-traditional football powerhouse, people questioned if those talents would translate to the pro level.
So far, it appears they have.
"The NFL is like college, but more intense. You have to prepare and really know your stuff going into a game. You have to know your opponent. If you do that, you can just go out and play," he said. "You're going against the best. You have to bring you're A-game to every game you play in."
Through four games, Iupati and fellow first-rounder Anthony Davis have performed well in challenging circumstances.
"They've had to grow up really fast," quarterback Alex Smith said of the 23-year-old Iupati and 20-year-old Davis. "They've been put in a situation where they've been asked to start from day one and the expectation level hasn't really changed. We asked them to come in and play at a high level I think they have done that.
"It's tough, especially the three road games in your first four games and you're only home game is Monday Night Football against the Super Bowl champs."
After their first start in Seattle, Iupati and Davis became fourth set of rookies to start on the 49ers offensive line on opening day, and first duo since 1958. But even before the season-opener, the two instantly formed a bond in the 49ers offseason program. Now they often refer to each other as "brothers from another mother."
But Iupati's family is close by. They frequently attend home games and can be seen proudly wearing Iupati No. 77 jerseys. Mike's brother Junior even did most of his tattoos, which represent Samoan culture.
"It's phenomenal having them around. It just feels good. When I was in college, my family couldn't make it to a lot of my home games, but they always went to the close games in California.
"It's fun having family close by. I'm proud that they're proud."
Iupati's parents are currently back home in Samoa, but will be watching from home when the 49ers host the Philadelphia Eagles in a Sunday night primetime matchup.
"It's a great feeling, but what I have to do is focus on what's in front of me," Iupati explained. "I know they're watching. I know they're proud of me and all that, but I have to make them even more proud, by doing what I'm doing."
Iupati and the 49ers offensive line had its moments last week in Atlanta. They picked up several short-yardage situations including a fourth-and-one plunge on the opening drive.
"We're coming along as a unit. We're all close with each other, we just have to be even better," Iupati said. "There's a wall we need to climb still. Hopefully this week we can break the wall."
And with the way he's competed up until this point, Iupati can break that wall. Hopefully it's not the wood he knocked on earlier.
Notes and QuotesSingletary said Eric Heitmann should be back this week, but would not say if he's resuming his role as the team's starting center. Whether it's David Baas or Heitmann, Singletary said the decision would "work itself out."Like Heitmann, wideout Ted Ginn Jr., and cornerback Will James will be back in action. James has yet to play in a regular season game, Ginn was injured Week 1 at Seattle.
The only big injury news of consequence is the ankle injury tight end Delanie Walker sustained at Atlanta. It will be a week-to-week injury, Singletary disclosed. Look for rookie Nate Byham to have an expanded role this week against Philadelphia. "I think he works hard enough where he just continues to increase his value by the number of things that he's working on," Singletary said of the sixth-round pick out of Pittsburgh.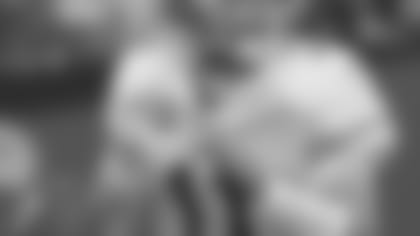 After moving on from the Falcons game, Smith was asked about the defense he'll face this week. Smith immediately compared the Eagles defense to the 49ers last opponent at Candlestick Park.
"It's kind of a similar style to New Orleans, I think, in a lot of ways. They throw a lot at you, a lot of pressure, a lot of different looks," Smith said. "They give you a bunch of different looks and do a lot of different things. They play fast, they know what they're doing, you know, and they cause problems, especially on third down. If you get in bad situations, you get in second-and-long, third-and-long, they can kind of dictate to you what they want to do."
Asked if he's fine taking the blame for the team's 0-4 start, Smith said the criticism is fine with him because it comes with the territory of his position.
"It's part of the game. We're 0-4, I'm the starting quarterback so no question, a lot of that falls on my shoulders.
"You know it's there. I understand it, but at the same time, like we've just been talking about, it's a long season. Really I think you have to continue to stay shortsighted and work on the things that are in your control, try to get better and get a 'W,' get this first one."