It's been 425 days since John Lynch and Kyle Shanahan took their seats in the Levi's® Stadium auditorium. Shanahan sat in the middle, flanked on either side by Lynch and San Francisco 49ers CEO Jed York. All three donned white shirts, red ties and matching 49ers lapel pins on the left side of their blazers.
The bulk of the 42-minute introductory press conference was spent covering the three P's that guided Year 1 under San Francisco's new regime: Process, patience and partnership. Lynch and Shanahan outlined a roadmap to restore the teetering franchise back to prominence. They stressed the need to assemble the right players, coaches and staff who would buy into their vision. The duo vowed to work diligently but reiterated that the rebuild could take time. Finally – and Lynch especially hit home on this – was the mandate that the 49ers new head coach and general manager must operate in lock step.
"What Kyle and I have talked about from Day 1 is that this needs to be a partnership," Lynch shared in his opening remarks back on Feb 9, 2017. "It became clear (through our conversations) that we saw football in a very similar light. We saw life in a very similar light. We understand that everyone's got to be rowing the boat together."
At a surface level, Lynch assumed power over free agency, the draft and the 90-man roster. Shanahan would have the last word when it came to the final 53-man roster. But that cursory overview trivialized the relationship that Lynch envisioned between himself and Shanahan.
"It's written that (any decision) is subject to the approval of the other guy," the first-time GM explained. "That's the way we wanted it reflected. When we started having these discussions, they went so well because that's what both of our motivations were."
It's mighty easy to put on those rose-colored glasses in the honeymoon phase. But what happens when adversity rears its ugly head? How will they respond when the losses mount? And if they reach an impasse surrounding a crucial decision, what then? How will they navigate that stalemate?
Fast-forward through the 2017 season and it's evident that the Lynch/Shanahan regime has staying power in San Francisco. They endured an 0-9 start without losing the locker room or playing the blame game in the media. They released the face of the team they inherited (NaVorro Bowman) and traded their presumed top cornerback (Rashard Robinson). Both headline-grabbing decisions were made swiftly and with a transparency rarely exhibited from an NFL team. All the while, belief in the vision never wavered as the team stayed the course.
And in terms of a stalemate, as Lynch puts it, there simply hasn't been one. The general manager explained that he and Shanahan see eye-to-eye in a vast majority of decisions. There are some foundational elements to that shared outlook when you examine each guy's football pedigree. Lynch played for Kyle's father, Mike Shanahan, for four seasons from 2004-07. Kyle spent two years as a quality control coach for the Tampa Bay Buccaneers from 2004-05 and worked with defensive coordinator Monte Kiffin. Lynch shared that Kiffin's system was "where he was raised as a player." So you can start to see why Lynch and Shanahan predominantly see things the same way.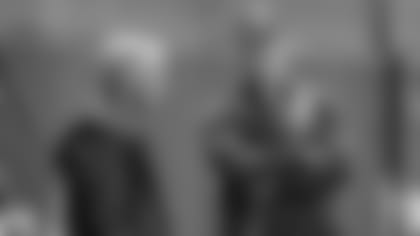 When their opinions vary – and there are occasions when they do – they work through it. For example, let's say that Shanahan really likes Player X but Lynch prefers Player Y. In such a case, Lynch would put together a cut up of Player Y. The best way to convince Shanahan of anything is through tape.
Lynch described these particular conversations as productive but never "vitriolic debate where we're at each other's throats." Each time, they've been able to come out with a solution. The general manager wouldn't name drop specific players or instances, but he did say that it happens often.
"I'll say, 'Hey, this is a guy you like and has been with you, but what about this guy? I think he can do the same things, but maybe he's a little faster?'" Lynch said in a recent interview with 49ers.com. "I think we're both open to that, and we encourage each other to do that."
Frank discussions help eliminate the biases of both parties. They believe that's the best way to minimize decisions that could come back to haunt the team.
"We can't be afraid to challenge each other," Lynch said. "That's how we're going to get better. Truly, we usually get to the point where there's an agreement, and we proceed accordingly."
The secret to their cohesive relationship is fairly simple. They genuinely like each other and talk a lot. Lynch recalled advice he received from former Bucs head coach Tony Dungy back when he accepted the 49ers GM job. Dungy told him that he needed to spend as much time with Shanahan as possible. Talk about ball. Talk about life. Talk about absolutely nothing. Just talk. That was the gist of Dungy's message.
Shanahan's ears must have been burning. Lynch's phone started buzzing as he was sharing that anecdote.
"Hey, Kyle, can I give you a call back in a few minutes?" Lynch said upon answering Shanahan's call.
"No worries. I just called to shoot the sh--," you could hear Shanahan respond through the phone.
Lynch continued to explain how his intuition told him pairing with Shanahan was the right move. He'd also tell you that Year 1 went better than he ever could have hoped in regards to his working relationship with the 49ers head coach. Until joining forces in San Francisco, their interactions were mostly limited to production meetings when Lynch would call one of Shanahan's games on FOX. Lynch prided himself on doing more homework than any of his colleagues in the broadcast world. And yet, he found himself learning from Shanahan during each exchange.
So upon their arrival in San Francisco, Lynch knew he was teaming up with one of the NFL's top offensive minds. But what blew Lynch away was Shanahan's command over the locker room while drudging through the 0-9 start. Even after a series of five-straight losses by three points or less, each more excruciating than the previous, Shanahan never lost his players.
"Certain people have it and he's got it," Lynch said of Shanahan. "He's got the ability to be hard on them when it's time to be hard on them. And when it's time to love them up, he does that."
Look no further than the raucous postgame celebration following the team's first victory in Week 10 against the New York Giants. Lynch admitted he's a bit sheepish looking back at the locker room hysteria as a 1-9 team, but at the same time, it was indicative of a group of players that had kept faith in the plan.
"We just weren't there yet as a team," Lynch said of the slow start. "We were playing a bunch of young guys. We were battling injuries. But you could see us improving. How do you get mad at them when they're giving everything they've got?
"Was it good enough? No. But should we all be Debbie Downer because of it? No. Everyone looks to us for how we're going to react to situations. I was so impressed with the way Kyle conducted himself."
Neither Lynch nor Shanahan are naïve enough to think that it's going to be all champagne and caviar from here on out. If anything, the road will only get tougher. Year 1, for all intents and purposes, came without pressure or expectations. That will not be the case in 2018 and beyond. Jimmy Garoppolo engineering a 5-0 run to close the 2017 season made sure of that.
But 49ers fans should take solace in the fact that their team is led by a genuine partnership – one ready for whatever comes next.
"I wouldn't have taken the job if I didn't have the feeling that this would work out," Lynch said. "(Me and Kyle) rely on each other. As a result, our relationship is as strong as ever."