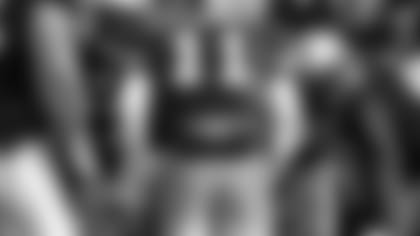 It takes 11 players working in unison to execute the offensive game plan but the biggest load falls on the signal caller. In his third year, quarterback Alex Smith will again look to shoulder that load under the direction of offensive coordinator Jim Hostler. Check in every other week on Mondays to hear his perspective from Sunday's game.**
I headed in early to watch the tape of the game on Monday, and as expected there were some plays I definitely would like to have had back and that we can learn from.
As I said immediately afterwards, I'd definitely like to have that fumble back. That was obviously a big one. If I hold on to that ball there, then they probably don't get that field goal to take the lead.
I dropped back on that play and didn't pull the trigger up the seam to Delanie Walker and was coming back to Darrell Jackson to the right when I felt some pressure and kind of tucked the ball in to slide in the pocket and the defensive linemen jumped around. He got his hands on the ball and it came out and he fell on it.
You can feel the heat but you also want to try and not pay attention to it in a situation like that. That's the fine line of playing quarterback because you can sense it but you need to stay focused on what's going on down field and just try to slide and move away from it in there. But, I definitely had a chance to get rid of the ball. Vernon Davis was also open but I felt the pressure and tried to pull the ball down and was just a little hesitant and that's what cost me. I have to take that shot because worst case we were 2nd and 10 and still in excellent field position with a chance to punt them and pin them deep even if we don't convert.
Before the fumble, there was a 3rd and 6 play where I tried to get it to Arnaz Battle who was very well covered. I threw a crossing pattern to him when if I had held on a second longer I knew I had Vernon in man on man coming open. That's probably another one I'd like to have back.
The other one came in the first half after that long ball to Darrell. That was a play we practiced all week for when we had man to man coverage and then it actually ended up coming open against a zone coverage. I was a little unsure about the look we got and was about to check it down to Frank but Darrell kept his route alive and was coming across the formation and I kept my eyes up and found him and he made a nice catch on the boundary. We ended up facing a 3rd and 4 at the end of the drive and I took a big sack that knocked us out of field goal range. I've got to get rid of that so that Joe Nedney can try that field goal which would have tied the game at that point.
We hit on another 19-yard pass play to Vernon early that set up Frank Gore's first touchdown. It's a play where you are sprinting out to the right and trying to get the defense to flow with you and Vernon is the lone man running across field and you hope with the run fake and the boot fake they lose track of him as he gets through there and they did. You are pulling up and throwing back against your body but most of the time it's an open throw and Vernon got through there very well and made a nice play on that one.
Overall, I felt like the second quarter and then late in the third quarter we moved the ball well and were mixing up the run and pass and having some success, but in the fourth quarter we just didn't convert on some key third downs and we really let them back in the game.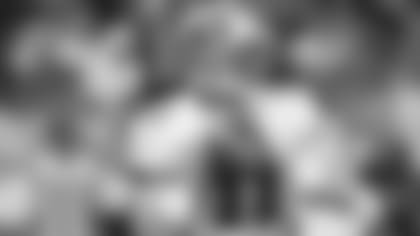 Even one extra first down can make a big difference in a game like that. On the series right before Dante Hall muffed the punt, we had a 3rd and 8 and they sent a blitz. We had a screen called on that so I just tried to buy as much time as I could to let Maurice Hicks try to find his way through there and luckily he popped right in time to where I could get the ball over the defenders head and he made a nice catch on the ball. We did stall on the next third down but that allowed Andy Lee to not have to be backed up deep trying to punt which worked out in our favor with Hall dropping the punt. Marcus Hudson got that recovery and gave us a short field that set up Nedney for what would be the game-winner.
Our special teams unit played very well and did a good job helping us out with field position most of the game. The defense continues to make big plays for us, only allowing the one touchdown in the first quarter after our muffed punt, so that was another great job by those two units.
I know that the receivers would like to get more balls and as a quarterback, I want to throw the ball too and get us to that point, but those guys are also very selfless. They realize how big these wins are and how important they are. We know we need to throw the ball to win, and we'll get to that point. It's a long season.
If teams are going to play the run like they have been, then we've definitely got to find a way to get more production on first downs, whether that's mixing it up with some play action or hitting those big passes on early downs to try and get them off of us, we'll have to do something.
Despite the way they loaded the box Frank still managed to come up huge for us. It was definitely a tough week for him. I know how close he was to his mother and it's something I really can't imagine going through. He is so dedicated to this team and it just shows how much he loves being a part of this team and helping this team win.
He had the two touchdowns and that run on fourth down was obviously very big. It gave us the first lead of the day and it was just a great call to go for it. We loved that call and felt very confident that we'd get the first down. I definitely didn't know he'd score, but I saw him shake out of that one tackle and then he was off.
We stuck with the run on our last drive and had we not gotten that illegal formation penalty we probably would have converted on that because Frank rolled off an 8-yard run on 1st and 10. You get those eight yards and then you are in short yardage which we feel good about converting upon. A first down there and they probably don't even get a chance to get back on the field.
All in all, we got the victory and it feels great to be 2-0, and the encouraging thing is we know we can play so much better on offense. We know we can become more balanced and really increase our production but at the end of the day wins are what count and we are 2-0. I think pulling out two wins like that says a lot about this team. I'd rather have the game we did that was ugly and not a lot of productivity than be the Rams at 0-2. They've thrown for a lot of yards and put up some great numbers but they've got back-to-back losses. I'd rather be in our position at the top of the NFC West. We want to get it going and get it clicking and we know that's something we've got to do to meet our expectations this season, but I'm also confident that it is going to come.
Winning on the road is also important. There were situations where it got pretty lively and loud in there and we handled that well and had very few penalties. We'll need to carry that over this weekend in Pittsburgh and just use what we've learned the last two weeks to get better. I know we can play much better and I think everyone on offense believes we can play better too. We just need to become more consistent in our execution, make those few extra plays and put ourselves in an even better position to win.