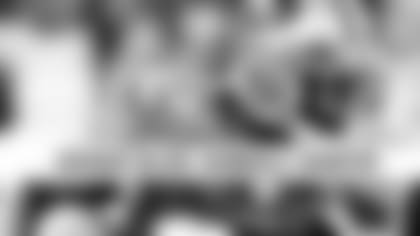 Kendall Hunter wrapped up his first NFL preaseason as the league's leading rusher and is looking forward to suiting up for the regular season. The 49ers fourth-round pick out of Oklahoma State still tries to keep up with his alma mater and will be reunited with one of his former teammates, Seattle tackle Russell Okung, in Sunday's season opener. Nowadays, Hunter's locker is right next to a former Oklahoma Sooner, leading to some healthy locker room banter. Here's an update on Hunter, as told to 49ers.com.**
I really didn't care about having the most rushing yards in the preseason for the whole league, it really doesn't count. I was just adjusting and trying to find a comfort zone to try to help the team out as best I could. It was kind of surreal, though. At first, I was like, "Dang, I'm playing against people I used to watch on TV every Sunday." But it's just fun to be out there, it's something I love to do.
As a running back you have to be comfortable with everything you do and I'm lucky to have a couple of guys like Frank Gore and Anthony Dixon to learn from. It's been a great experience. They're showing me the ropes and giving me tips on how to get better and keep my body healthy.
Keeping your body right is really the No. 1 priority and Frank has helped with that – I'm getting in the cold tub every day after practice and doing different stretches and stuff like that. Anthony is a fun guy but he's also a hard worker. He's always hyped up and it's good to see a dude like that who's hyped up because it brings everybody else along. But this is a really tight locker room, we all have our bonds here together.
I still like to find time to watch Oklahoma State. I caught a little bit of last week's game and saw their new uniforms for the first time. They're a little different but they're cool, I wish they had them when I was there. That's how it is, though, it's all good.
It's hard to keep up with OK State, but they're my boys. I always like to try to record their games so I can watch them whenever I have some free time. I actually still talk to some of my teammates back there to see what they're doing and how the season's going.
This weekend, I'm pretty excited to face my old college teammate Russell Okung. He's my boy, I call him Big Russ. We haven't talked this week but he really helped me a lot with the process of joining the NFL and what to expect and everything. He's a good dude to talk to. We actually used to be roommates on road trips at Oklahoma State and we would get into it every night. He would complain about everything and we'd end up getting into pillow fights and stuff like that, it was pretty funny.
Now I got Reggie Smith, an Oklahoma guy, at the locker next to me so it's fun to keep that trash talk going. We never beat them while I was at school, but I shook him a few times, that's for sure. But we're cool, we're all just trying to get better together.
I also just moved out of the hotel and got my own spot around the corner from team headquarters so I'm pretty excited about that. It's a little different being away from my two kids, but my mom is taking care of them and telling me about them everyday. It's crazy living out here, I don't know too many people outside of my teammates. I don't even really eat outside of the team cafeteria, but I've found a couple of cool spots to get snacks around here.
I'm really looking forward to getting this season started. Right now we're just focusing on practice and taking it one day at a time. Thanks for reading my rookie updates, I'll have more later in the year.