Long before anyone on the 49ers donned the red and gold, they suited up in their high school uniforms.
And even though they have come a long way since then, nobody has forgotten where they fell in love with football.
"At the very root of my football experiences was high school football," coach Mike Singletary said. "The things I learned in high school carried me forward even to this day."
With those thoughts in mind Wednesday afternoon, Singletary presented awards to this season's Kelly-Moore Paints Coaches and Players of the Week. Every week throughout the high school football season, the 49ers selected a coach and player from the Bay Area who exemplified elements of a champion on and off the field.
The winners of the Charlie Wedemeyer Coach of the Week award received a $1,000 grant for their school presented by the 49ers Foundation as well as a $500 gift certificate from Kelly-Moore Paints to beautify their school.
The winners of the Player of the Week award received a $500 gift certificate from Kelly-Moore Paints to help beautify their campus.
In addition, all the winners received a 49ers hat and shirt, a certificate signed by Singletary, two tickets to the upcoming game against the Detroit Lions and spent Wednesday watching a 49ers practice. The winners will also be honored on the field before the game.
"It is great to be here right now, this is the type of thing I dream of," Sequoia High School quarterback Frank Mems said. "It means a lot to be honored by the team because I have been a die-hard 49ers fan since I was a little kid, and now to be recognized by them I know I must be doing something right."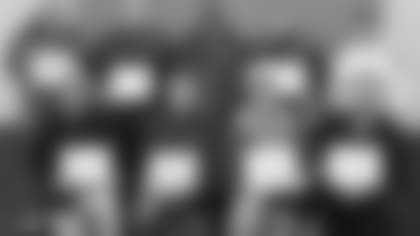 After Singletary presented the winners with their awards, he announced that Ken Peralta from Marin Catholic High School as the Coach of the Year. For this honor, Marin Catholic will receive an additional $2,000 grant from the 49ers Foundation.
"This was such a great surprise and a great honor for me," Peralta said. "I have been a 49ers fan all of my life so this is really special to me and I am very humbled by it.
"This means a lot to me and I'm sure being honored like this means a lot to everyone who was out here today."
The coaches and players spoke about how good it feels to be recognized for their hard work. They all enjoyed watching the 49ers practice and can't wait until Sunday.
"It is cool to see your idols practice, to see their work ethic and see how they prepare for the game," Santa Teresa High School linebacker Mark Borland said. "It really helped us young guys see how to do things the right way."
Winners of the Player of the Week award included Borland, Mems, Jonathan Fullbright of Milipitas High School, Ronnie Isles of Andrew Hill High School, Chris Eke of Grunderson High School, James Duran of San Jose High Academy, Jason Belanger of Independence High School, Noah Shaw of Lowell High School, Nick Hirschman of Los Gatos High School and Amir Carlisle of The King's Academy.
The Charlie Wedemeyer Coach of the Week Award winners included Peralta, Jeff Carnazzo of Palma High School, Mike Mitchell of St. Francis High School, Mike Machado of Valley Christian High School, Ron Myers of Soquel High School, Steve Ellison of Petaluma High School, Mike Carrozzo of Lelan High School, Jeff Scheller of San Mateo High School, Bill Waggoner of Los Altos High School and Bob Sykes of Gunn High School.