At Friday's morning practice, 49ers quarterbacks Alex Smith and Shaun Hill interchanged their roles in practice much like they have been during the course of camp.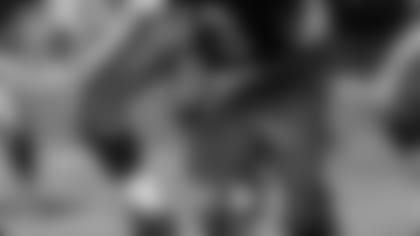 This time however, Hill was taking the reps with the first team and Smith was allowed by the coaching staff, to take the day off to rest his arm, just like Hill had done for the last two days. Hill showed no signs of arm fatigue as he launched several crisp passes during practice, and JT O'Sullivan also made good use of his work with the second team.
Smith said after practice that his arm did not need a rest but he could benefit from taking mental reps.
"When you sit back and watch those guys, you have to take advantage of those reps," he said.
By stepping back from teamwork, Smith believes the mental reps will be helpful with the implementation of new plays from offensive coordinator Mike Martz.
"I think our offense will constantly evolve," Smith said. "Coach Martz says, 'When you think you have it all down, that's the moment you don't.' We're always going to be putting in new things and getting better. I was really trying to go over my thought process and my decision-making. So much goes into this – so much detail. I'm really trying to get it all in."
During the morning practice, Hill completed 9-of-14 with a touchdown to Davis. He completed 7-of-9 to start the day during regular team drills.
O'Sullivan finished the morning 11-15 with a touchdown to Jason Hill during redzone work. He was 6-of-7 during the redzone period.
(Stats are entirely unofficial)
Wide receiver Arnaz Battle and tight end Vernon Davis stood out in practice, as they both made impressive catches during the team periods.
Battle reached out and hauled a pass from Shaun Hill on a deep in route, continuing his impressive week of play.
"The quarterbacks are doing a great job of anticipating the routes and the timing is there," he said of the reception. "We're making plays, and there's a lot to be made in this offense."
Battle said the receivers are continuing to run consistent routes so that the quarterbacks know they'll be in the right place at the right time.
Davis too was recipient of a couple of nice passes from Hill.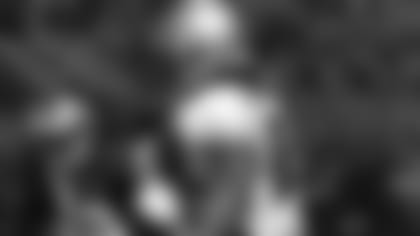 During team redzone, Davis hauled in a beautifully thrown ball in the back of the endzone on a ball he could only catch. What made the play even more impressive was that Davis eluded the coverage of Pro Bowl linebacker Joe Staley, and Hill's pass was right on the money.
"He made a nice read and I did what I had to do as far as taking care of my responsibilities," Davis said. "I turned around and the ball was right there."
Davis has been putting in extra work after practice with the juggs machine, helping him focus on watching the ball into his hands.
"It helps me a lot," he said. "The harder you work, the more successful you become and that's why I work hard. I try to do the things that other players aren't doing. I like to be the last one to leave the field. That's what I enjoy to do, I like working and I like getting better."
The play of the day went to wide receiver Jason Hill. During the redzone portion of team drills, on an O'Sullivan throw, Hill made an impressive one handed catch in the back of the endzone, despite tight coverage from cornerback Tarell Brown.
The Daily Drill(contributed by Scott Kegley)
The special teams period featured the punt and punt return teams. While special teams drills often focus only on one side of the ball, both starting units lined up against each other and went all out.
"That's when I really get my work," said punt returner Allen Rossum. "I try to make it as close to a game as possible and go full speed. That's easier to do when we have both units on the field."
The session was split with the interior groups going against each other and both sides of the gunners alternating their turns going against each other with the interior linemen. For Marcus Hudson, who lines up as a gunner on punt and punt return, the drill brought a lot of added intensity.
"It's a great job to have, it's a fight," Hudson said about playing as a gunner. "Nothing is easy on special teams which makes it one of the hardest parts of the game. Sometimes it goes unnoticed, but not with us."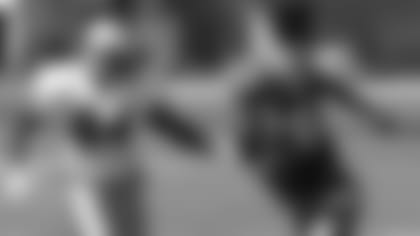 For Rossum, the period was a chance to get as many different looks as possible.
"We have a right footed punter and a left punter so they are two totally different animals," said Rossum. "One ball spins one way and the other spins in the opposite direction. I'm getting a ton of work that I think is going to help me in the long run."
As one of the unit's top performers last season, Hudson took reps on both sides of the ball in an effort to take the 49ers special teams back to last year's elite level.
"Practice makes perfect," said Hudson. "We were number one last year, but we still found things at the end of the season that we could improve on."
After adding an elite return man in Rossum to a stellar cast of special teams standouts, the coaches are pleased with what they've seen so far in training camp and are eager to see how the units perform this season.
"We're even better now because the guys last year learned the techniques and they've remembered them to get by blockers and to block guys," said coach Jason Tarver.
"They're picking up above and beyond where we were last year, and now everybody will be applying the techniques a little earlier in the year."
Seen or Overheard (contributed by Scott Kegley)
During the first team period, head coach Mike Nolan stopped the team before one play because of an improper alignment.
"Come on defense," yelled Nolan. "Get on the same page!"
Defensive coordinator Greg Manusky also barked at the defense as Isaac Sopoaga was not lined up correctly. Linebacker Manny Lawson had seen Sopoaga moving around, but was not worried because he was just showing the offensive line a false look.
"He's just Hollywood-ing, coach," yelled Lawson. "Lights, camera, action! He's just Hollywood-ing!"
During the special teams period rookie Cameron Colvin learned a hard lesson about playing on punt team – splitting the gunners is not as easy as it may look.
Colvin lined up against Marcus Hudson and Donald Strickland and tried to split the pair to get down field on punt coverage. What he found instead was a brick wall. Strickland and Hudson stood Colvin up and even drove him back five yards.
"You're never going to get off the line if you try to split those guys," said defensive assistant Jason Tarver who also instructs the gunners. "Those are two crusty vets."
Safety Keith Lewis felt bad for Colvin, a fellow Oregon alum.
"You got to get off my boy like that," Lewis yelled at Strickland and Hudson.
Coach Tarver didn't feel too bad for Colvin, wanting him to get all he could out of his reps at practice.
"Colvin learned his lesson," said Tarver after practice. "When you split the gunners you have to bring your A game."
The injury report remained unchanged through Friday's morning practice.
DL Kentwan Balmer (ankle), S Lewis Baker (thigh), WR Ashley Lelie (calf), and S Mark Roman (hamstring) missed practice because of their injuries.
G Jeb Terry was also out of action after injuring his foot during Wednesday's afternoon practice.
RB Michael Robinson remains out after having his knee scoped, while G David Baas is still on PUP.
The 49ers practiced in shells with the public on hand in the late afternoon. Alex Smith continued to rest his arm and JT O'Sullivan took his turn working with the first team offense.
During the team scrimmage, O'Sullivan went 3-of-5, and Shaun Hill went 4-of-6 while working with the second team offense.
Safety Dashon Goldson made an impressive diving interception during the 7-on-7 session. Afterwards Goldson said he dove for the ball because he practices like he plays in games. He also made a nice play to break up a pass intended for Vernon Davis on the sideline during the team portion of practice.
WR Arnaz Battle, CB Walt Harris and T Jennings were held out of practice by design.