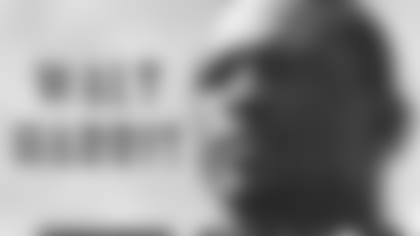 Who better to provide a veteran perspective on training camp than Pro Bowl cornerback Walt Harris? After all, he's been through more than a dozen of them, and at different spots too after having played with the Bears, the Colts, the Redskins and now the 49ers. Check out his diary entry from week three of camp...**
I was feeling a little tight in my calf and went out in practice and came down on it late last week. I'm just taking it a day at a time. It's a little frustrating, but at least it's during preseason and not the regular season.
When you have to get treatment, you have to come in about an hour or so earlier in the morning. It all depends on your injury and what Jeff Ferguson wants us to do, but usually you get ice and stem for sure and try to get back to where you need to be.
I hated to miss out on the Broncos game, but I saw a lot of good things. Defensively, there are definitely some things we have to improve on and make some adjustments. We made some mistakes. We've got to get better against the run.
But as a team overall, we look very promising.
On the offensive side of the ball, they've picked things up. I like the way Alex Smith is throwing the ball and the receivers caught just about everything. Alex just looks a whole lot more relaxed. Special teams, they got a few big plays on us but we're improving and we'll get that fixed. It's just a matter of us gelling out there.
It does take time. It's a matter of how much work you put into it during the week and guys working on their communication. It takes a little bit of time but how fast we progress and get to where we need to be is really determined by us and our commitment to working hard.
Even though I wasn't suited up, I love the game and was into the game like I am always. I'm always trying to pick up on some things and learn no matter what the situation is, so I was standing up on the bench watching and rooting those guys on there at the end. We made it a close one, and next time we'll get the W. It's all about winning. We want to build the atmosphere that whatever we do, we win and excel!
A lot of young guys stepped up. Tarell Brown stepped up and made that interception, I asked Joe Staley when he came off the sidelines how things were going and he said it was fast at first but then started slowing down for him as the game wore on.
I can remember being out there my first time and your eyes are big and everything is coming so fast, so it was enjoyable to me to see them out there going through that and having fun. I just think they all looked very promising.
We had Tuesday off so I just hung out at the house and relaxed, continued getting some paperwork done and things taken care of on the east coast on some things I don't have too much time for right now. My family is out here now too. Whenever I get home, my kids all look at my body and look for any sores, so they saw I had a little scratch on my leg and they got a little Neosporin and put it on me and bandaged me up with one of their kids' Band-Aids. I'm still wearing it because I really was just sitting there in heaven enjoying their attention!
This week has been a fast turn-around with a game Monday and then again Saturday. Coach has adjusted the schedule to help us out, but it is a short week and that's part of the business. Sometimes you are going to have short weeks and you just have to be able to deal with it and just roll on and adjust. We're going to have some weeks like that this year and so this is good for the coaches to see what works best for their scheduling, and also for the players to get a better idea of what you need to do differently in a short week situation.
The Battle of the Bay is very competitive with the fans. Sometimes I'm in the city or around here and I meet Raiders fans and they are serious about not liking us. Our fans our just as serious about not liking them, and it's all about winning. I don't necessarily consider it more of a rivalry than other teams out there because I want to win regardless of who it is we are playing, but I do understand it's a big deal to the fans.
Defensively, we definitely have to come out and play a lot better than we did against Denver. We've got to tighten up and we definitely have to tackle better. We've got to have better communication. The starters will play some more and it's just a continued evaluation period for the first group and the younger guys, and a chance to get better.
There has been some singing since my last diary, and I have to say that it's been really terrible. They've done a bad job for the most part. One guy got some clapping along, but the other guys - really terrible. We do have a talent show next week. I'll have a report on that next week. I think we are meeting tonight to discuss everything. It's not just the rookies this year, so we have to see who can and will do what. I'm really looking forward to seeing how this goes. It's pretty much anyone who has talent – I do have some hidden talents – but I'm keeping that hush until next week and then I'll share!