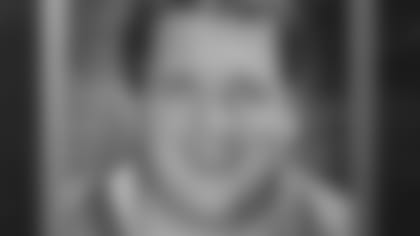 Throughout the offseason, 49ers.com will feature members of our 10-Year Club. Check out our latest feature on former 49ers offensive tackle Harris Barton, who played for the team from 1987-1998. **
After a stellar career at the University of North Carolina, Harris Barton was a top prospect heading into the 1987 National Football League Draft. So much so that around 20 teams sent scouts to work him out prior to the Draft.
One team that wasn't among the group was the team that ended up drafting him – the San Francisco 49ers.
In actuality, Barton had already had his audition with the 49ers without even knowing it.
The 49ers had sent their offensive line coach Bobb McKittrick to evaluate Barton on a personal level.
"He happened to be in town and he didn't work me out, but we walked around the campus," Barton recalled of the visit. "I showed him the basketball gymnasium. I showed him the football field and we just talked. I really had no idea that they were going to draft an offensive lineman.
"So when they did, it actually came as a surprise when the phone rang and Bill Walsh was on the line."
Walsh's talent evaluating has been well documented, but his selection of Barton in the first round of the '87 draft at 22nd overall was another feather in his cap. Barton backed up Walsh's assessment by playing 12 seasons in San Francisco, which also earned him a spot on the 49ers 10-Year Club.
Although he grew up in the South, Barton wasn't apprehensive at all about coming to the West Coast to play professional football.
"It was one of the greatest franchises in the history of sports," Barton said. "It was an honor to come out there and play with guys like Jerry Rice, Roger Craig, Joe Montana and Ronnie Lott. It wasn't hard at all for me to leave home."
Essentially Barton was drafted to replace Keith Fahnhorst, another decorated offensive lineman represented on the 10-Year Wall. Barton's transition to the pro football ranks was made a lot easier with veterans like Fahnhorst helping him along the way.
"Keith was a fantastic gentleman about it all," Barton said. "I swore if I was ever put in the same position towards the end of my career, I would be as gentlemanly as he was. Keith was great, as were other veterans on the offensive line like Randy Cross, Fred Quinlan and Bubba Paris."
Following a rookie season that was cut short because of a labor dispute that resulted in a players strike, Barton became the starter at tackle, joining an already established offensive line with talented linemen like Guy McIntyre, Jesse Sapolu, and Steve Wallace.
With those four in the lineup, the 49ers trotted out one of the best offensive lines in pro football, which helped them win back-to-back Super Bowls in 1988 and 1989.
"It was a dream come true to be in the League three years and to have won two Super Bowls," Barton said.
The late 80s and early 90s saw the franchise earn rock star-like status.
"Every year we had a chance to go to the playoffs and had a chance at least to get that opportunity to play in so many big games," he said. "There were Super Bowls and so many big games like Monday Nights and exhibition games overseas – it was just a dream come true."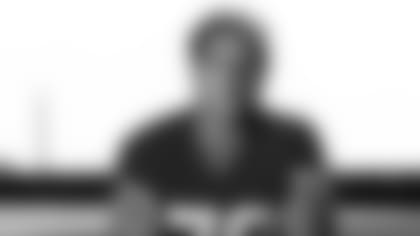 Barton cherished those experiences, as he had the rare opportunity to block for two elite NFL quarterbacks in Joe Montana and Steve Young.
"I don't think there's another offensive line who had the opportunity to block for two first-ballot Hall of Fame quarterbacks," Barton said. "Show me somebody else who has those credentials and I'll back off of that comment, but it's really a rare thing and I don't know if someone else will ever get the chance to do that."
Montana and Young may have been the superstars on the team, but Barton also earned notoriety with invitations to the Pro Bowl in '92 and '93.
"It was nice, because football is the ultimate team game, especially when you're an offensive lineman," he said. "You learn that any type of honor like that doesn't come unless the team is any good, but fortunately for us, the team was always good.
"All of our offensive linemen had chances to go to the Pro Bowl. It seemed like we rotated. Guy had some great years and he was honored, Steve [Wallace] and Jesse were too. I had some great years and was honored with the Pro Bowl, but none of that comes, unless you have great team success."
Barton and the 49ers experienced additional success in 1994 by winning the fifth Super Bowl title in franchise history. But for Barton, the season was a tough experience after he suffered a triceps injury early in the year that kept him out for seven weeks.
Without the services of their two-time Pro Bowl tackle, the 49ers were able to make the necessary adjustments and still have success on the field.
"The 49ers did a great job of getting guys healthy and making sure they were right," Barton said. "They also made sure they had backup players, who could fill-in and help out. Fortunately I was able to come back and be a contributor in the playoff run and the Super Bowl, but it was a first class team that Mr. DeBartolo owned and ran. The coaching staff, the front office, everybody involved was just first-class."
Following the 1998 season, Barton decided to leave the first-class organization and retire. Years later he decided to build his own company with former teammate and Hall of Fame safety Ronnie Lot.
"After my career I started working in the financial services industry and have done so for the last nine years, and I have a great partner in Ronnie," he said.
When he's not busy at work, Barton has been able to become quite an accomplished golfer. He regularly attends the PGA's AT&T Pebble Beach Pro-Am Tournament where he's been paired up with some of the best golfers in the world.
But is Barton the best golfer to ever play for the 49ers?
"I don't know about that – I'm just lucky," he said modestly.
Although he's spent a lot of time after his career conducting business and spending time at various golf clubs, it's the 49ers 10-Year Club that Barton is most proud of being a member.
"I think it's an elite club," he said. "It was elite when I played there and it's an elite club now. I think it's a lot harder to play with the same team for ten years with free agency and how players move around. But, it's a great accomplishment and it's something that I'm really proud of."