CANTON, OHIO – He's arguably the greatest player of all time, and unquestionably the hardest worker to ever play in the National Football League.
And on Saturday night, Jerry Rice's labor of love earned him admission into The Pro Football Hall of Fame, a fitting honor for the best wide receiver ever.
From humble beginnings in Crawford, Miss., Rice went on to play in the NFL for two decades, spending 16 memorable years in a San Francisco 49ers uniform.
He set an unprecedented 14 NFL records, most notably, 207 career touchdowns, 22,985 career receiving yards and 1,549 career receptions.
Rice played on three Super Bowl winning teams and was named to 13 Pro Bowls, but being inducted as one of the game's all-time greats left him honored and humbled.
"Standing here today as the newest member of the Pro Football Hall of Fame, feeling like a rookie all over again, I can honestly say this is the greatest team I have ever belonged to."
The enshrinement was certainly well deserved. Saturday's induction was the capstone of a legendary career.
"There are no more routes to run, no more touchdowns to score, no more records to set," Rice told the crowd. "That young boy from Mississippi has finally stopped running."
Now that he's finally able to slow down from a career in which he was always striving for improvement, Rice reflected on the odds he was able to overcome after being drafted 16th overall in 1985 out of Mississippi Valley State.
"I wasn't the most physical or the fastest receiver in the NFL, but they never clocked me on the way to the end zone," Rice said with a smile. "The reason nobody caught me from behind is because I ran scared."
Fear of failure was more than a playing style for Rice – it was a way of life which he attributed to his parents.
Rice recalled his childhood days of helping his father with his bricklaying work. If the process was not done to perfection, it wasted time and money.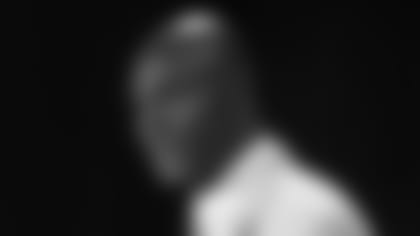 "I didn't want to let my father down," Rice said. "I was afraid to fail.
"I'm here to tell you that the fear of failure is the engine that has driven me throughout my entire life… Not wanting to disappoint my parents, and later my coaches, teammates and fans, is what pushed me to be successful."
Many of those teammates were on hand to support the player who used his tremendous work ethic to help propel the 49ers to greatness.
Fellow Hall of Famers and former teammates Joe Montana, Steve Young and Ronnie Lott appeared on stage with Rice. Roger Craig, Brent Jones, Merton Hanks and others gathered in Fawcett Stadium to honor the legend as well.
"It's like a reunion we have every few years," former teammate Harris Barton joked. "With Jerry it was just a matter of time, but that's the thing with the 49ers, you never know when the next [player] will [be inducted]."
With so many people in attendance who helped his historic rise through the record books, there was still somebody missing, the coach who brought him into the NFL.
"I miss Bill Walsh every day of my life," Rice said, holding back the tears. "I know he's up there looking down from heaven today smiling. What can I say about the genius, the legend?  He was like magic. He would cast a spell on you just being in his presence. You wanted to win for this guy.
"There was just something about him, and he knew how to get the best out of his football players."
Rice certainly gave Walsh his best. But in his own mind, not once in 312 NFL contests did he ever have what he considered a perfect game.
"Even if I caught 10 of 12 passes, two or three touchdowns in the Super Bowl, I would dwell on the one pass I dropped," Rice said.
And even after former team owner Eddie DeBartolo presented him for induction, Rice still couldn't get over that one dropped pass.
"If I have a single regret about my career standing here today, it's that I never took the time to enjoy it," Rice explained. "This is true because I was always working. Right after the season, whether we won the Super Bowl or not, I would take two weeks off and go right back to training."
As much as Rice loved the game of football, he also felt indebted to the Faithful fans who helped propel him to greatness.
"The stadium was my stage, and I was there every Sunday to put on a performance," Rice said.  "I felt proud every time I put on that uniform. That's why I'm still humbled to pose for pictures and to sign autographs."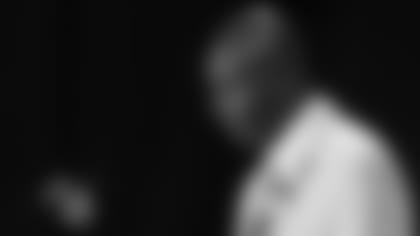 Rice posed once again for his fans Saturday night, this time dawning his gold Hall of Fame jacket which he had custom-tapered to ensure he looked his best.
"When he felt perfect on the field, he was perfect on the field," DeBartolo recalled in his presentation.
But something was amiss with Rice's wardrobe on Saturday.
"My uniform, the way I dress, it's everything. I'm a very honest guy. I made a mistake today. I have a blue and a black sock on today," Rice grinned.  "Now, for me to do this speech, I need to borrow a black sock from someone.
If you believed Rice would have let something like that slip, you should have known better.