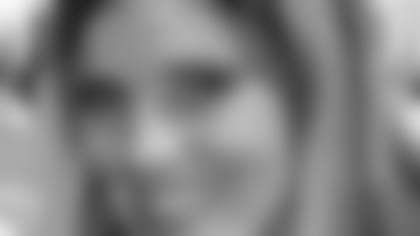 49ers.com writer Chrissy Mauck is on location in Canton, Ohio for the Hall of Fame weekend, and the induction of former 49ers DE Fred Dean. Check out this Hall of Fame blog! **
Since I didn't finish wrapping up the website until close to 3:30 this morning, Saturday morning came way too early!
Terrell Lloyd (one of our team photographers) and I drove back from Akron to Canton first-thing this morning for the Hall of Fame parade.
We were on the street deciding where to shoot from when I spotted some of the friends we made last night at the dinner up on the ledge of this building. They told us how to get up there, and then Bill Webster, President of Build By Design Construction was courteous enough to allow us to perch on his building for the parade. .
Since they are doing everything alphabetical, Fred Dean rode by early in the parade with presenter Ed DeBartolo. We noticed that most of Dean's party, including his wife, children and brothers were seated directly across the street from us, so I shot some interviews with his wife Pam, four of his children and his brother. That will be up as soon as I get back to Santa Clara so that Scott Kegley can edit.
Pam said she saw her husband only for about ten minutes on Friday since he was so busy, but that it's been a joyous few days already. His kids mostly said that they knew their dad could play, but seeing his highlight reel last night was special and really brought it home how great Dean was on the football field. I think they are all greatly anticipating what Fred will say tonight at the Induction.
It's time for me to get packed up again and head back over to Canton. There's an enshrinement brunch (I don't know why it's considered that since it's started at 3PM, but so it's labeled).
I'll be checking in again this evening late with the rest of the day's events!
There were a few different pre-enshrinement tailgating options. I stopped in at the Bronze one, and then hooked up with Keena Turner and Keith Fahnhorst at the Trustee Brunch. The Hall of Fame brunch, entitled the Silver Brunch I believe, was right across the hall so yellow jackets could be seen coming and going.
Ronnie Lott ended up over by the Trustee Brunch, where he was speaking with Chiefs President Carl Peterson.
Ronnie and Keith both agreed to let me ask them a few questions about Dean's induction, which I did before hurrying off to meet up with Jason Jenkins from our Public Relations department so that we could meet up with Denise and Jed York.
After checking out the post-party that Denise and John's staff from Youngstown had put together for Dean, we all headed into the stadium for the enshrinement. The 49ers contingency, which included among many Fahnhorst, Turner, Freddie Solomon, and Earl Cooper were seated pretty much dead center in the front section.
Joe Theisman created quite a stir down on the floor with Redskins fans flocking over for his autograph left and right.
ESPN's Chris Berman handled emcee duties on Saturday at Fawcett Stadium, introducing all of the former Hall of Fame Classes that had members in attendance.
I will just go ahead and admit that I skipped out towards the end of Darrell Green's speech. Green was extremely emotional and was doing a phenomenal job, but I wanted to head on up to the post-party tent so that I could dive into some of my work.
Andre Tippett was the first to be inducted with this being the first event of the weekend where Fred Dean didn't have to go first since everything else seemed to be done in alphabetic fashion.
Emmitt Thomas spoke first, and I thought he was extraordinary, sharing a lot about his childhood and urging young kids to dream big
Like I said, I saw part of Green's and I had no problems with him crying. I missed Art Monk and only heard Gary Zimmerman speaking from afar, but still, I give the funniest speech to ours truly, Fred Dean.
He had some technical difficulties with seeing his notes since he was without his glasses, but he didn't bother to mention this until at least into a solid ten minutes of his speech. Dean got a loaner, but for the most part, seemed to just continue on by memory with his words.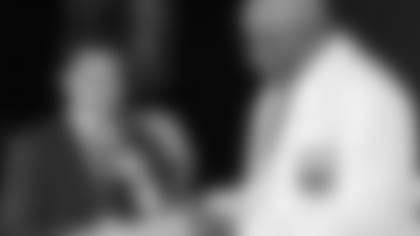 I appreciate the fact that he included Ira Miller and Nancy Gay in his thank-you's. A lot of times let's face it, writers can use their words to stir up controversy but this is the flipside. They can also provide unparalleled coverage and exposure. As Dean put it, "sometimes you need a woman's touch." Good work to both of them for pushing for this outstanding player and person.
Dean also set the record straight during his speech. Some of the weekend highlight films suggested that Dean played linebacker in college. Dean said, "not so," and that he was always a defensive end, although San Diego did draft him as a linebacker, a position he never wound up playing in San Diego.
Once Monk received his due, guests quickly begin arriving over at the 49ers post-party. I worked again with the Total Access crew – Mike, Fonzi and Kim and we managed to get quite a few of Dean's teammates to chat about him on camera, as well as his presenter in DeBartolo and Dean himself.
Dean told us the other day that he couldn't wait to see his bust unveiled, so we asked him what he thought when he saw it.
"When I saw it the first time I saw the likeness and it really scared me," said Dean. "I didn't realize I looked that good. I'm saying, I can look at it and see the features of me. I can see grinded down teeth, the eyes, and the grayness in the hair all in the mirror but when I look at the bust I see a brand new me."
Dean explained the issue with his glasses, saying essentially that he forgot to transfer them from his normal coat to his gold one. Instead of worrying about reading from the cards, Dean said he let God speak through him from the heart.
Dean spent most of his time taking photos with family members and former teammates. We asked him just how many photos he'd smiled for today and he responded that he sure couldn't even count.
Jed York said a few words and presented the 13th Hall of Fame 49ers with the gift of an all-expense paid trip anywhere he and his wife Pam would like to take. During his words of thanks to York and all of his family and friends, Dean finally broke into tears, saying that it was the happiest time of his life.
That was basically a night for me. I headed back to my hotel in Akron and have spent the last few hours going through video footage, photos, and quotes to put together for your viewing pleasure…
If I stayed up another hour I guess I could watch the sunrise, but since I'm close to falling asleep on the keyboard, this is a wrap.