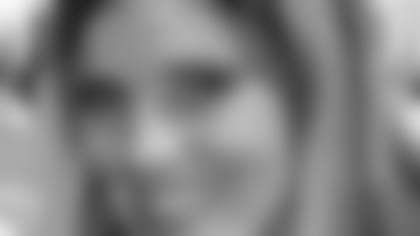 49ers.com writer Chrissy Mauck is on location in Canton, Ohio for the Hall of Fame weekend, and the induction of former 49ers DE Fred Dean. Check out this Hall of Fame blog! **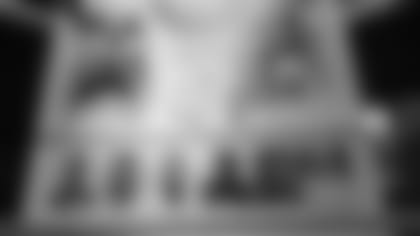 I flew into Cleveland, Ohio on Thursday night for this weekend's Hall of Fame festivities, leaving training camp coverage to my capable internet assistants Scott Kegley and Taylor Price.
First thing Saturday morning, team photographer Terrell Lloyd and myself met up with Joe Fonzi and Kim Yonenaka of Total Access for a tour of the Pro Football Hall of Fame.
Jason Aikens, a Collections Curator at the Hall, was kind enough to lend his time to us for a few hours for a piece that will air this fall on Total Access.
A statute of Jim Thorpe, the inaugural member of the Hall of Fame in 1963, greets visitors as soon as they enter in the Hall. Thorpe played for the local Canton Bulldogs and was the first president of the American Professional Football Association.
A curving ramp adjacent to Thorpe takes you up to the main floor. Hanging in the middle of the circular, open space is presently a huge banner featuring the Class of 2008. Jason explained to us that this is changed out every year. Above the banner is an egg-shaped dome with lines of multi-colored lights that resemble my favorite activity as a kid – Lite-Brite.
Aikens explained that the designers originally drew up the building to be in the shape of a football. I didn't catch his whole explanation as I moved out of the way of Total Access' shot, but I'm guessing the strips of circular lights were supposed to be the laces.
With the Redskins playing in the game and two of their former players in this year's class, it was no surprise to see Washington fans dominating the scene, including several diehards in Hog gear.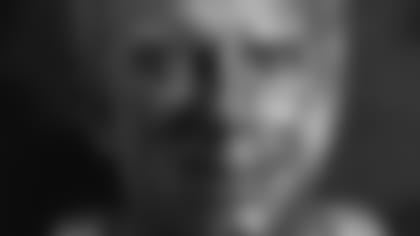 We also ran into a few of our 49ers Faithful as well. Brothers Nathan and Tyler Hanley flew in from the Bay Area to join up with another Bay Area native now living in Ohio in Robert Bradbury. The threesome assisted me as I videotaped a television display that allows fans to select an NFL team for a list of their Hall of Famers. All thirteen of the 49ers were listed, and we read several of their bios and watched multiple game highlights for each player.
We snapped shots of the busts for every 49ers player. I thought Steve Young's probably resembles him the least, while Joe Montana's and Ronie Lott's were dead on likenesses. Having met Bob St. Clair, Hugh McElhenny, John Henry Johnson, Y.A. Tittle and Joe the Jet Perry in the last few years at alumni weekend, it was also fun to see their busts, which were done in their younger days.
As well as the room of busts, there are areas dedicated to uniform changes, Super Bowls, Pro Bowls, individual records, military service, and global play.
Since being drafted, quarterback Alex Smith lives with the challenge of following in the footsteps of the 49ers trio of Hall of Fame quarterbacks in Tittle, Montana and Young, but lo and behold, Smith is already in the Hall – his jersey anyhow. Smith and fomer Cardinals Josh McCown are featured in an area dedicated to international games as San Francisco and Arizona played the first regular-season game out of the country.
The most unexpected thing I saw was the dress worn by Renee Zellweger in the movie Leatherheads, which ironically was the featured movie on my flight here.
After shooting everything 49ers I stood under Earl Campbell's bust and had some photos taken that I sent to my father, who blocked for the hall of fame back with the Oilers for many years. I also very much enjoyed checking out Larry Wilson's bust and his old uniform. Larry was an executive for the Cardinals when I worked there, and is a wonderful human being!
Later in the afternoon, the Pro Football Hall of Fame held an official press conference, offering up a few veteran Hall of Famers, and the entire Class of '08.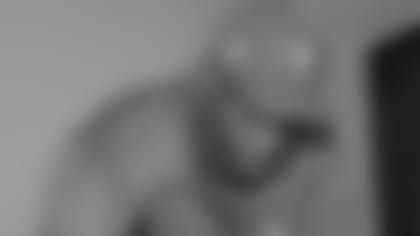 I never realized that Joe Gibbs had any connection with Fred Dean, but Gibbs was one of the veteran Famers who spoke and he was quick to mention the former Chargers/49ers lineman. Apparently Gibbs was an offensive assistant with San Diego during Dean's time there.
"I was also fortunate enough to coach Freddy Dean," said Gibbs. "I didn't actually coach him, but he was kind of there terrorizing everybody on defense while I was on offense."
Dean spoke first, and was pretty much short and sweet. I'll post that in a separate story!
Following a quick visit to the NFL Network, Dean was gracious enough to first sit down with Fonzi, answer a few more questions for me, and then finally sign autographs for the 49ers Foundation.
By the time we finished with him, Dean didn't have much time to chance and get ready for Friday night's Enshrinee's Dinner, but apparently he used the speed that Anthony Munoz mentioned in the afternoon's press conference.
"I came in as a rookie and got the starting job at left tackle," recalled Munoz. And, of course, the Bengals had played the Chargers the previous year and of course Fred Dean was still with the Chargers when I got in the league. Right next to him was "Big Hands" Johnson. The week of preparation leading up to the Chargers game I kept asking the linemen that had been there that previous year I'd run the film back and forth and I'd say, 'Is Fred Dean really that fast, or is this kind of a tape they've got it going in a faster speed?'
They said, 'No, the guy's really that fast.' He would come across the line of scrimmage, he'd run across the backfield and he'd tackle the running back before he got to the line of scrimmage, and then he would pick up offensive line, and I'd say, 'How can a guy that size be that fast and that strong? '
Of course my rookie year we didn't run a whole lot of tight end lefts, so I was out there all by myself, which after that rookie year I got accustomed to, but this was my introduction into the NFL. Sure enough we played the Chargers and Fred Dean was that fast and he was that strong."
As for TV49, 49ers Total Access and dedicated team photographer Terrell Lloyd – we all basically changed clothes in the interview room and beat it over to the civic center where we soon ran into team owners John and Jed York. Father and son drove over from Youngstown for the evening event, highlighted by the inductees receiving their gold jackets.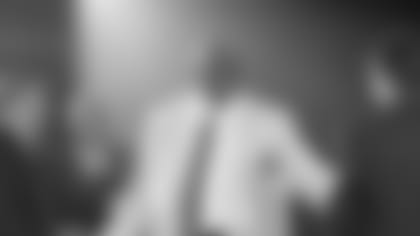 Hall of Famer Larry Wilson, who I mentioned earlier, introduced me to Eddie DeBartolo, Dean's presenter. Eddie told me that his nephew Jed is a "very smart kid and good for the 49ers," and proceeded to ask me where in the building my office is located (next to the kitchen by the way.)
After they enjoyed their dinners, through which they were constantly caught shoveling food in their mouths by those of us photographing and videotaping them, each member of the Hall of Fame was introduced by emcee Chris Mortensen of ESPN and paraded on stage.
Emmitt Thomas smiled bashfully from ear to ear, Andre Tippet remained stoic, Darrell Green back pedaled across the stage, Art Monk's eyes glistened with unshed tears, Gary Zimmerman chomped his gum, and Fred Dean simply beamed and stuck out his tongue in classic Michael Jordan style as if to say, "I'm about to do something big ladies and gentlemen."
DeBartolo accompanied Dean down the red carpet and onto the stage on the heels of a highlight reel of Dean notching sack after sack, stuffing the run and forcing fumbles. The 49ers former team owner helped Dean into his jacket in a momentous moment.
"It's just great, a tremendous feeling," said Dean as he hugged family members and watched the rest of his class receive their gold.
One by one each member got decked in the gold, with Tippet coming off the stage and actually rubbing the Hall of Fame patches of Dean and Green as if he didn't quite yet believe it was real.
Jed and John spent some time with DeBartolo and Dean before the Class of '08 returned to stage for their final encore of applause.
Dozens of Hall of Famers, including a few of the 49ers Hall of Famers, were in attendance and took the stage prior to the jacket presentation to greet the Class of '08. John Henry Johnson was recognized, but he was unable to make it up to the stage. However, Joe Perry, Bob St. Clair, and Dave Wilcox all crossed the stage to congratulate Dean and the other new members of his class.
Other high profile Hall members such as John Madden, Howie Long, Lynn Swann and Warren Moon took the stage. Deacon Jones and Michael Irvin were two of the last players to get introduced and basically brought down the house. Jones, sporting an electric blue jacket, earned thunderous applause when he lined up from the Class of '08 in a three-point stance.
Irvin received recognition from Commissioner Roger Goodell during the evening for being the one to come up with the idea last year during the Hall of Fame festivities of bringing NFL rookies to Canton, something that the Commish put into action this spring and early summer.
Dan Dierdorf was awarded with the Pete Rozelle Radio and Television award, while ESPN writer Len Pasquarelli received the McCann Award for distinguished service from the Pro Football Writers of America.
Pasquarelli has been recovering from quintuple bypass surgery, and cracked up the audience when he said he's been watching too much television, like One Life to Live. I found that hilarious since I've been a longtime viewer of ABC soaps.
Dierdorff discsussed growing up in Canton and seeing Rozelle shovel the dirt in the ceremonial ground breaking when they began building the Hall of Fame in Canton.
The event concluded around 10:30. I grabbed John York for a quick interview before he headed back to Youngstown with Jed. John is flying back to Santa Clara on Saturday to attend the team's Pasta Bowl event, while Jed and Denise are scheduled to be in Canton for the Enshrinement.
Keith Fahnhorst and Keena Turner met up at the Cleveland airport this afternoon and road over together to Canton. They had dinner on their own, with plans to catch up with Fred on Saturday. Freddie Solomon is also apparently in town, so the plan is to track these guys down on Saturday to get them on camera to share their thoughts on Dean's induction.
It's late and I'll be up in a few hours to cover the early morning parade so that's a wrap to Friday's Hall of Fame events!