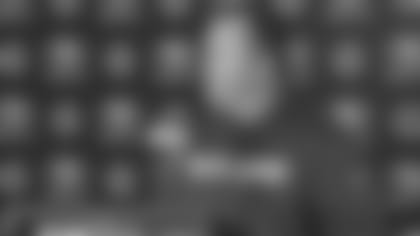 Offensive coordinator Greg Roman addressed the media on Thursday as the 49ers prepare for Super Bowl XLVII.Opening Statement:**
"Good afternoon. Really excited and really proud of our players and our staff for being the NFC Champions. And our direction moves to the Baltimore Ravens and one game to win the Lombardi Trophy. So, guys are dialed in on our preparations. Any questions?"
The read option has been pretty successful lately. And defenses have looked sometimes a little taken aback or even befuddled by it. But, Baltimore, that defense with two weeks to prepare, is this a different sort of challenge for this offense in that way?
"Well, when you look at Baltimore's defense, they play very sound. They're very well coached. And they've got really good players. It jumps off the screen. They're healthy and really no matter what play we run, we better be on our A game."
They're playoff run has obviously corresponded to LB Ray Lewis' return, the lineup. Do you see a change them, a lift that he brings that defense when he's on the field?
"I think he's playing at a very high level. And a lot of our coaches really, we all kind of get together and we spend about half a day diving into the opponent. And then we all kind of get together and start talking about it. So, the other day one of the comments was just how good he looked. So, as far as the entire defense, I think when you have a player of that magnitude, it's going to have a positive effect no matter what."
Do you have to have your game plan in before the team leaves on Sunday?
"We're working on improving some of the things we do while we study our opponent. The hay's never in the barn."
What strides has RB LaMichael James made in not only the last few weeks, but just over the course of his rookie season to be such an impact now?
"Great question. I can still remember the first mini-camp when he showed up coming from Oregon's offense and just what a difference it was. We're a team that huddles to start with. That's the first thing. And they might say one word and that means a play. And they don't have a lot of plays. They only have a handful of plays. We have literally hundreds of plays. So, it was a bit of an adjustment from that standpoint. But, the bottom line is LaMichael's a football player. And anything football is not foreign to him. So, while he wasn't active earlier in the year, he gave our defense a great look in practice, which is very, very important to get the team ready. And he just continued to make strides in understanding the entire offense. And I think he's looked pretty good out there."
You said the hay's never in the barn. But, is there a danger in overplanning? When do you know when you're done with your game plan? And how does that work?
"I think that's what we strain mentally with every week in terms of what's enough, what's too much, contingency plans, all of that. So, it's just week to week. And you don't want to go in with too much. But, you don't want to go in with too little. Oh, wish we would have done that. There's a feel there."
How are you better prepared to handle their pass rush because they got nine sacks on you guys last meeting?
"Well, they did a great job. And all the credit really goes to them. I think our pass protection, in general, has improved as far as time on task. And one thing I can guarantee you though, it's going to be a great challenge and a great competition there in pass protection because of who they have rushing. Not necessarily what they do, or scheme, but their players are extremely effective pass rushers. [Ravens LB Terrell] Suggs, [Ravens DT Haloti] Ngata, [Ravens LB Paul Kruger] 99 has had a very productive season this year, Kruger. And really their inside guys give them a lot of push, too. And they're a good blitzing team. They're a very good defense. They're a tough, physical defense. And I think our players understand that and they're excited for the challenge."
QB Colin Kaepernick had a big rushing day against Green Bay. Not as big of a need for that last week. Do you go into this game with a thought on how much he may need to run the ball?
"We have a need for a lot of rushing yards every week. We'll take them every week. But, who does it? It really doesn't matter to us. Who catches it? Doesn't matter to us, as long as we're getting production. So, as far as Kap running the ball, it may happen. It may not. And we'll have to wait and see."
Is the read option a fad or is it here to stay league-wide?
"To me, it depends on, you always as a coach want to work to your players' strengths. And I think the players will dictate, the quarterback for example, will dictate how much a team uses it. Certainly every team won't. But, they don't need it. Or they just aren't set up for it. So, if it fits your players, tap into it."
Does having played them last before, does that help at all?
"Playing them before? Always. It's always great when you can watch your players against their players on film. You get to see the matchups, how guys match up. And get a feel for you against that opponent, as opposed to somebody else."
I was just wondering how much you feel like what you guys are doing with the offense here will influence other teams around the NFL, even just next season?
"People say it's a copy-cat league. And a lot of things that we have done, we see other teams doing. And if they choose to do it, so be it. But, we've kind of taken it and given it our own little flavor because our players are a little different. We don't do it exactly like anybody else, or anybody else has. And week to week it evolves. So, you always want to try to stay one step ahead. But, what other people choose to do, that's up to them."
Have you ever reached the point of oversaturation?
"Me personally, all the time."
Well, where you feel like the team just isn't picking up all of the concepts that you're introducing for a new game plan?
"I think you just have to have a feel for that. I think there's definitely something you're aware of every week, is how cold do we have this thing down. And do we need to eliminate this? Do we need to eliminate that? There are many weeks where, depending on what the defense does, we might only run 10 percent of our game plan because the rest of it's not so applicable or just doesn't fit the situation. So, every play in your game plan never gets run."
When you have a kicker who's been struggling, does that enter into your mind as far as play calling when you get them across midfield?
"We try to operate [head] Coach [Jim] Harbaugh, [asst. head coach/special teams coordinator] Coach [Brad] Seely, [defensive coordinator] Coach [Vic] Fangio, myself, we try to stay on the same page. It's all about the team. And we're always going to talk every week about how we're going to handle certain situations in plus territory, minus territory, etc. Whatever gives us the best chance to win. We all work together, offense, defense, and special teams."
What kind of comfort has it been to you to have an offensive line that's been together for a couple seasons and has stayed intact and how much has that meant toward your success?
"I think the offensive line is always going to be the pillar of your team because you can't pass the ball, you can't run the ball if they're not playing at a high level. So, it all starts up front, the pass protection, the run blocking. I thought [C] Jonathan Goodwin did an incredible job last week of directing traffic. He was the air traffic controller during the snow storm last week with the crowd noise, etc. And those guys are really, really dialed in, bought in. And they're at the point now where there are five guys that are really functioning as one. You can see it as a coach. And that's always the goal to have the players take that over."
You went third and one to RB Anthony Dixon, was that fourth down territory for you guys? Did you know?
"I can't answer that. I can't remember what yard line that was on. But, those things are always talked about really at the beginning of the series so we can kind of go with that in mind if it is in fact four down. But, that's the area of the field that quite often that'll happen."
One of your offensive lineman, former teammate of Jonathan Goodwin, said he was a sweet guy, which you don't often hear football players referred to as sweet. Do you know what that guy was talking about as far as Goodwin's personality?
"John's got a great personality. I guess you can call him more of a laid-back type. I think he's a very good listener. He gets along with everybody, and just a kind, good person."
T Anthony Davis was saying he was picking Jonathan's brain about the Super Bowl experience. Obviously Jonathan's one of the few guys who's been there. Is he a good guy, if you're going to have a guy who's been to the Super Bowl, won it, I guess a father figure to dispense advice?
"That's a great way to put it. Yes. He talked to the team. Jim had him talk to the team a week or two ago about leading into the Super Bowl, John's experience and how special it is. And I thought that really resonated with everybody."
Colin's already had some really high pressure games in just nine starts. But, is it your sense that he really understands the magnitude of what's upon him? And is it maybe a good thing if he doesn't fully understand what he's going into here?
"I think he does fully understand. And Colin's just a very, very intense competitor. And we saw that even when he wasn't the 'starter.' He's very focused. He's got the ability to draw some really intense focus. And that's something I love in a quarterback. We love in a quarterback. Because there's going to be different challenges. The ability to block out all the distractions and focus on what's relevant is critical to that position."
Can you think back to right before he got the start, did you have a baseline knowledge of what he was going to be? Did you just have certain things you knew you could do with him? Or were you just kind of seeing what kind of a quarterback he was?
"I could stand up here and say I knew, I knew it all the time. But, that's not the case at all. And felt really good before the game. I remember seeing maybe Matt [Maiocco] and Mindi [Bach] walking around the field before the Chicago game saying, hey we're in good shape. Felt good. But, you never quite know until somebody goes out and shows it on the field. And did it surprise us? No. But, it was definitely just a great performance in that first game. And moving forward to where he's at now, he's been through so many situations on the road, at home, ahead, behind, crowd noise, all that stuff to where it's really prepared him for this push for the Lombardi Trophy."
QB Alex Smith said the most impressive thing to him is he doesn't make the young mistakes. He doesn't do dumb things. Is that the thing that maybe impressed you the most just watching how he threw?
"One of them. One of the things that impressed, without question. And really it's a credit to his preparation. He's very prepared going into a game. Very open with communication. If there's anything that's not crystal clear, it's communicated."
You went to TE Vernon Davis quite a bit more last Sunday. How much of that was by design going into the game? How much was it just reacting to what Atlanta was doing?
"Everything we do in the passing game is really reacting. In a sense that, I don't think we've, knock on wood, haven't thrown a lot of interceptions here the past couple years. But, hopefully that has something to do with the fact that we're going to try to throw the ball to the open guy. And Vernon was open just by the way things played out. And he did a great job. Vernon has been such a valuable member of this team. The time we've been here, not just catching passes, but blocking. And helping get our running game going and pass protection as well. And sometimes, just flat out being a decoy to draw coverage away from somebody else. And he's done it with a big smile on his face and just a need and a want to win."