Joe Staley had a good feeling about how Sunday's game against the Seattle Seahawks was going to go.
"I told [Frank Gore] before the game, we're going to get you your yards, just stay focused," the 49ers starting left tackle said. "I told him you're going to have a big day today. We were all pretty ornery. We had confidence in what we were going to be able to do in this game and we did it."
Staley proved to be as fortuitous as the 49ers ground game was unstoppable in the team's 23-10 win.
But it wasn't just a good day for the 49ers running back, it was a career day.
Gore set a career-high with 246 yards from scrimmage. His 207 rushing yards were just five yards shy of his own franchise record.
He also had a career-long 79-yard touchdown run on the first play of the 49ers second drive of the game. But that record didn't stand for long though as Gore struck again on the first play of the second half, this time scoring 80-yards out. It stretched the 49ers lead to 20-10.
"I told myself I'm not looking back," said Gore, who instead snuck a peak at the scoreboard and ran away from the defenders. "In past years I would look back and put my hand up. I just told myself if they're going to catch me, they're going to catch me."
They didn't on both occasions as Gore kept his head down and found the end zone. In fact, Gore became just the second back in NFL history behind Barry Sanders to have two rushing touchdowns of 75 yards or more in the same game.
"I'm happy," Gore said about being in the same company as Sanders. "I didn't know that. I have to give the props to my o-line, they did a great job. As an offense we just got to keep moving forward."
Even though the 49ers beat Arizona last week, the offensive line and Gore had a bad taste in their mouths after being unable to mount a consistent rushing attack. But after dominating Seattle on the ground, the offensive line was proud that it was able to rebound and be part of a record-setting day.
"It's awesome to be a part of that record," said center Eric Heitmann. "Frank is a very special running back. He's got so many skills. His agility and his breakaway speed are amazing. He's a fun back to block for. That kind of goes to show you, if we are giving Frank some holes to run through, he can make some amazing things happen for us. I'm glad it was today."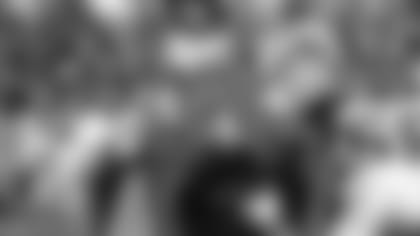 "It makes me feel good that as a lineman, I did my job," added guard Chilo Rachal. "Frank's a good back. He works really hard. He's very deserving of that record."
Moran Norris, who was instrumental in Gore's 2006 season in which he rushed for 1,695 yards at 5.4 yards per carry, was a lead blocker on both of Gore's touchdown runs.
"It feels real good, when we win especially," said Norris. "When Frank gets 100 yards it makes me feel like I did my part."
No team might know how explosive Gore can be better than the Seahawks, who have had a hard time containing the 49ers back. Gore's second best game of his career also came at the expense of his NFC West rivals. On Nov., 9, 2006, he racked up 212 yards on the ground and 26 yards receiving against Seattle at Candlestick Park.
Though Seahawks defensive end Patrick Kerney was with the Atlanta Falcons that season instead of on the receiving end of another great Gore performance, he's already become familiar with how dangerous the fifth-year back can be.
"He has great cutback ability and a great burst," said Kerney. "It is a matter of gang tackling and getting numbers there, that is how you contain a guy like that. We weren't able to do that and that is what cost us the game."
Even Seattle head coach Jim Mora, a former 49ers defensive coordinator, had to give credit where credit was due.
"Congratulations to Frank Gore," said Mora. "He had a heck of a game; he's a heck of a football player. We have a lot of respect for him."
Head coach Mike Singletary hopes that many teams will be giving similar praises this season. Still early in Gore's career, Singletary sees tremendous talent in his running back and the ability to get even better.
"Once he gets past the line of scrimmage, he can make things happen," said Singletary. "Just like a quarterback has to gain that trust in his receivers an get the timing down, Frank has to gain the trust in the offensive line. I think those two go hand-in-hand. The more they play together, the better it's going to get."