At age 27, Frank Gore is showing no signs of slowing down. That was the obvious assessment from his teammates following the 49ers four days of organized team activities.
Gore's passion for the game of football never wavers. Even in May.
Case in point: During one team period of practice he jawed back-and-forth with defensive players before the snap, letting them know he was ready to pick them up if they chose to blitz. On top of that, all week Gore darted through the holes with intent looking for the first opening to get up field.
Gore's attitude around the 49ers practice fields has been infectious.
"Frank is one of the hardest workers I've ever been around," said left tackle Joe Staley. "He brings a lot of energy to practice too."
The Pro Bowl runner turned up the energy on Thursday especially. Gore received several "Oohs and aahs," from the 49ers defensive backs after showcasing a cut back during team period that rivaled his best footwork from a regular season game.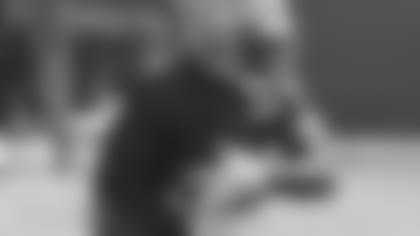 "Frank, that looked like you in '06!" safety Michael Lewis screamed from the sideline, referring to Gore's best statistical season in which he rushed for a 1,695 yards.
But the 49ers fourth all-time leading rusher (5,561 yards) has never fallen off. Gore's the only running back in team history to rush for 1,000 yards in four consecutive years and he's coming off a season in which he totaled 13 touchdowns – the most of his six-year NFL career.
Those who know him best envision an even better season in 2010 from Gore. Just like the rest of the 49ers offensive players, Gore will benefit greatly from another season in Jimmy Raye's offense.
"Frank had a good year last year as far as averages go, but we have to do a better job as a line of getting him more yards," Staley said. "I think as far as his physical ability, he was way more explosive. You saw a couple of those 80-yard runs where he was able to get through and go all the way. That's hard to do, especially when you have guys working angles to tackle you. He was able to show a lot of explosion last year and he keeps getting better and better. I think you'll see bigger and better things from him."
Defensive players love working against a player of Gore's caliber because it's hard to replicate facing an elite runner. Having one like Gore on the roster is a major advantage.
"He has nice moves, so you really have to break down on a guy like that. But going against him every day in practice can do nothing but make our defense better," said cornerback Tarell Brown.
The 49ers will jump back into their offseason conditioning program on Monday with the rookies taking part in the program for the first time. The team will meet again on the field for their next sessions of OTAs starting on June 7th.
Notes and QuotesParys Haralson came up with his first interception of the offseason and became the first linebacker to come up with a turnover. Haralson was the beneficiary of some miscommunication between Alex Smith and Michael Crabtree. The second-year wideout wasn't on the same page with Smith, allowing Haralson to be in the spot Smith expected Crabtree to be in. Without hesitating, Haralson made the interception on the ball thrown directly to him. He then quickly turned up field and had a would-be touchdown return from 20-yards out. Dashon Goldson, Takeo Spikes, and Brown all rushed over to celebrate with Haralson. The outside linebacker showed versatility a few plays later, two-hand tagging Glen Coffee in the backfield for a loss.
Smith rebounded from the mistake and fired off several crisp passes to his tight ends, wideouts and running backs. His first impressive toss was to Pro Bowl tight end Vernon Davis, who got past rookie linebacker Navorro Bowman to catch a 25-yard pass down the middle of the field. After the play, Davis jokingly jumped on Bowman's back to give him a hard time about getting beat on the play. "He has to learn," Davis joked in the locker room after practice. "He has to back off of me a little bit. I'm not the average tight end… I can run. But it's going to be fun competing against the new guys and getting them better."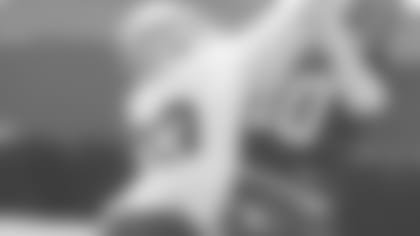 Undrafted rookie cornerback LeRoy Vann is known for his return ability, but showed there's more to his game on Thursday. He did so with a nice pass breakup on a Smith pass down the left sideline to fellow rookie Kyle Williams.
David Carr had his best practice with the 49ers. He launched a deep 25-yard flag route to Josh Morgan, and came back a few plays later with another 25-yard pass to Delanie Walker up the middle of the field.
Offensive line coach Mike Solari wore a microphone for 49ers.com and it plans to be amazing footage for fans to enjoy. The energetic teacher was all over the field on Thursday, inspiring and instructing the linemen to play their best. Solari, along with our other mic'd up segments (Greg Manusky and Mike Singletary) will air in the coming weeks on 49ers.com.