Much like last season, this off-season started off a little rocky for 49ers running back Frank Gore. Going home to Miami when the season ended has always brought an ear to ear grin for Gore, but returning back to Florida this year is when it finally hit home that his beloved mother Liz, who had succumbed to a long and hard fought kidney disease prior to the 49ers week two game last year against St. Louis was truly gone.
"The season kept my mind busy last year, but it was really tough once I was staying back at the house and I'd sit there remembering so much stuff," said Gore. "When she was sick, I'd lay in the bed with her and we'd just talk about everything. I just miss being with her and talking to her and seeing her be so happy just because I was home. So, that was really tough, but I just have to stay strong and try to get better at dealing with it."
Gore has also been dealing with recovery from last year's high ankle sprain, one that likely would have shelved most players, but the 2006 NFC leading rusher had already missed training camp and the preseason with a broken hand. He allowed himself to rest the ankle only one game in 2007, and then gutted it out and became only the fifth player in team history to rush for more than 1,000 yards in consecutive seasons with 1,102 rushing yards.
"It was tough every week with people grabbing it," said Gore. "After the games, the painkillers went away and I could barely walk, but it was a tough year for everybody. I love the game and my team, and I just wanted to keep fighting with them."
Even after a month of rest, the ankle was still sore when he began his off-season training at Perfect Competition. Eventually the soreness wore off and Gore was able to benefit from working with other top NFL athletes including Anquan Boldin, Plaxico Burress and Fred Taylor.
"We all go at it," said Gore. "I especially like to compete against Taylor because we really push each other. We have our strengths in different things. In my strengths, he tries to get me in that, and whatever he has his strengths in, I try to get him at that."
When Gore arrived this week and joined the 49ers off-season strength and conditioning program, he quickly sought that same type of competition and chose cornerback Marcus Hudson to race against.
"Hudson is a defensive back and is a guy with great speed who can run all day long, so I feel like if I go against him, I'll get better," said Gore. "The ankle slowed me up this off-season, so I still feel like I'm playing catch up in terms of my conditioning, and so I want to be pushed."
Gore also expects newly signed backup running back DeShaun Foster to serve as added motivation.
"I feel that if a team wants to get better, there has to be competition," said Gore. "So we'll compete, try to get each other better and help the team win."
Last year Gore publicly expressed his own personal goals. This go around, the only goals he's willing to share are those of his team.
"I have some pretty high goals, but I'll keep them to myself," said Gore. "From a team standpoint, I want us to go to the post-season, and I think to get there, we have to work hard and make sure we all have a high team standard."
On Tuesday, Gore met the man he hopes can help transform the 49ers last ranked offense into a consistently competitive offense to be reckoned with. Given all that's been written about Mike Martz' supposed tendency to overlook the run game, one might assume Gore would be down in the mouth about his new offensive coordinator.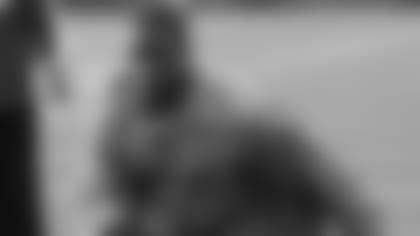 "By me looking at his playbook, it's similar to Norv Turner's offense, and that was the best year of my career," said Gore. "I think if the players buy into the system, we can do great things."
It also helped the 49ers Pro Bowl back to hear from former Rams running back Marshall Faulk, who had outstanding production in Martz' system. Gore and Faulk had a long discussion when the two got together at an autograph session in the Bay Area last month.
"Marshall told me not to worry about people talking about how he throws the ball – that I'll be featured and that I'll love this offense," said Gore. "He offered to come out and help me if I needed anything, but that the main thing for me is to show Coach how much I love the game, and to really learn the offense and every position on the field. He said I should study the fullback's role especially because Coach will use that position in the slot and get the ball to him. So, I just have a lot of studying to do."
Gore won't ever forget his mother, but he does hope that in being back in the 49ers fold, he can at least do something about erasing the rest of last year's on the field disappointments.
"It feels good to be back around the guys and to be back out on the field with them," said Gore. "Every day this off-season that I've gone to work out, I thought about what last year was like and how we underachieved. We were better than that, and we can't let that happen again. I just can't wait till we really start playing football again so we can show what this team can do."