Dashon Goldson is entering his second year in the National Football League, and after a productive off-season, the outlook is promising for the young 49ers safety. Goldson turned heads throughout mini camp and the OTA's as the safety commonly came up with interceptions, broken up passes, strips or fumble recoveries.
"It's fun to make plays out there, but I think I still need to get a lot better," said Goldson. "I'm a hard person to be satisfied. I'm never satisfied by how many tackles or interceptions I get, or by how many people say I am doing a good job. I'm just not satisfied with my play."
Downplaying his football accomplishments is standard procedure for the former Washington defender. Even when the 49ers used their second of three fourth-round draft picks in 2007 to grant him his long held dream of playing in the NFL, Goldson curbed his enthusiasm.
"When I got drafted, my mom and my siblings kept talking about how I didn't show any emotion," said Goldson. "Don't get me wrong, I was real happy. But, the work wasn't done. That's an opportunity right there, that doesn't mean anything. That was a foot in the door. I have to do the rest, and I don't feel like I've accomplished anything yet."
That's not entirely true. Goldson's penchant for being at the right place at the right time this off-season on those timely turnovers extended well beyond good luck. The second-year safety created his own opportune moments by his knowledge of the game, something he's progressively learned to value over the years.
Since childhood Goldson had desperately desired to play in the NFL, and he understood that Division I football provided him the best platform to audition. Unfortunately the Carson, California born and raised and Narbonne High School standout didn't possess the required grades. Instead,, he headed to the Midwest and enrolled at Coffeyville Community College in Kansas.
Away from home for the first time in his young life, Goldson opted to live alone, not wanting any distractions.
"I went there to take care of business, play football and go to school," said Goldson. "I studied, got tutors, buckled down and didn't let anything get in my way of getting my grades up. I had success with that, and so I stuck to that routine when I went to Washington."
With his grades recovered, Goldson hoped for smooth sailing in his Division I career, but rough waters lay ahead with injuries besetting the defender.
He enjoyed 22 consecutive starts over his first two seasons, but missed time in the off-seasons due to surgery on first his left and then right shoulder, followed by a high ankle sprain that kept him out of the season opener in 2006.
The nagging ankle injury would also cause Goldson to forfeit practice almost his entire senior year, and without the luxury of physical reps, Goldson was forced to survive in his game day role of a converted safety to corner solely off his mental reps. Fortunately early on, Goldson's secondary coach at Washington, Phil Snow, had taken the junior college transfer under his wing and taught him how to break down film.
"He taught me how to watch film and study down and distance, where the ball is on the hash, wide receiver splits, personnel – everything," said Goldson. "It became the most important thing for me my last year there. I was able to pick up on a lot of things from the film that made it so much easier when I did get onto the field."
Still frustration would build up throughout the practice week, and on game days, he'd unleash his fury.
"My head was already messed up. I was thinking 'How am I going to make it? How am I going to get this goal that I have to play in the NFL?' So, I'd just go out there and I'd play my butt off every chance I got."
So getting drafted was indeed golden, but Goldson didn't have time to stop and smell the roses. After all, his goal wasn't merely to make it to the NFL, but to play in it.
The rookie safety looked to be off to a good start, but in the second preseason game against the Raiders, he suffered an elbow injury while bringing down Oakland runner Justin Fargas.
Based on the replay and the pain level, Goldson feared the worst, and so did the 49ers. Thankfully, further tests revealed no tears and only a strained muscle and a sprained ligament, keeping alive his rookie season.
"I had to battle so many injuries getting to this level and I really thought it was going to be bad because of the way it felt," said Goldson. "It was the best news for me that it wasn't season ending, but still it was rough because I wanted to show everyone what I could do.
"I came in here and worked my butt off during the OTA's and training camp, and I thought I was doing a good job of showing everybody what I had. After the injury I kind of took a step back because I wasn't out there with the team, and I wasn't able to play or finish out the preseason."
Sidelined for four weeks, Goldson became secondary coach Johnnie Lynn's best friend in the backfield during practices.
"I'd stay back deep with him and see everything from that standpoint and kind of shadow guys in my mind," said Goldson. "I'd also talk to Coach on every play to see what he was seeing and things to watch for, and just doing what I could to get the most out of practice even when I wasn't out there."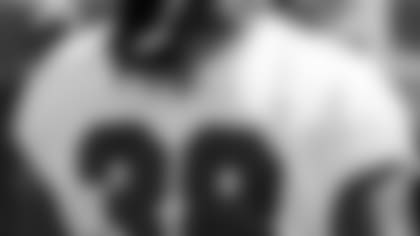 Once recovered Goldson saw significant action on special teams where he notched ten tackles. Cracking the lineup as a rookie on an experienced secondary proved more difficult, but with injuries to Marcus Hudson and Shawntae Spencer in December, Goldson enjoyed extensive action in the team's nickel and dime packages late in the season.
"There were a lot of plays I would like back, but I definitely learned from them," said Goldson. "I'd like to think that if I knew then what I know now that I could have been a first-round pick. I really believe I've gained that much in this last year to make a big difference."
Goldson also expects his full participation in the 49ers off-season program to make a difference. It's the first off-season he's had in several years where he's even been healthy enough to take part in an entire off-season program.
"This has been big for me," said Goldson. "I worked significantly on my lower body strength and on keeping my weight up, and once we hit the mini camp, I was just excited. I love playing football and I felt like it was really my chance to show what I could do after all of the hard work that I put in last year in the classroom, on the scout team, in games and then this off-season. I still think I can improve, but I wanted to show that I could play and execute the defense and hopefully I did that."
His studies haven't slacked off either, thanks to his favorite television station- the NFL Network.
"I go home every day after workouts and watch that station," confessed Goldson. "I watch all of it – interviews, analysis, but mostly the games they show. I keep my eyes on the safeties and see what I can learn from them. I've really noticed how patient some of the safeties are. I tend to rush things, but I've watched some of the vets around the league and they really let things develop before they attack. That's something I'm working on."
As he's done since his time in Coffeyville, Goldson makes few allowances for distractions from football. He still lives alone, just a few minutes away from the facility, and although he spends time with his teammates and stops by to visit the staff over at his leasing office, the majority of his time is focused on football and family.
He traveled home to southern California most weekends this off-season, spending time with his parents and his two younger siblings.
"I really value my family above all. I talk to my mom every day. She won't give me a chance to miss her. We are very close, and I always have to know all of the family news and what's going on."
Goldson tends to tell his mother everything going on his life too, although everything basically boils down to football. His updates home this past June probably included his opportunity to work with the first-team during the OTA's as starter Mark Roman was recovering from shoulder surgery. It's a role that Goldson looks to eventually secure permanently.
"I want to push for a starting role," admitted Goldson. "I think any competitor would feel the same. Really though, I just want to go out there and help my team win. Winning is the most important thing, and hopefully I can be part of that."
And although Goldson is dead serious about football and reaching his goals, every minute that it takes to achieve them is also seriously fun for this 49er.
"This is the place where I have my fun," said Golson. "All of my friends were made on the football field. I don't go out and meet people anywhere else. My friends are from football and I just have the best time being out there with the fellas. We clown each other, joke about everything, and have the best time making plays together out there."
Given his intense dedication to his craft, more big plays like the ones he churned out this off-season appear to be on the horizon. And maybe then, he'll crack a smile and take a moment to bask in his accomplishments.