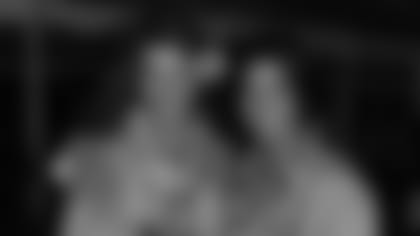 Check out the latest diary entry from the 49ers Gold Rush Pro Bowl Cheerleader Kristin. Kristin updates our fans on the rest of her Thursday and her plans for Friday. **
Yesterday afternoon we took part in the football festival at Kapiolani Park. It was a really fun event that is also taking place today and tomorrow. The event offers interactive games, entertainment, fan contests, autographs and tons of family fun. The six of us cheerleaders who attended yesterday performed two routines and did an autograph session for fans.
There are so many 49ers fans here, and I have had a warm welcoming everywhere I've gone. While at the football festival I had the pleasure of seeing our very own 49ers Drumline, Niner Noise. They were there to provide entertainment for the fans, which was really exciting for me, and of course they sounded amazing. It made me feel like I was back at home in Monster Park!
Later on in the evening the girls in my line and I had an autograph session at the local Dave and Busters, followed by a team dinner where we all got to eat, relax, and have some fun together.
I had a really early start this morning, as I had to be up and ready to go at 6 am for a TV performance. I joined four other girls in performing a few routines and talking about this week's Pro Bowl events for a morning news show on a local network called KGBM 9. It was a lot of fun, and the reporter, Ramsay Wharton, was so nice and was really excited to has us on during the show. What was really neat is that when I came back to the hotel and got to my room, I turned on the TV just in enough time to see us on the show!
Somehow I managed to get the rest of today off! My family is flying in, so I'm hoping I'll get to spend some time with them and maybe even get to the beach to soak up some of these fabulous Hawaiian rays of sunshine. I have to get my rest in now because from here on out we have non-stop events leading up to the actual Pro Bowl game. It'll be a lot of work, but I am really looking forward to tomorrow's Ohana Day at Aloha Stadium and the NFL block party tomorrow night, and I will keep you posted on how it goes!