Check out this Pro Bowl Diary from Gold Rush Cheerleader Kristin!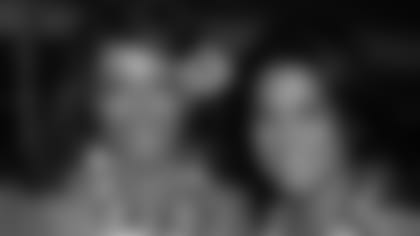 I am so excited to be here in Hawaii. It is absolutely beautiful and I am having the greatest time. I arrived here in Honolulu on Monday afternoon, and upon arriving at the airport, I was met by Pro Bowl security. I rode back to the hotel with Kathy from the Cardinals and Melanie from the Seahawks...a little NFC West carpool! We checked into our hotel, which is absolutely breathtaking. I have a gorgeous view of the ocean from my room and can hear the soothing sound of the waves from inside the room. It's amazing. The three of us girls took the day to shop around a bit and get a bite to eat while the other ladies were still arriving. My roommate is Jeni from the Tampa Bay Buccaneers. I honestly could not have asked for a better roommate. She is the sweetest girl and we get along so well. It's a perfect match! That evening Jeni and I met up with about 10 girls and had dinner and then we went back to get a good night's sleep since the next day was going to be a busy one!
On Tuesday we began the day with a welcome breakfast and meeting. This was the first time all 26 of us were together. After breakfast we went out to the lawn of our hotel where a beautiful set was waiting for us to take our group photo in uniforms for the Pro Bowl Cheerleaders photo card. In the background was Diamond Head, a famous inactive volcano. It really looks awesome in the picture, as if it was superimposed into the photo. The rest of that day consisted of a 10 hour rehearsal. I know it sounds like a really long time but it went by pretty fast. It's amazing to me how we were able to take 26 complete strangers from 26 different teams that have their own flare and style and become a team in just one short day. We started off by reviewing routines that we had all learned prior to coming here off of a DVD that each girl received in early January, and then we learned our pre-game routine. Afterwards we received the fantastic news that we would also be performing in the halftime show with Lifehouse! I am a huge Lifehouse fan, so I am looking forward to that.
On Wednesday we had a few more rehearsals at the hotel and then we got to do our first Pro Bowl event of the week, performing with our conference cheerleaders at the official Pro Bowl week Kickoff Rally. There were a lot of fans there to celebrate and cheer us on. I had a blast performing with the girls and was excited to hear my name announced as the Pro Bowl Cheerleader representing the 49ers. After the rally a group of us went into town to get our Pro Bowl rings made. It is a tradition that was started quite a few years back by a group of Pro Bowl cheerleaders. It's neat to think that so many girls from different teams and different years have something that is common for all of us. I love traditions like that! We wrapped up Wednesday night by attending the NFL Pro Bowl welcome luau at the beautiful Marriott Ihilani Resort. It was a great event where we were able to taste some delicious Hawaiian food and enjoy exciting luau style entertainment complete with hula dancers and men dancing the traditional Hawaiian fire dances. It was such a great time. The evening was concluded with a huge fireworks show.
Today is Thursday and we got to go to Aloha stadium for our first stadium rehearsal. It was such a crazy feeling walking onto the field knowing that in just a few short days the seats will be filled with fans from all over the country, the field full of some of the best players in the Nfl and that I will be a part of that! It's a little surreal at this point, but I'm so excited for it. Today a group of us from the NFC will be performing and signing autographs at the football festival at Kapiolani Park. We are looking forward to our performance and interacting with the fans.
So far my time here has been nothing short of amazing. I cannot wait to share more of my experiences with you in the next few days leading up to the big game. So be sure to stay tuned...