The 49ers Gold Rush visited with NFL fans in England last week to promote the 49ers upcoming game in England next season. They also participated in helping British fans celebrate the league's biggest event, Super Bowl XLIV.
Perhaps the most memorable experience for the Gold members was an intimate visit with students in East London.
The cheerleaders made a trip last Friday to Jenny Hammond Primary School in Leytonstone, England to perform and spend time with students. In an effort to raise awareness about the NFL game, Gold Rush members held a workshop for a group of 40 boys and girls at the school in association with the Leyton Orient Community Sports Programme and NFL UK.
"It's great to see British kids enjoying any aspect of the American football experience – be it the many NFL flag football teams that are throughout the UK, or getting involved in cheerleading. It all helps the rapidly growing fan base for the sport in the UK," said Alistair Kirkwood, the NFL's UK Managing Director.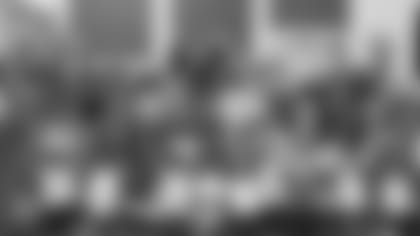 Gold Rush members Deanna, Ariana, Lindsey, Lauren, Carmen and Alyssa taught a variety of cheer routines and dances that they perform on NFL sidelines.
"We didn't know how they would react to us, as we are from a different country, but they've been so friendly," said Gold Rush cheerleader Deanna. "It's great to meet kids who are interested in us and what we do, and who want to know about us."
Following the workshop, the cheerleaders participated in a Q&A session with the students, who asked a wide variety of questions.
"London really reminds me of San Francisco – the people, the city, the streets – the aura. We've really bonded with London and the kids were so cute," said Gold Rush cheerleader Ariana. "We look forward to returning in October for the game."
The Gold Rush will be back in England next season when the 49ers host the Denver Broncos on Oct. 31, at Wembley Stadium.