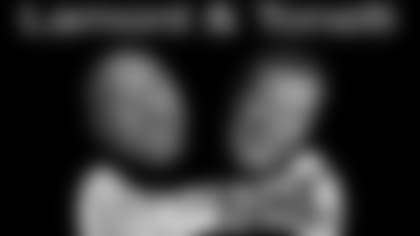 107.7 The Bone's Lamont & Tonelli serve as hosts of the 49ers pregame show, and also share their perspectives in their own Go Deep online column. For the 2007 season, you can find them and interact with them on our social networking site 49ersfaithful.net.**Check out part of Tonelli's blog below...
Well, so let me explain what happened to me on Sunday at the 49ers game against the Saints.
It all began on Friday when I dropped my car of with a mechanic, not remembering to grab my year long 49ers credential out of the glove apartment. I assure you, this will not happen again!
I didn't realize it until Sunday morning when I was getting ready to go to the game, so I called Michael Williams in marketing at the 49ers and he got me in touch with a woman who could help me get a credential for the day. After doing the pregame show, I headed over to the stadium office to pick said credential up so that I could get up to the press box to handle my job as the stadium announcer. The office is on the third floor and there was a pretty long line for the elevator. It was 12:45 already and kickoff was at 1:15, so I was sweating it a little bit. But I got my pass and it was only about 12:55 so I figured I was in the clear.