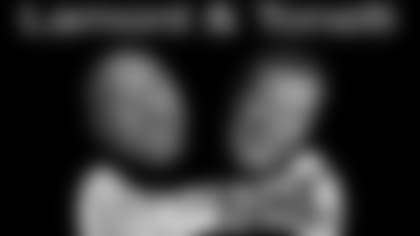 107.7 The Bone's Lamont & Tonelli serve as hosts of the 49ers pregame show, and also share their perspectives in their own Go Deep online column. For the 2007 season, you can find them and interact with them on our social networking site 49ersfaithful.net.**Check out part of Tonelli's blog below...
Right about now, when you get to the end of November and your record is only 2-8, you tend to find out who the "Faithful" are.
Coach Nolan, who is on the show with us every Tuesday morning, said what's kind of been discouraging for him (other than some execution issues and obviously the offense) is not taking advantage of opportunities. The root of that is not being able to execute when you need to. Having opportunities in a game and not taking advantage of them can be a real let-down. Jeff Ulbrich had that opportunity for an interception and we talked to him about that. Of course we talk to Jeff every Monday on our show at 7:15 a.m. He said he was thinking touchdown, and that his eyes got big and he was thinking about that before the catch. Coach Nolan also talked about the interception Mark Roman had that got called back because of a penalty. Things like that tend to keep biting them in the butt.
Nolan is great when he comes on our show though. We don't get too in depth with him. We try to ask some of the thing that are on fans' minds. He seems to have a lot of fun with us and he always manages to keep a sense of humor. I would never pay to have the type of week he had last week, seeing his dad pass away. Our condolences go out to his family. He made the trip to Dallas for his dad's passing before coming back and making the trip to Seattle with the team. That's just a week I wouldn't wish on anybody. He's handled it all well and he's a strong guy.