Fifty kids from the East Silicon Valley YMCA waited anxiously in the employee break room of a local Walmart. The ages in the group ranged from first grade to junior high. As they finished their Chick-Fil-A dinner, in walked the gregarious Glenn Dorsey.
Each kid cheered the San Francisco 49ers defensive lineman as he entered the room. Dorsey was, after all, the driving force behind the Tuesday night gathering. Fellow 49ers DeForest Buckner, Quinton Dial, Chris Jones, Mike Purcell, Tony Jerod-Eddie and Ronald Blair III were also on hand for Dorsey's second annual "Shop with a Jock" event.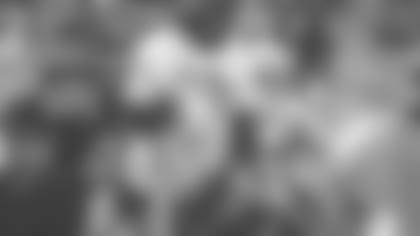 Dorsey equipped every kid with a $100 gift card as they split off into small groups and dispersed throughout the store.
"Christmas is such an important time for kids," Dorsey said. "I'll never forget my excitement around the holidays when I was growing up. I want to be able to provide that same feeling for kids who may not have that opportunity otherwise."
But it wasn't just about the underprivileged youth in attendance, but the parents at home who got some well-deserved relief during the holiday season.
"There's so much pressure on parents to buy gifts for their kids and create that special Christmas morning," Dorsey said. "The fact is that plenty of parents don't have the means or resources to accomplish that. My goal is for this event to take some of that pressure off of these families."
Each player pushed a cart with their respective group and weaved through the aisles at Walmart. Dorsey was paired with a group of young girls, all of whom were a bit unsure at first of their new 300-pound friend. Quiet giggles and awkward silences filled the first five minutes of the shopping spree. His wife, Tiffany, helped break down the wall and bridge the gap between the girls and the defensive lineman.
Even after the initial shyness wore off, Dorsey was very little help as the girls searched for the best use of their gift card.
"I had no idea what any of that stuff was," Dorsey joked about his cart full of pink packaging. "I'm so thankful my wife was there to help out."
For each item brought to the cart, Dorsey would offer a sincere, "Ooh, what's that?" But even after a thoughtful explanation from the girls, the nine-year NFL veteran was still just as perplexed.
"Ooh alright, alright," Dorsey would respond anyways in support of the purchase. "Nice choice!"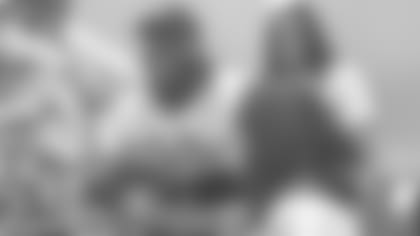 The youngest girl served as the ringleader, touring the group through the toy aisles followed by a trip to the arts and crafts section. She wasted no time filling the cart while her counterparts were more patient with their selections.
When it was all said and done, each player's cart had a different theme. Mike Purcell's group spent a bulk of their time in the bike and scooters area. DeForest Buckner's cart was full of Nerf guns. Tony Jerod-Eddie's kids were all about sports while Ronald Blair's group shopped around the electronics section.
"It meant a lot to have my teammates there," Dorsey said. "We have such a great group of guys on the d-line. A few of them came last year, too. I didn't have to convince anyone. The second I brought it up, everyone said they were in."
That's because there is no decision-making process when it comes to supporting the eldest statesman of the position group. 
"He's a great veteran. It's a blessing to have a guy like him on the team," DeForest Buckner said. "It was really important for us to support him and what he was doing. We're all in a position to give back, and the more we can give back, the better."
Perspective is important around this time of year. It would be easy for Dorsey, and the rest of his teammates for that matter, to feel sorry for themselves amid a disappointing 1-13 season.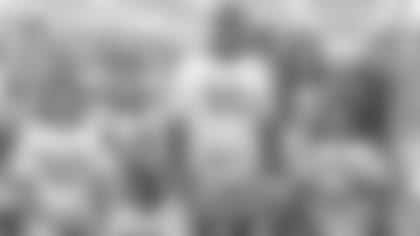 But that record meant nothing to the group of 50 kids who were eager to interact with the NFL players that they see on TV. The reality is that those few hours at Walmart may have been the highlight of their holiday season. That's the thought that lingered on Dorsey's mind – knowing that he had no clue what situation the kids were going home to. That made it vital to be engaging and make the most of the interaction.
"You can see how much they cared and how grateful they were," Dorsey said. "That's what makes it all worth it. Sure, this has been a tough year, but we are all still so blessed. So blessed. It's important to understand that and do our part during the holidays."
As each group checked out, the players autographed the shirts handed out to each kid at the beginning of the event. Everyone then exchanged hugs and expressed their gratitude before heading in their separate ways.
'Twas a night to remember for all involved. And another successful "Shop with a Jock" event has Dorsey already looking forward to Year 3.
"Oh yeah, we'll absolutely do it again," he said.