The 49ers did their best Santa Claus impression Tuesday afternoon.
Nobody sported a bushy white beard and no children sat in anyone's lap, but nine members of the team still made plenty of children's holiday wishes come true when they participated in the annual Shop with a Player presented by Visa community event.
"It's all about putting a smile on these kids' faces," fullback Moran Norris said. "We're just out here to make their day."
And judging by the kids' reaction when they met the players, all 30 of them had more than their days made.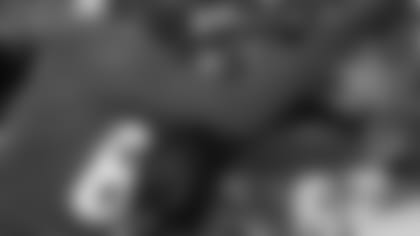 Along with Norris, tight end Vernon Davis, wide receiver Josh Morgan, cornerback Shawntae Spencer, linebackers Manny Lawson and Parys Haralson, tackles Joe Staley and Tony Pashos, and defensive tackle Demetric Evans all spent several hours at the Target in  Foster City with youth from the Samaritan House.
The Samaritan House is a non-profit organization that provides services to help meet the daily needs of more than 12,000 low-income people within San Mateo County.
On Tuesday, each child was provided with a $250 gift card courtesy of Visa to spend on holiday gifts for themselves and their families.
"We're just out here having a great time with these kids and I can tell they are having fun too," Morgan said. "It is the holiday season and the holidays are all about the kids, but I made sure they bought stuff for their families first before they got stuff for themselves. I'm reminding them how important family is."
After taking care of their families, some of the most sought-after items were in the electronics section. Many of the children left the store with Nintendo Wiis, Play Station Portables and games for their new consoles.
However, at least one of the 49ers tried to teach his kids how to conserve the money on their gift cards.
"I told them they need to slow down and get a lot of little things so that gift card lasts longer," Davis said. "I'm trying to teach them how to budget, but they're not listening to me."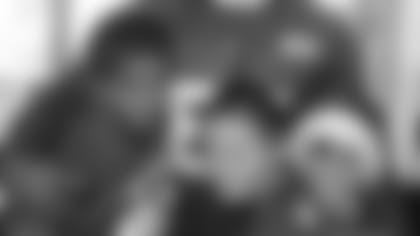 Even though Davis' attempts to teach financial planning failed, the kids left the store with much more than video games. Every shopping cart was filled with clothes, shoes, board games, action figures, footballs, small electronics, skateboards and countless other items.
The kids picked out all of their own items, and it was probably for the best since the players admittedly wouldn't have picked out the best gifts themselves.
"I wanted that drum set over there, but none of them wanted it," Haralson said. "Then I liked this Transformer over here, but they looked at me like I was crazy when I held it up. I guess I don't know what's hot."
As always, Staley was the loudest person in the room as he had his group of kids singing holiday songs throughout the store. But the songs weren't the only reason Staley's group was so happy.
Staley told his kids to get everything on their lists and that he would pay for the difference, no matter how far they went over their budget.
"It's the holidays and these kids are so happy so I didn't want them to have to be cut off at a certain price," Staley said. "I told them just to get it all and I'd take care of them."
And Staley wasn't the only player who gave a little extra.
After Spencer's kids ran out of money on their gift cards, he told them each to get one more item that he would pay for himself.
The 49ers generosity even inspired other Target shoppers as one woman bought three children Wii controllers and another handed a player a $50 gift card to spend on the kids.
"It is just great to get in the holiday spirit and help these kids out," Pashos said. "As a team, we always try to give back to the community, especially this time of year."
Tuesday marked the third-straight year that Visa sponsored the Shop with a Player program. The youth also received a CD of Visa' Financial Football computer game, which tests students' fiscal knowledge by combining the structure and rules of the NFL with financial education questions.