The 49ers defense showed some positives in last week's opening game against Arizona, particularly in the first half when they kept the Cardinals to only ten points despite three turnovers and an average starting point at the Arizona 47-yardline.
Those solid stances unraveled however in the final two quarters of play.
"We felt good going into halftime about the way we played," said cornerback Walt Harris. "Obviously there were some plays we left on the field, but for the most part as a team, we felt we really played well. The second half was totally opposite. We let the game get away from us."
Arizona's offense opened the third quarter and stayed on the field for eleven minutes, minus two quick special teams plays in which they scored a field goal and recovered a muffed kickoff that led to a quick touchdown.
"We have to get off the field when he have to get off the field," said linebacker Joe Staley. "Some of the questions, people say, 'Was it too much for the defense to handle, being out there a lot,' and different things like that. And my response to it was, 'Every time we step out on the field as a defense, it's our job to get off, regardless if we've been on the field 100 times or three times.' We have got to get off the field when we have to get off the field. That's just what we take pride in."
That pride took another shot in the fourth quarter when Arizona continued converting on third downs and even a fourth down to piece together an 18-play drive that lasted ten minutes.
Linebacker Takeo Spikes, who continues to share time with Jeff Ulbrich at TED said the defense needs to avoid that kind of repeat performance.
"That's another big thing as well, third down. Whenever you're put in the situation, you always want to get off the field and try to create a turnover, at the minimum give the ball back to the offense," said Spikes. "We can't be out there [for] 15, 16-play drives or even eight or nine-play drives. We have to take advantage of every moment."
Defensive end Justin Smith said he first looks at the positives from last week, but admits that third downs is an emphasis this week as the 49ers head to Seattle to play their second consecutive divisional contest.
"I think we did some good things. I think we did a good job given the field position we had, keeping them out of the end zone. We just have to sustain what we did in those first two quarters," said Smith. "I thought we did a good job on first and second downs, but the focus this week is to go up there and convert on those third downs. It is going to be huge to make sure we get off the field on third downs and get the ball back to our offense."
Last week's second half left a bad taste for a defense that set goals to be in the top five of every category, last week
"It was a letdown, obviously because we have expectations for ourselves," said Harris. "But we do put it in the right perspective and do understand that it's only one game. And we did see a lot of good things out on the field that we did do well. We just have to improve. It's a long season and that showed last year."
The long season continues on Sunday with another divisional showdown against Seattle.
"Seattle is the next game and it's the most important right now," said nose tackle Aubrayo Franklin. "I think when you get a chance to go out there and get better and show we are a great defense, you've got to go out there and do it."
While the 49ers might be looking to bandage their battered pride, their opponent is flat out wounded.
Seattle started the season already without starting receivers Deion Branch and Bobby Engram, and starting tackle Sean Locklear. Then, in their week one lopsided loss to Buffalo, Seattle lost receiver Nate Burleson and starting guard Rob Sims for the year, while starting running back Maurice Morris is expected to be out for at least a month after spraining his knee.
The Seahawks signed a few additional receivers this week and head coach Mike Holmgren indicated that he also planned to utilize his backup quarterback Seneca Wallace at receiver.
"We're approaching it that they're all good, capable receivers," said Harris. "We're playing against an offense that's well coached. Holmgren, and this system has been around for a long time. Those guys pretty much fit right in with the system, and the system works. We have to play against the system more than anything. There's definitely an opportunity for letdown, and so you really have to be on your A-game and not take these receivers for granted."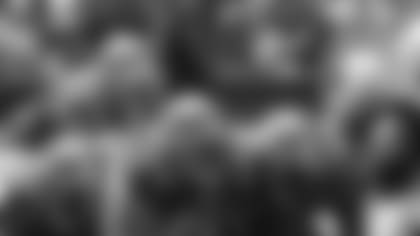 While the 49ers admittedly don't know much about Seattle's receivers, they are quite certain of the capabilities of Seattle's Pro Bowl quarterback Matt Hasselbeck.
"He's one of the top quarterbacks in the league," said Smith. "He runs the offense, he calls audibles at the line of scrimmage, he tries to see what you are giving him and he adjusts well. He's a good game manager and doesn't make many mistakes. He runs the offense well and he's been running it for a long time. For us to have success we are going to have to get pressure on him."
Even without Morris in the lineup, Smith said he expects to see a heavy dose of T.J. Duckett and Julius Jones and Seattle's run game.
"After what happened and hearing what they've said, they got away from the run game and got into a throwing game in Buffalo," said Smith. "Usually, if you throw the ball more than 40 times it's not a very good situation. We look for them to attempt to establish the run game, and they execute their run game well, so it's a matter of us out-executing them."
And the underlying theme for the 49ers defense this week seems to be less of a concern about what Seattle does, and more of a concentration of executing their own defensive plan of attack.
"The gameplan looks great, I love it," said Willis. "Regardless of what they do, we still have to do what we have to do here, and that's get better and do what we do well."