Mike Singletary knows good tackling when he sees it.
The Hall of Fame linebacker made a living off his defensive fundamentals, and now entering his second year as the 49ers head coach, he is trying to instill those same fundamentals in his team.
Singletary continuously stresses the use of proper technique because in his mind, it's necessary for the overall development of his squad.
The only sight more common than fundamental-specific drills at the start of each 49ers training camp practice has been stretching. More specifically, form-tackling and ball security drills have been implemented in the early stages of practically every camp workout.
"Form-tackling is really important because it's repetition of doing it. When it's time to do it, it becomes automatic to you," outside linebacker Parys Haralson said. "Breaking down and wrapping up properly is important. When it's time to do it in a game, you don't even think about it, you just do it."
On Thursday, Singletary began the day by keeping a close eye on wide receivers and defensive backs as they worked on form-tackling. Later, he paid close attention to the linebackers during 9-on-7 work and again in one-on-one pass coverage drills.
The former inside linebacker of the Chicago Bears was not only adamant about each player using proper technique, he didn't hesitate to give hands-on instructions if a player used poor footwork or was off balance.
Singletary even watched his linebackers in a stance that rivaled the one he used during his playing days. Whether its form-tackling or pass coverage, the details of proper defensive play aren't lost on the head coach.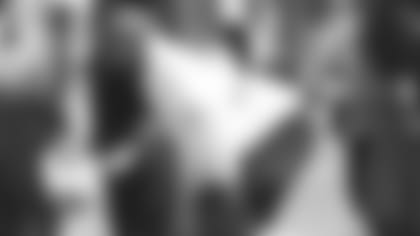 After practice, Singletary said his hands-on approach was paramount because of the way his younger players performed in one-on-one drills. In his estimation, college linebackers don't do much man coverage, so Thursday's drill was a good lesson in man-to-man pass coverage techniques.
"They are trying to cover a guy and at the same time look back at the quarterback because that's basically what they've done in college," he explained. "Trying to get them to break that habit and the only way you can do that is just repetition and constantly reminding you can't do that at this level. If you've got man-to-man coverage, cover the guy, and that's all."
Veteran outside linebacker Travis LaBoy especially understands the reasoning behind Singletary's involvement.
"I think coming from a guy who probably made more tackles than anyone in the game, you see the importance because that's what he knows. You look at it with respect and understanding because he's done it himself," said the 6-foot-3, 250 pounder after taking part in team drills for the first time since Aug. 5. "He's hoping the drill is ingrained in your body so it carries over to the game."
Two lost fumbles by the 49ers last Sunday against Indianapolis were not acceptable by Singletary's standards. That's why ball security drills have been stressed once again at the start of this week's practices.
"When the ball is in your hands, you have the team's hopes, dreams, everything," said running back Michael Robinson, who fumbled on the opening play against Indianapolis.
Robinson has vowed to never lose the football again. He tweeted an apology to the 49ers Faithful after the game and since the mistake, he's continued to focus in on carrying the ball "high and tight" – a common suggestion made by the head coach at practice.
"I think the opening drills really stress the importance of fundamentals. Anybody on the team could potentially handle the ball, so everybody needs to know the details," Robinson said.
Knowing how much Singletary values playing the game the right way, the five-year pro preached many of those lessons to campers at his first ever football camp this summer.
"I think fundamentals are one of the things lost in professional football," Robinson added. "We're pro athletes and we have the rest of the football world looking at us and if we're not playing with fundamentals, how can we expect the younger generations to?"
Notes and QuotesOn the final play of the first red zone team period, Dominique Zeigler showed once again why the quarterbacks feel confident in throwing the ball up and letting him go up and win possession. Nate Davis launched a pass over the coverage of rookie cornerback Patrick Stoudamire, just high enough for Zeigler to snatch the ball out of the air and score the touchdown.
Safety Reggie Smith picked off Alex Smith during 11-on-11 work on a sideline pass intended for tight end Delanie Walker. It was the third-year safety's first interception of camp. 
The first-team offense rebounded from Wednesday's two-minute drill struggles to score a 30-yard touchdown on a Smith pass to Zeigler. The second-team offense was not as successful; outside linebacker Diyral Briggs did a nice job of disrupting their momentum and caused the drive to stall out on downs mid-way through the possession.