One-handed catches, interceptions, key third-down stops – it would have been tough to miss the impact of the most recent batch of 49ers free agents on Saturday. Smack dab in the middle of San Francisco's 17-3 win over the Oakland Raiders were players like Braylon Edwards, Madieu Williams and Larry Grant.
They've only had a couple of weeks to get used to their new surroundings, but the new 49ers are already proving to be fruitful additions.
For Grant, Saturday's contest was something of a homecoming, as the Bay Area native donned the red and gold for the first time at The Stick since the 2008 preseason.
"It was great just pulling up to the stadium just knowing that I'd be in a 49er uniform instead of something else," Grant said.
Though he was drafted by the 49ers in 2008, Grant spent his last three seasons playing for the St. Louis Rams. But in his first action in front of his hometown faithful, Grant made a quick impression.
Holding a 10-0 lead with less than five minutes left in the third quarter, Oakland had crept into San Francisco territory trying to keep it close. Whatever momentum the Raiders had was wiped out during a crucial two-play sequence.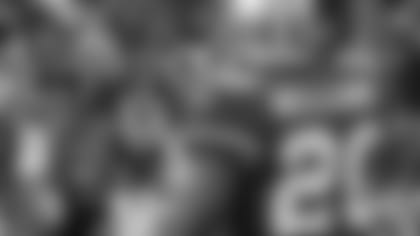 It all started with Grant, who stuffed Oakland running back Michael Bennett for a one-yard loss on a third-and-one play. Williams followed it up with his first interception in a 49ers uniform, when he fully extended for the ball and hauled it in to kill Oakland's drive.
"Me and Madieu this whole camp have been working together -- I've been getting some advice from him as a veteran," Grant said. "Having him here in San Francisco – he's definitely going to add to our team and help us here."
Both Williams and Grant said they feel like they're getting more comfortable with the defensive coordinator Vic Fangio's system.
On Saturday, the 49ers kept the Raiders at bay until the fourth quarter, when Oakland kicker Sebastian Janikowski knocked through a futile 46-yard field goal. It was a stark improvement from the preseason opener at New Orleans, when the 49ers gave up 24 points in a losing effort.
"We've been practicing hard the past couple of weeks," Williams said. "Guys are getting comfortable, getting accustomed to coach Fangio's defense. Each week we're taking strides and getting better and that's the type of improvement you try to make week-to-week."
As key as Williams' pick was, fellow free agent Edwards may have trumped him with his catch in the second quarter.
There's just something about "The Stick" that turns Edwards into a one-handed catching machine. Much like he did last week during 49ers Fan Fest, Edwards used one of his big mitts to haul in a catch down the left sideline for a 32-yard gain.
"I just reached out with one hand and held on with two of them," the seventh-year wideout said. "(Quarterback) Alex (Smith) made a nice throw. The line had nice protection, and when we get that going, there's no limit to what we can do."
But of all the free agents to join the 49ers in the past couple of weeks, none have had a wilder ride than 13-year veteran kicker David Akers. For his opening act, Akers hit a career-long 59-yard field goal last week in New Orleans.
On Saturday, Akers was pressed into punting duty after punter Andy Lee was slammed hard to the turf on a botched field goal attempt in the first quarter. While Akers' first punt went for 44 yards down the right sideline, his second punt was blocked.
"That's the first punt I've had since high school," Akers said. "I just kept saying, 'Man, don't drop the snap, don't drop the snap.'"